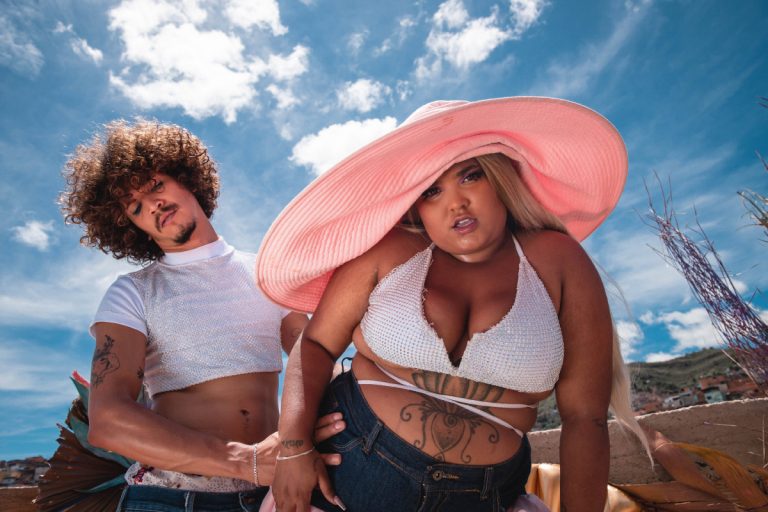 10 Genre-Bending Tunes from the Brazilian Summer That Never Was
22 April, 2021
Depending on what part of Brazil you're in, it's always summer. But technically, it starts in late December and goes until late March — coinciding with the Christmas and New Years' holidays, and carnival.
In 2021, though, it didn't make much difference: as the coronavirus pandemic showed no signs of slowing down in Brazil; the hottest season arrived and left with no big parties, nor the famous carnivals of Salvador, Rio de Janeiro, São Paulo, Olinda, Ouro Preto, and the rest.
However, that didn't stop Brazilian music.
It's not rare for a summer or carnival hit to come from unexpected corners that fall outside of the radar of big labels and the mainstream press, before the rest of the country catches up, such as in 2018, when MC Loma & As Gêmeas Lacração, three teenagers from the peripheral neighbourhoods of Recife, blew up with the Brega funk tune "Envolvimento".
All regions of Brazil have rich underground scenes and music genres. In 2021, however, the geographic lines are getting blurrier and blurrier when it comes to music. Forget all you know or intend to learn about the culture of Brazil's five regions, 26 States, and one District — in this list, we'll hear typical north-east sounds such as axé and forró made by artists from the south-east, funk carioca by non-carioca artists, and so much more.
They all have one thing in common: music that blends the best of Brazil's genres and indie scenes, and that surely would've deserved to make waves in the summer that never was.
Nêssa, Janaina Noblah, Áurea Semiseria, Bela, Marea e Maya "Só as palosas"
A blooming genre in Bahia (even if it's been around since the 1990s), pagodão baiano has male names as its biggest exponents. "Só as palosas" comes to show the force of women in the scene, which is also known as pagode baiano, quebradeira or swingueira. Six female artists from Salvador collaborate with beatmaker ÉoCROSSS to bring the best of the genre, together with influences of rap and reggaeton.
Heavy Baile & Magugu "Game Face On"
Rio de Janeiro music collective Heavy Baile has been making some of the most interesting moves in Brazil and overseas, so much so that the project name became a synonym for the genre that fuses funk carioca with other electronic genres such as dubstep and trap. "Game Face On" is no exception: the single is an astonishing collaboration with Nigerian rapper Magugu, and tailored-made for passinho, the dance genre from the favelas that earned the status of cultural heritage in Rio.
Omulu e BNegão "Salve 2 (Ribuliço Riddim)"
A protest song or a forró jam for a couple's dance? This collaboration between producer Omulu and rapper BNegão is both. In his Instagram bio, Omulu describes himself as a "scientist of rhythm", and together with one of the biggest names in Brazilian rap, he proves just that with this powerful track. The two Rio de Janeiro artists mix traditional elements of north-eastern forró (accordion, triangle), as well as beats from contemporary versions of the genre, such as electronic forró, and pisadinha. Over the beats are lyrics like "Existence, resistance" and "Serenity in stormy times", a response to the Brazilian government's current downscaling of human rights policies.
Paige e Kdu dos Anjos "Vem ki vem"
Hip hop MCs Paige and Kdu dos Anjos, both from Minas Gerais, play with funk carioca beats and confident lyrics in the catchy "Vem ki vem". The production also brings a sound familiar to Brazilians in 2021: the flute, which rose to popularity again in 2021 with the new remix of MC Fioti's "Bum bum tam tam" (which samples a Bach composition played in flute), and the revival of inharmonic flute memes.
Íccaro "Joga" feat. Kevin Kenned
Tecnobrega and reggaeton come together in the irresistible "Joga". Straight from the most prolific music scene of the Amazon region, Kevin Kenned combines the sound of Pará sound machines with Latin American music. The outcome is interesting enough, and there's always room for more: Kenned is a featured artist in this track by Ceará-born singer Íccaro; the collaboration is no less than party perfection. 
Marina Sena "Me toca"
From Minas Gerais, Marina Sena has the timbre that suits her for a progressive MPB diva, but never limits herself to one genre (in the last three years, she was also a vocalist in the indie pop project Rosa Neon). One thing is sure: she is never afraid to explore different possibilities and have fun with all of them, as we see in the video for "Me toca". The song's catchy chorus is just as reminiscent of 90s Bahia pagode as it is perfect for today's TikTok dance challenges.
Luísa Nascim & Rafa Pinta "Prata Amor"
When two multi-genre artists collaborate, there's no limit to what they can do. Singer-songwriters Luísa Nascim and Rafa Pinta move between different states and sounds of Brazil in their solo careers, but on "Prata Amor", they land somewhere between Rio de Janeiro and Jamaica, combining funk "tamborzão" carioca and reggae along with tropical house-synthesizers.
Aíla "Água doce"
In the music video for "Água Doce", singer Aíla plays the role of a female boto. The synthpop track with brega beats a la Pará (where Aíla was born) is as seductive as this popular character from the culture of the Amazon Rainforest region is said to be. 
Duda Beat "Meu pisêro"
Duda Beat can no longer be considered an underground or local artist, but her commitment to music that's true to her Pernambuco roots puts her in an outstanding position amongst her mainstream peers. Although obviously shaped by pop culture aesthetics, "Meu Pisêro" is a direct reference to pisadinha, a derivative form of forró that exploded in Brazil in 2020.
Juliana Linhares "Lambada da lambida"
Actress and singer Juliana Linhares cooked different flavours of Brazil's north-east to question its stereotypes in "Nordeste Ficção", her first solo album. Co-written by celebrated musician and poet Chico César, "Lambada da lambida" summarizes the concept by, challengingly, bringing sounds that reminisce the lambada and carimbó made in the neighbouring North. Regardless of where or what it evokes, the track is as delicious as the love its lyrics speak of.
Bonus: Barões da Pisadinha "Quero ver é me esquecer" feat. Jorge
When it comes to music streaming, Barões da Pisadinha were the biggest name in Brazil in 2020. Had it not been for the pandemic, they'd probably be even bigger — they used to play around 35 concerts every month. And their 2021 hit "Quero ver é me esquecer" features no one less than Jorge, a sertanejo icon that has been dominating the Brazilian music industry for almost more than a decade. But Barões da Pisadinha deserve credit for catapulting pisadinha into the mainstream of Brazilian culture. The genre was born from the interiors of the North/Northeast sides, and could have been the biggest thing in the summer Brazil was robbed of.

Follow Sounds and Colours: Facebook / Twitter / Instagram / Mixcloud / Soundcloud / Bandcamp

Subscribe to the Sounds and Colours Newsletter for regular updates, news and competitions bringing the best of Latin American culture direct to your Inbox.
Share: