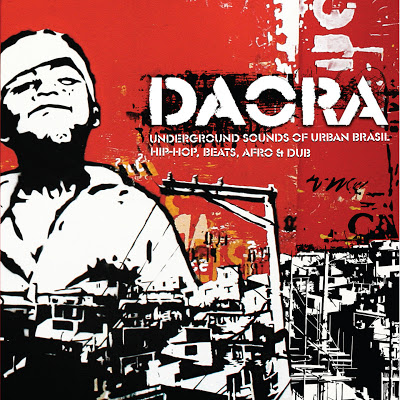 Mais Um Discos is out to revolutionize the way that curious onlookers seek out new music expressive of the changes undergoing the Brazilian music scene and their latest compilation, Daora: Underground Sounds Of Urban Brasil – Hip-Hop, Beats, Afro & Dub, does just that.
Fans may remember their compilation Oi! A Nova Música Brasileira from 2010 which showcased some of the newer and hipper sounds coming from Brazilian pop, rock, and hip-hop. Daora, paulistano slang for something that's dope, goes one step further and focuses primarily on the more underground styles coming from Brazil that are distinctly part of a global urban musical sensibility. It features 32 tracks (two CDs) of hip-hop, reggae, dub and afrobeat as well as some tracks that veer towards the psychedelic edge of funky soul and experimental electronic dance music. It's an impressive array of artists that will surely please fans of these styles who may have heard that Brazil is bursting with creative musical energy but do not know where to start. While it is clearly a collection that should entice outsiders, it also has much to offer Brazilian music fans, including several unreleased tracks and hidden gems.
Mais Um Discos tapped Rodrigo Brandão, respected Sao Paulo rapper/musician/promoter and long-time hip-hop head, to curate the compilation and give it the arc of a DJ set. He succeeds with both albums having their own distinct feel and emphasis. The first album more heavily features hip-hop and driving electronic beats. It opens with Espião's "Cada Um, Cada Um," a head-nodding hip-hop track that sets the stage for the collection. As the disc progresses, it features tracks that smoothly blend iconic sounds of Afro-Brazilian traditions, such as the agôgô (cowbell) and the berimbau, with beats and effects to make for a funky mix. M. Takara 3's "Rei da Cocada", in particular, builds from a collection of interlocking cowbell beats to an irresistibly danceable psychedelic funk tune. The first album closes with another experimental track that builds off of that percussive energy, the previously unreleased live recording of Bodes e Elefantes' "Noon and I'm Still Asleep," a song that should appeal to fans of glitch and electro-acoustic music alike.
In contrast, the second album focuses on Brazil's rising Afrobeat, samba soul, Afro-Latin and dub scenes. Alongside rising international artists such as Lucas Santtana and BNegão e os Seletores da Frequência, the set features tracks that play with the borders between these genres. This is a special treat since these scenes have received considerably less attention in world music blogs and magazines. Many of these tracks draw from a variety of genres and showcase the experimental sensibility coming from Brazil's urban underground. Bixiga 70's "Balboa da Silva" mixes disco beats and a variety of Afro-Latin approaches for a danceable instrumental track. In contrast, Iara Renno's "Conversa" (featuring Tom Zé) mixes vocal theatrics, dub, and lyrics borrowed from Mário de Andrade's modernist novel Macunaima. The second album closes with the surprising "Abeuê" by Os Ritmistas. Its trajectory from candomblé rhythms to Bitches Brew-era Miles Davis is the most experimental on a set filled with unconventional and exciting mixtures.
There is plenty to enjoy about Daora and it should further entice enthusiasts of global hip-hop, reggae, and bass-heavy music to listen to Brazil.
Daora is available for purchase through Amazon, iTunes, Beatport and Bandcamp.

Follow Sounds and Colours: Facebook / Twitter / Instagram / Mixcloud / Soundcloud / Bandcamp

Subscribe to the Sounds and Colours Newsletter for regular updates, news and competitions bringing the best of Latin American culture direct to your Inbox.
Share: