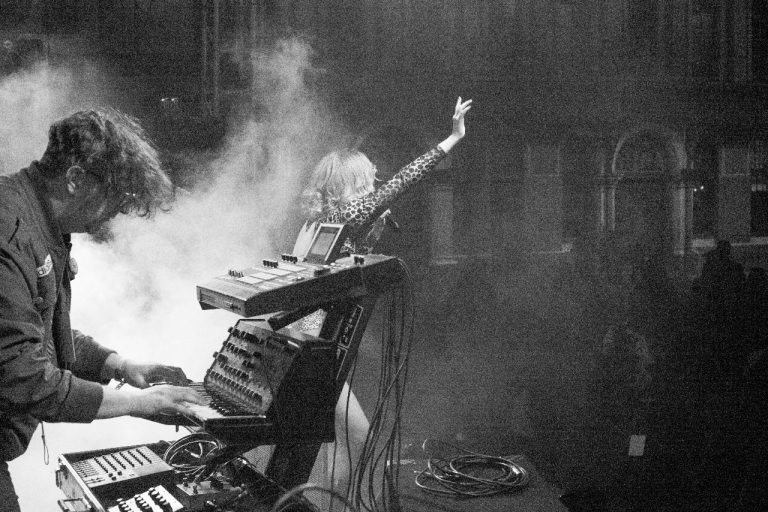 Inventions In Sound: The Story of Brazil's DIY Synth Scene
19 September, 2017
Four years ago Paulo Beto and Pedro Zopellar were invited to perform their Acqua Space Ritual at a cultural and sports centre in Araraquara, the interior of São Paulo. The robed musicians performed a ritual about the origins of the universe played with theremins and droning homemade synths, then at the climax of the piece, threw off their robes to reveal wetsuits and entered the huge lake-like swimming pool pushing their floating transparent synthesizers with their visible luminous wires until they met in the middle. Of course there was a huge risk of electrocution with all the wires floating freely around in the pool and a completely nonplussed crowd looked on, taking in this once in a lifetime, never performed again piece.
You may have heard of Rolands, Moogs and Arps, of course, but what about the Anvil Machine, the JolyMod, the Monsterdrone and the Sonus Inflecto? Put your ear to the ground and you can hear the droning tones and unique timbres of DIY wires and circuits as the endless invention of the Brazilian mind conjures up sounds and experiences from homemade instruments that are part of a tradition going back decades, a local revolution in homemade synths, patches and sounds.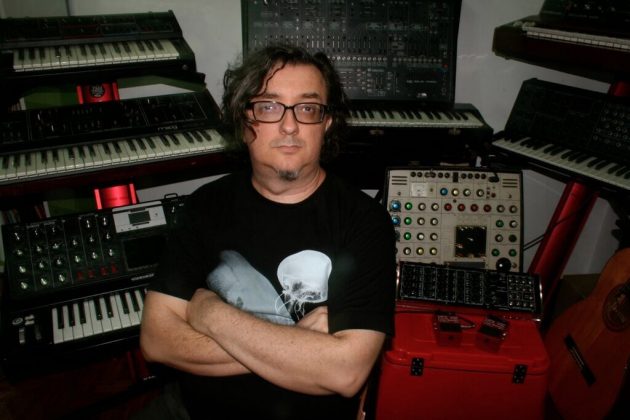 My guide to this scene is Paulo Beto (pictured above), aka Anvil FX, inventor of the Acqua Space Ritual detailed above. I first encountered Paulo many years ago in Belo Horizonte at the Eletronika Festival, and had written about his 2002 album Miolo, a distinct mix of electronics, improv and Brazilian rhythms. However, last year he successfully crowdfunded his most recent album and it's a whole different kettle of fish, harsh analogue synths are propelled along by kraut-like drumming and driving basslines. When I questioned him about the making of this album a whole world was opened up in front of me of people making their own synthesizers in Brazil, from the present and going back to the seventies.
"Anvil Machine", the title track, is an ode to a module built specifically for Paulo to his exact specifications, following in the tradition of musicians singing praise to the music making instrument, a more abrasive "While My Guitar Gently Weeps" perhaps. The anvil machine was a made-to-order module. Beto asked for a machine with 3 LFOs and 6 oscillators, a set up he wouldn't be able to find elsewhere. After the recording, the absurd size of the module made it impossible for him to keep it at home and so it was sold on to a collector. The album was originally intended as a release on DC Recordings, the label run by Depth Charge, but the label folded and it never came out, so together with some new material it was successfully crowdfunded.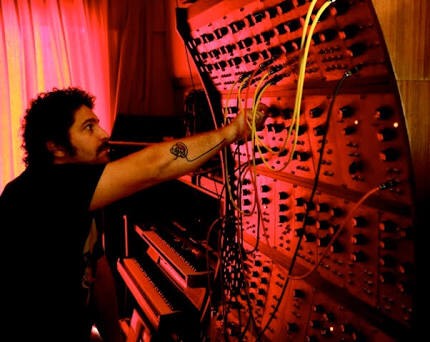 Arthur Joly (pictured above), a self taught producer and creator of huge modular synthesizers, built the Anvil Machine for Paulo. Joly had been working in various roles in the music scene in São Paulo: he has produced Elza Soares, worked at MTV, even trying his hand at drum and bass during the peak of the scene in the early 2000s. An avid DIY fan, he became interested in making his own synths. He started with simple machines, buying pieces from the States and then gradually moved from DIY to building and selling his own creations.
In an interview for Vice he details clearly why he does this: "What fascinates me about analog synthesizers is being able to create a timbre which no one has ever heard, and understand why the sound came out like that. You have a bassline that is made with a jagged wave, then you pick up a cable and switch to the sine wave, and at that moment you understand the reason… understanding this (process) through physics is not only rewarding, it opens your head up to music in many ways."
Joly's first major project was the JolyMod 1, a huge curving tower of modules, that was built as an experiment and learning curve. You can hear the JolyMod 1 on the album O Punk Analogico which is full of irreverent synth ditties, very punkish in that it seems to be a throwback to Daniel Miller's The Normal, early Mute records and early European DIY synth noise, as recently collected on Cherry Red's Close to the Noise Floor compilation. Despite the don't-give-a-fuck attitude communicated through the crude cover and flippant track titles, the great care taken in making the instruments belies this. The album works as a showcase and demo tape of Joly's arsenal. Joly's latest release Dub Modulares is a remastered re-released album of old material made on the JolyMod. In contrast to O Punk Analogico, it's a more melodic demonstration of Joly's machines in the context of head-nodding dub numbers.
At the same time as Paulo Beto crowdfunded his Anvil Machine album, he pressed 200 copies of a vinyl-only album recorded with Joly, using just the modules that Joly had built. Entitled Jolymod DIY this beautifully packaged album has individually hand-drawn covers by the artist Yupo Tozuka and moves away from the live-sounding motorik of its sibling and is pure dusty analogue circuitry heaven; imagine if Brazilians had soundtracked Forbidden Planet.
This is not just a São Paulo phenomenon, Vinicius Brazil resides in Rio de Janeiro, and is renowned for inventing a way to correct the delay of the drums of the samba schools inside the huge sambodromos, so that the mass drumming is all in synch. He favours progressive rock, and he started messing around with guitar pedals in the 60s. At that time only he and Cláudio César Dias Baptista (brother of Arnaldo Baptista and Sergio Dias of Os Mutantes) were experimenting with developing synthesizers. Among his inventions is the Monsterdrone, which lives up to its name with eight voltage-controlled oscillators and creates a terrific noise.
In fact these artists are part of a great tradition of experimental electronic musicians making and adapting their own instruments. Beto himself is a disciple of the avant-garde composer and pianist Jocy de Oliveira. As a concert pianist she worked with John Cage and Stravinsky and has had works composed for her by Xenakis. However she is probably best known for her definitive recordings of Messiaen. I first became aware of her a while ago when a friend was looking into rereleasing her rare 1981 electroacoustic album Estórias Para Voz, Instrumentos Acústicos e Eletrônicos, considered by some one of the greatest electroacoustic albums ever made. A stunning album built on drones, pulses, and other instrumental and non-instrumental sounds blended with voice and concrete sounds. Listening to the track "Wave Song Para Piano e Fita", you can hear this bewitching blend of drone and meditational chimes drift along. In the title track the voice becomes more prominent as an ominous drone hovers in the background. In today's market of never ending vinyl rereleases it could not remain undiscovered for long and only recently has been rereleased by the Blume label in Italy.
Amongst Beto's collection of synthesizers is an original classic EMS Synthi AKS which had been used by Oliveira, dating back to 1973. She recently sold it to him, knowing that while housed in his collection he would put it to good use. This is the synth that David Gilmour can be heard playing on the Pink Floyd tune "On The Run" and was famously used by Bowie and Eno. Paulo is using it at the moment to compose soundtracks and is in the process of using it specifically to compose a tribute to Oliveira.
Look further back and we discover the work of Walter Smetak. Born in Switzerland he moved to Brazil in 1937, and then relocated to Salvador, Bahia in 1957 where he started creating his own instruments, making over 150 instruments from unorthodox materials such as PVC tubes and polystyrene. He believed in the superiority of microtonal music over tonal and in the late sixties his studio was visited by then tropicalistas Gilberto Gil and Rogério Duarte, while Tom Zé and super-underrated percussionist Djalma Correa became his students. Caetano Veloso referenced him in the track "Épico" from his avant-garde classic LP Araçá Azul (1973), in the verses "…Hermeto/Smetak, Smetak, Muzak & Smetak & Muzak & Smetak & Razão/êêêêêêêêê cidade…" His first album Smetak in 1975 was produced by Veloso and contains the wonderful "Tijolinhos, Material de Construção Audição Espontânea do Silêncio", where a disconcerting synthesizer tone opens up to reveal a buzzing droning number that incorporates his homemade sounds.
Beto yet again connects the past to the present when I bring up the name of Jorge Antunes. Antunes recorded what is considered the first electro-acoustic/electronic album made in Brazil when Musica Eletronica was released in 1975. During the 60s he built his own components for electronic instruments, including a theremin, sawtooth oscillator, a spring-reverb device and more. Musica Eletronica is a remarkable record; the B-side opener "Auto-Retrato Sobre Paisaje Porteño" sounds incredibly contemporary, it's an early piece of turntablism in which an old tango record is looped and manipulated and then mixed with electronic sound effects and voice manipulation. The album was recently rereleased by Mental Experience and is full of pure electronic sounds, pulsating rhythms with filtered noise and tape splices.
Antunes is the missing Brazilian link between Pierre Henry and Stockhausen and is currently the director of the Electroacoustic Music Studio of the University of Brasilia. Beto and Jorge Antunes worked on a project together for the esteemed Centro Cultural Banco de Brasil. The intention of the project was to bring together musicians from different spheres, which in the case of Beto and Antunes, was popular and academic electronic music, respectively. Through this Antunes learned of Beto's admiration for his old work and they became good friends. Antunes gave him the necessary cable to connect the EMS AKS he got from Jocy de Oliveira, and sent him patches and what he needed to better understand the instrument. Beto continues his mission to spread the name and work of Jorge Antunes, interviewing him recently for a documentary dealing with the relation between technology and creativity.
Beto's unending enthusiasm for other people's work enables him to be a catalyst for these connections to happen. Take for example the case of Plus Instruments: Beto buys the 12 LP Minimal Synth Wave box set put out by Vinyl on Demand, it includes an album by Plus Instruments, a project by Truus de Groot in all but name. The album, Exile in Paradise, is made up of old unreleased material recorded in the Netherlands and New York. Beto becomes fascinated by this record, tracks her down on Facebook, researches as much as he can about her, dedicates radio shows to her music, interviews her and then invites her over to play for the São Paulo 24-hour cultural festival Virada Cultural. Truus comes over with Bad Seeds drummer Jim Sclavunos and they put a band together to play for the festival featuring Beto as well as São Paulo post-punk veteran Miguel Barella on guitar. Something clicked and Truus and Miguel started exchanging files, Truus working in her studio in California and Miguel in São Paulo, and the end product was yet another new collaboration – Blue Beast (pictured below, left to right: Miguel Barella, Truus de Groot, Paulo Bira, Kuki Stolarski), and the accompanying album Devil May Care.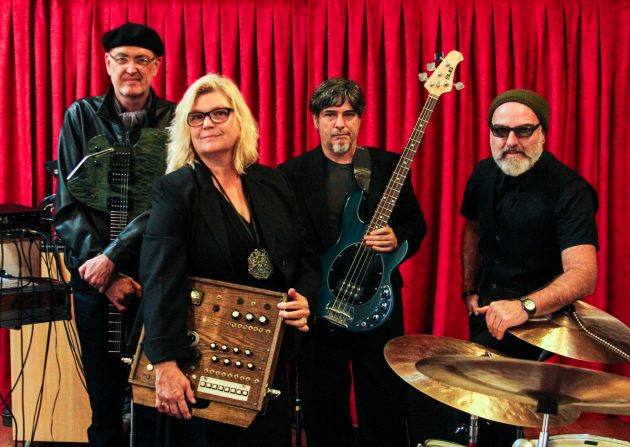 The album is an organic mix of guitar and electronic sound, without any defining genre to pin it down, it opens with the chaotic, abrasive and disturbing "Comfort Zone", but then veers off into manic surf tunes and just as easily comes up with a Suicide tribute track in "Vega", Alan Vega being a personal friend and inspiration of Truus's. The duo recently played some live shows in Brazil to promote the disc and with an expanded band set-up the songs really came alive; the industrial jazz blues sound behind the Blue Beast has been one of my live highlights so far this year.
Truus de Groot has a fascinating background and a labyrinthine back catalogue to explore, which she told me over lunch in São Paulo. Starting off in the punk scene in the Netherlands, she then went to New York in the early 80s and was involved in the loft scene there, forming Plus Instruments with Lee Ranaldo. After playing with Rhys Chatham, she moved to Memphis and played raunchy rockabilly blues, eventually moving to Escondido CA with artist husband Bosko Hrnjak where she has been releasing electronically-noisy material over the years.
Truus's inspiration was the Crackle Synthesizer, invented by Michel Waisvisz. She has incorporated its sounds over the years, blending it with her traditional singing style and continues to use her own self-designed synthesizers in her shows and recordings. The unpredictable nature of the Crackle Synthesizer can be heard to disarming effect on her recent release, Salton Sink Vol.1, a minimal and electronically-raw album inspired by the urban archeology of the Salton sea. But dip into her recordings and you can just as easily find charmingly strange albums like Surrealist Ball, made for an event hosted by the artists Mark Ryden and Marion Peck, where traditional rhythms such as the mambo and pasodoble are given a going over with Truus's flotilla of instruments.
It's fascinating how Beto has put himself amongst all these creators and innovators. It's clear that he does all this from a fan's point of view, however, he has always been more interested in making music rather than making the instruments, giving feedback on how the instrument should be and how better it would work. Beto currently makes his living working on soundtracks. Amongst a very full CV, he has worked with Brazilian director Paulo Sacramento on his full length Riocorrente (2013), and horror director Dennison Ramalho on international releases such as ABCs of Death 2 (2014) and Ninja (2011). At the moment he is working on a new project with Ramalho that will be released next year.
I find the connections between all the artists mentioned above fascinating, the encompassing warmth and socialness of the Brazilian people is exemplified in the way the musicians form connections and collaborations, the older generation inspiring and helping the next generation to push boundaries and create new avant garde electronic music.
Andy Cumming's Synth Music from Brazil Playlist:


Follow Sounds and Colours: Facebook / Twitter / Instagram / Mixcloud / Soundcloud / Bandcamp

Subscribe to the Sounds and Colours Newsletter for regular updates, news and competitions bringing the best of Latin American culture direct to your Inbox.
Share: