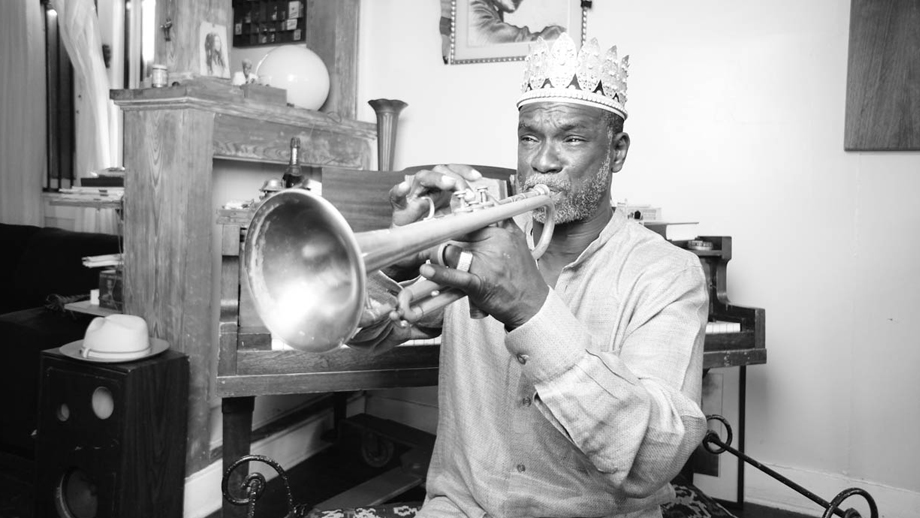 Samba & Jazz
08 December, 2015
If you want to see what a cultural, social and generational creative community looks, feels and sounds like, then dive right into this fantastic film.
Samba & Jazz tells the stories of what it means to be part of the samba and jazz communities from the viewpoints of various different musicians living in Rio de Janiero and New Orleans. The film focuses particularly on two musicians, Pretinho da Serrinha (Brazil) and Greg Stafford (USA), juxtaposing their artistic lives and communities. The similarities are the main focus, and there are many.
The film begins as a musical conversation between Greg, a jazz trumpet player and Alcione, a female singer and cornet player (one of the only women in the film incidentally) taken from two different locations.
From the first second the artistry of the film-makers reflects the artistry of the musicians, making this one of the most artistic musical documentaries I have ever seen. The camera angles and shots, the use of black and white and colour, the way the film has been edited to make musicians finish each other's musical lines or stories, is just beautiful.
We follow Pretinho from his slum beginnings in the Serrano samba school to his successful professional career, with interviews with important teachers and musicians who helped him along his journey. This is a history lesson as well as a cultural one. For many, music was a family affair and each generation educated the next. But some people, like Careca, who created a samba school where slum children could get out and become professional musicians, or Mestre Atila, President of Imperio Serrano, who sees samba culture as 'social work' to enable the younger generation to improve their lives through culture, show a spirit of generosity and attachment to tradition which makes you feel joyful and like going and joining in right now!
The subjects of slavery, smart clothes, the price of carnival floats and preparation, the physicality of rhythm, the spirit of samba, racism, Hurricane Katrina, jazz funerals, identity to place, are all touched upon, although one could sit for hours and watch much more about all of that. Sadly a typical film format of 1h30 can't contain so much!
Pretinho is from the younger generation, has played all styles of samba with the big 'sambistas' and travels too. For him samba is his starting point, his roots. Greg from New Orleans chose to specialize in traditional jazz from his city and refused to do other styles or move to other places. He felt he would be more 'effective' staying put and contributing there. Mestre feels his community lies in many different places (his organization has worldwide supporters) and feels it's the people who keep it together more than being located in one place.
The film works like a concert. We start with the beginnings (in black and white), the carnival preparations, we see rehearsals, conversations in bars and community centres, and train journeys with the film culminating in long scenes of carnival in both cities with people dancing in the streets and celebrating life, all shot in colour. The coda shows Greg and Alcione once again playing short solos (in black and white) for the camera, before Greg walks off down the street singing to himself.
The film leaves us with questions too and does not choose to resolve any of the problems that have been presented. We can see the women are not included in this cultural transmission for example and the last song that they chose to finish with, Greg's interpretation of "What a Wonderful World", felt like an oversimplification as a conclusion to the film, which had raised many interesting discussions about social divisions and other such problems.
The overriding feeling in this film is the warmth and belief of these musicians in what they do, and how they are prepared to dedicate their lives to their music. Their music is their community and is part of every day life, something many other places have lost. Culture as a place for identity, social resilience and the expression of the complexities of dealing with life as a coloured or discriminated person bring a lot to the surface, and this film is an invitation to each of us to explore such ideas in far more depth.
Samba & Jazz was showing as part of Toronto's Brazil Film Fest 2015

Follow Sounds and Colours: Facebook / Twitter / Instagram / Mixcloud / Soundcloud / Bandcamp

Subscribe to the Sounds and Colours Newsletter for regular updates, news and competitions bringing the best of Latin American culture direct to your Inbox.
Share: