Review
Seu Jorge and Almaz
The way opening track "Errare Humanum Est" begins with a fierce guitar line winding its way around an even more ferocious bass and drum rhythm instantly made me check what I was listening to – was this the same Seu Jorge who had made albums of classic samba-soul I had listened to previously? The sound is so earthly and solid, a real departure from previous Seu Jorge albums.
The components of Almaz perhaps have more to do with this particular sound. It definitely shares some sonic similarities with Fome de Tudo, the last album by Nacao Zumbi, of which guitarist Lucio Maria and drummer Pupillo are present here, fleshed out with bassist Antonio Pinto, a man responsible for soundtracking City of God and Central Station among others. There is a fullness to the sound they deliver over this album, especially prevalent on that opening track, a reworking of one of Jorge Ben's more pared-down though no less slinky numbers, and the following "Das Model", originally by Kraftwerk, and "Cristina", an early Tim Maia classic. It's the Kraftwerk cover which stands out, managing to keep the unworldly tone of the original but rounding out the rhythm, giving it a deep low end that suits it to perfection.
These covers give an indication to the content of the album which is a mix of samba, soul, jazz and pop; obscure and well-known numbers. Two of the real successes come from the lesser-known pile; Tribo Massahi's "Pai Joao", an Isley Brothers-style soul thumper with African percussion, and "Girl You Move Me", by 1970s French band Cane and Abel. The latter track, a tripped-out groover in it's original form is reinvented as a driving rock hybrid, albeit with a smooth Isaac Hayes 'Hot Buttered Soul' style build-up.
Of the better-known tracks, a cover of Michael Jackson's "Rock With You" shows how good the original pop melody is and works twice as good slowed-down to a sultry groove, although a version of "Everybody Loves the Sunshine", a soul-jazz classic by Roy Ayers, flatters to deceive. The track, complete with blissed-out keyboards sticks far too close to the original and never really manages to find its identity. It also highlights one of the weaknesses of the album: it's sequencing. After the first three tracks comes "Saudosa Bahia", a decent samba, but lacking the power and deep soul of the songs that came before it, and losing some of the album's momentum. The same can be said of "Everybody Loves the Sunshine", which at track 7 feels like it should be the centrepiece of the album.
There is very little else to complain about with the album. In fact, it's probably as close to a Brazilian/American soul crossover as you're likely to find. There is definite middle ground between artists such as Jorge Ben and Tim Maia and their American counterparts, and perhaps this is one of the first albums that truly bridges that gap. There is no sense of place within the record, or one overwhelming style, simply a tight band capable of playing inventive jazz and samba-infused soul music with enough original ideas to keep you coming back for more. The fact that it's being released by Now Again Records and released worldwide can only help in showing people how strong Brazilian soul music can be.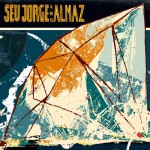 Seu Jorge and Almaz's self-titled album will be released by Now Again Records in North America and Japan on 27th July 2010, Europe on 14th September 2010, and is still awaiting a release date in Brazil.
You can buy Seu Jorge and Almaz from Amazon and iTunes.
Listen to "Everybody Loves the Sunshine" below:


Follow Sounds and Colours: Facebook / Twitter / Instagram / Mixcloud / Soundcloud / Bandcamp

Subscribe to the Sounds and Colours Newsletter for regular updates, news and competitions bringing the best of Latin American culture direct to your Inbox.
Share: