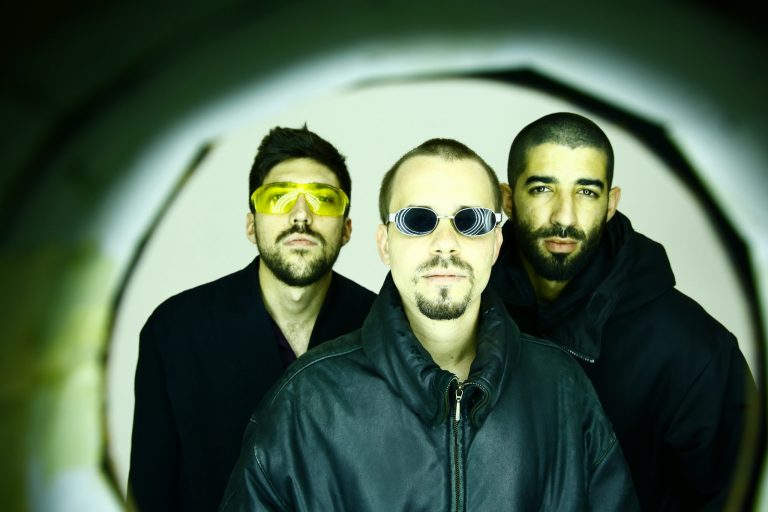 Under The Influence: Caixa Cubo
10 March, 2021
São Paulo's seasoned keys trio Caixa Cubo are proving to be, in the fashion of samba doido forebearers Azymuth, Brazil's latest à la mode export. Less than a year since we premièred their seventh studio album Angela, the trio's insouciant jazz-funk is getting reissued by London's Heavenly Recordings. The label, whose delectably diverse roster includes offbeat indie delights Baxter Dury and H. Hawkline as well as raucous Madrileño rockers The Parrots and Dutch quartet Pip Blom, will be releasing their first Latin American LP this Friday.
Ahead of the vinyl release – an orange limited edition of which is already sold-out – I caught up with the trio for our latest instalment of Under The Influence.
Henrique Gomide (Piano)
João Donato – Quem é Quem (1973)
Donato is undoubtedly one of the most inspiring piano players we have in Brazil. His simplicity, fierce rhythms and beautiful melodic approach keeps inspiring – from his first albums in Bossa Nova to his latest experiments. Quem é Quem, from 1973, shows Donato in great shape on his Fender Rhodes accompanied by a great band and arrangers like Laércio de Freitas, Dori Caymmi, Ian Guest and Donato himself.
Herbie Hancock – Mr. Hands (1980)
It would be impossible to address a few of our main references without mentioning the great, great master Herbie Hancock. His approach to electric-jazz in albums like Mr. Hands have definitely helped us shaping the way we play when using keyboards, synths and electric bass. Songs like "4AM" (featuring the outstanding playing of Jaco Pastorious) and "Schifftless Schuffle", for example, had a great importance on our development as a band and were covered by us live at a few performances.
Noa Stroeter (Bass)
Johnny Alf – Desbunde Total (1978)
Once before a gig, we were backstage choosing our top five Brazilian male singers. We had reached a verdict, but none of us was completely sure of the list: who was missing? We came to the conclusion in unison: Johnny Alf! Alf, besides being one of our favorite singers and a fantastic piano player, was one of the most important composers in the history of Brazilian music, though his immense contribution on MPB is quite often unjustly forgotten. The album Desbunde Total is from 1978 and brings Alf in great shape! Highlight for the album: "Sidarta"!
Sambrasa – Em Som Maior (1965)
Formed by Hermeto Pascoal (piano and flute), Humberto Clayber (double bass and harmonica) and Airto Moreira (drums), Sambrasa was a samba-jazz piano trio that released just one album: Em Sol Maior. The album was released on an LP in 1965 and in our opinion it is one of the most original trios from the 60's. It presents a fusion of various musical Brazilian rhythms such as samba, baião and frevo in a piano trio format. Actually the instrumentation is also variable, as Hermeto plays flute and Clayber plays harmonica in some songs. We heard this album a lot, and among the many things that inspired us, one of them is the freedom and originality with which musicians perform the repertoire.
Canto dos Escravos – Geraldo Filme, Clementina de Jesus e Doca (1982)
Recorded in 1982 by the samba masters Geraldo Filme, Clementina de Jesus and Doca da Portela, Canto dos Escravos ("Slave's Chant"), repositioned the singing of the 18th-century Minas Gerais slaves in the contemporary music scene. These songs are called "vissungos" in historiography; a form of work-song inherited from the Bengali people, originally from Angola. In the album, the three artists selected fourteen "vissungos" accompanied by three outstanding percussion players: Djalma Correia, Papete and Don Bira. A fantastic historical record, this album is a huge inspiration for us because it brings the essence of Afro-Brazilian music in its original form: voice and traditional percussion instruments. A masterpiece, definitely worth checking out.
João Fideles (Drums)
Blue Moon – Ahmad Jamal (2012)
On this album, apart from the amazing minimalist development of melodic ideas by Ahmad, there is this very creative (and let's say "modern") rhythm section formed by bass, drums and percussion. This blend between the cool piano with the busy, but solid background results in a unique version of Ahmad Jamal's music. The title track "Blue Moon" is a great example of this approach. Although it is a famous standard, it takes a while for the listener to recognize the tune on this beautiful groovy version.

Return of the Space Cowboy – Jamiroquai (1994)
It is hard to say, but maybe this is my favorite album of the band (the four first albums are my candidates). Smooth bass lines combined with a kind of traditional funky drums were determinant for my drums education. Long tracks with interesting narratives in the lyrics, put the listener on a spaceship and travels through different landscapes in the groovy world. "Just Another History", "Scam", "Mr. Moon", "Manifest Destiny"… Well, basically the whole album is great.
Changing Times – Kaidi Tatham (2017)
I've just discovered this album, and have instantly fallen in love with it. In only four tracks, you can get a lot of inspiration in many aspects. Cool harmonies, a very complex work on the rhythmic part of the songs: the accents, the stop, the mix between bass/drums/percussion, tricky bars (but still sounding natural) in the middle of a 4/4 funk… Tasteful melodies and even nice strings and pads added to the production. It's a lesson of how to be sophisticated without compromising musicality.
Angela by Caixa Cubo will be reissued this Friday 12th March on Heavenly Recordings.
Listen to the album below now.

Follow Sounds and Colours: Facebook / Twitter / Instagram / Mixcloud / Soundcloud / Bandcamp

Subscribe to the Sounds and Colours Newsletter for regular updates, news and competitions bringing the best of Latin American culture direct to your Inbox.
Share: