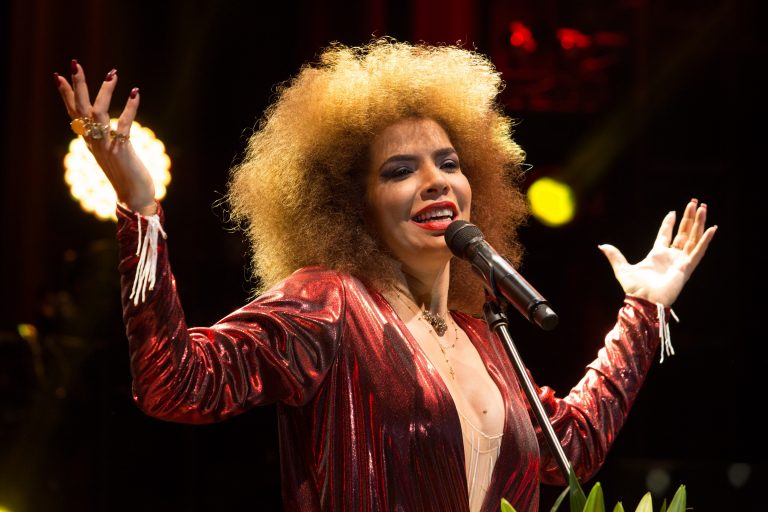 Marcos Hermes
Vanessa da Mata Discusses 20 Years As A Solo Artist and New Live Show
07 August, 2018
"The sounds of the Amazon are the base of my music", Vanessa da Mata explains to me. "I really believe that this is the origin. The source, everything else grows on it". As her name suggests, Vanessa da Mata hails from deep Brazil (her name translates as "Vanessa from the forest"), from a fairytale-like tropical town called Alto Garças in Mato Grosso. It was there that she grew up, leaving at 15 years of age. She has since travelled far and wide, adopting musical influences from all corners of Brazil and becoming one of the most distinguishable voices in contemporary Brazilian music. Now, after almost 20 years as a solo artist, she is taking her Caixinha de Música tour to stages around the world.
The tour brings together new versions of her classics, songs such as "Vermelho" and "AiAiAi", remade with electronic and bass arrangements. It's also been released as a live album and DVD. Now few things define music in Brazil as much as the live music experience. There is a legacy as old as Brazil itself of people coming together in public spaces in celebration of that magical communion, whether they are playing samba or batucada or forró. And then there is MPB. Música popular brasileira (popular Brazilian music) is the modern hybrid of all Brazilian rhythms, made to please both the pop radio audience as well as to be enjoyed at late night, light-dimmed acoustic shows, surrounded by old and new friends, old and young, on the town square or by the beach, dancing and singing along to the old classics. Vanessa Sigiane da Mata Ferreira's musical repertoire is quintessential to the genre – not because of her fascinating storyline and narrative or her musical genius – but because she has achieved something few of her contemporaries have.
Before launching her solo Career, da Mata was composing for the legends: Caetano Veloso, Maria Bethania, Milton Nascimento and Chico Cesar, thereby bridging the gap between tropicália, the golden age of Brazilian music and contemporary music production. And while there were years of hard work before Vanessa's breakthrough in 1998, Vanessa is quick to recognise the importance of her formative years within that circuit.
Vanessa: In fact I had a dream about composing for Maria Bethania even before meeting her people. She was actually the first artist to sing my songs. Making it happen felt like magic at the time. Later she introduced me to Caetano and we wrote another song. My life began to change drastically. The reason why I delayed recording my own music was because I did not like the idea of fame. I did not like the idea of losing my individuality, my discretion. I am a very low profile person, so it felt strange to lose this aspect of my life. At the same time, the popularity my music gained and of course the chance to make a living with my music are the upside of the story. I must clarify that at first I was very shy and I suffered on stage. Today I feel more like an artist and embrace it all with more maturity. I feel at home on stage and the sensation to share my music is amazing. I would say that my early years producing taught me how to sing, how to breathe and to experience every song wholeheartedly.
Singing my own music was a powerful experience. Having an audience singing my songs back at me revealed to me a special type of connection. Seeing that there are people that can feel similar things as you is a crazy experience.
With "Boa Sorte" ("Good Luck" feat. Ben Harper) you even had an internationally successful song.
To be honest I did not see this coming. My Portuguese version had been written and composed for exactly ten years, when Ben added the parts in English. When the song started to get played internationally, and people from all over the world would send me their cover versions, it all made sense to me. The message and feelings in the song were real. The song is clear and simple and translates into how people feel in relationships sometimes.
Live performances have played such a big role in your career and production.
My intention here lies in keeping the spontaneous way of playing music, not over-rehearsing things. I think it is important to maintain the overall feeling of the songs alive. Of course you need to stay rational and give the sound a direction. You cannot let the songs go crazy without giving them shape. However I think it's important to let the music flow. The magic happens when the effect of the song comes as a surprise.
What do you think it is that makes the music in Brazil different?
In Brazil we have many great producers, since it's a big market with many music lovers. At every corner there are people playing music. I love the feeling that originates from the 70s in Brazilian music. Even in the studio I like to employ vinyl for sampling. I feel that this adds more emotion to the production. I really try to listen to all types of music but I confess that I am addicted to the classics. That's what I listen to everyday at home. One of the newer artists I adore is Ze Manoel. I even wrote music for him. It's on a record called "Delirio de um Romance ao Céu Aberto".
If we think about the rise of tropicália, we could say that the best music came from times of struggle. What would you say about MPB today?
Caetano, Gilberto and Chico Buarque and many others fought against the dictatorship in the 70s. Many of them died. They had ways of influencing the people and fighting against manipulation from the government. In Brazil, many musicians are intellectual people, especially in MPB. We care about the arrangement and message of our culture, we address problems and I feel like the music still has an influence on people's thinking.
What about the place you are from, how did it shape your thinking?
My childhood was magical. We had a big forest around our house. My pet was a boar and we would feed the tropical birds of the woods. My neighbour had a 7m Anaconda as a pet and we would watch the snake eat live chicken. Those are scenes right out of a storybook!
My grandmother was a strong and religious woman, who would take care of me while my mother worked as a teacher and my father travelled. She took me to church, which is where I started singing. I was often sick as a child but I see it positively because staying at home got me interested in writing.
These days, transgenic soy farming is what drives the local economy. This creates work opportunities for the people of the town but also has effects I do not support. It's a big problem. I think I prefer people being less aggressive and more adaptive to their natural surroundings.
What about the musical influences?
When I started out, there was little consciousness of the music from the Amazon basin. As Brazil is so big and diverse, so are the soil, people and the music. The indigenous people produce and compose too. For my music, the music from the Amazon is the base of it all, where all else builds on. Nevertheless, I'd say that the Brazilian rhythms and folklore are most common to my production: maracatu, samba and such.
What about reggae music?
I was definitely influenced by a Jamaican band Black Uhuru that I used to sing with in the 90s. They are a legendary and solid band. After we toured in Brazil, they invited me to go back with them to Jamaica. In the end, I am happy I didn't go.
You did go to Jamaica to produce your album Sim ("Vermelho", "Boa Sorte") though.
I did and it was good! And I can say the production culture in Jamaica is completely different. They make all the arrangements before recording. The grooves, the mediums, the high tones are all preset. This influences the album's outcome. In Brazil our production is different, as after recording we do extensive post-production, we can modify the sound, add more guitar riffs here and there, just like artists would do recording in places like London. It's just different ways of production.
Can you tell us what the future holds for you? I would love to know what new styles and genres you will explore next.
Well I would like to know, too! In October, I am touring with Cuban singer Omara Portuondo (Buena Vista Social Club). She is a strong woman and sings like nobody else, 87 years of age. The tour is called The Last Kiss. I wish I can be like her when I get older! Omara invited me to the tour and I feel like the happiest person in the world to join her!
Vanessa da Mata's live DVD and record Caixinha de Música was released by Sony Music in 2017. She is playing the KOKO in London on August 9th, followed by shows in Portugal and Brazil.

Follow Sounds and Colours: Facebook / Twitter / Instagram / Mixcloud / Soundcloud / Bandcamp

Subscribe to the Sounds and Colours Newsletter for regular updates, news and competitions bringing the best of Latin American culture direct to your Inbox.
Share: