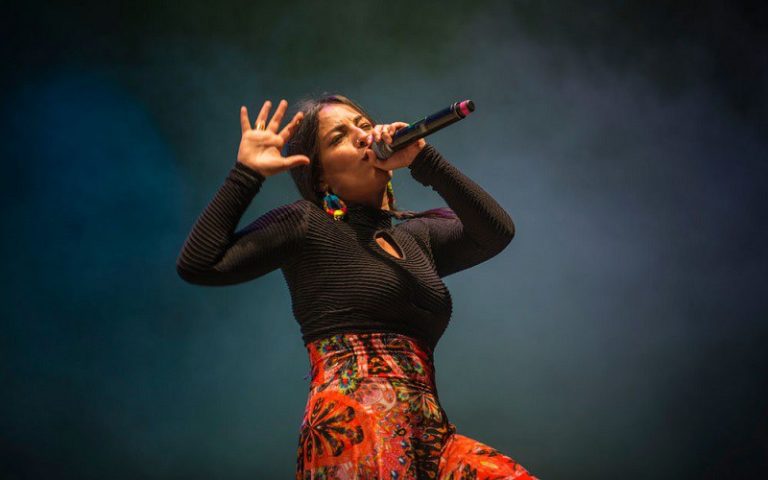 Getting To Know Places Through Music: An Interview with Ana Tijoux
11 June, 2018
For years Chilean rapper Ana Tijoux has forged a reputation as a fierce hip hop MC with a burning desire to change the world. Now she is expressing herself in new ways.
Tijoux's outspoken feminism and anti-capitalism have provided a soundtrack for activists in her home country, where social movements have been fighting discrimination against women and the neoliberal economic system. For the artist herself, creating consciousness has always been an important part of her work. "Music is like a tool that manages to amplify both thoughts and emotions at the same time," said Tijoux. "I want my music to make people think while feeling something and feel while thinking something."
After growing up in France to Chilean exile parents, Tijoux moved to South America as a teenager. Relocating to Chile came as a shock, or "a bucket of cold water," after a cosmopolitan childhood. "France represents more than France for me, it represents Africa, North Africa, lots of Arab music," said Tijoux.
However the move woke her up to another part of her identity. "It's a country with a lot of scars and a lot of pain, she said. "But in recognizing the scars and the pain I fell in love with them and I fell in love with the country's capacity of resistance as well."
That resistance continues to this day, with the return of billionaire Sebastián Piñera to Chile's presidential palace a cause for concern among progressives. However Tijoux doesn't limit herself to criticizing the right-wing politician. "Since the arrival of democracy, in quotation marks, we've had a number of governments that have tried to make changes, but deep down nothing has changed," she said. "It's still a very privatized country – education, retirement, healthcare – so for me the criticism isn't only of Piñera but of a system that has deepened since it was installed."
For Tijoux, her music can be an important way to promote change, but she insists that each of us has the capacity to affect the world we live in. "Music isn't the only tool," she said. "You as a journalist, the teacher in the classroom, the singer with their songs, all of our labour can make a change."
While hip hop has traditionally lent itself well to her activism, Tijoux is now working on a new album in a different style. Roja Y Negro: Canciones de Amor Y Desamor (Red and Black: Songs For Being In Love and Falling Out Of Love) is a folk album that follows the tradition of Chico Buarque, Violeta Para, Victor Jara and Mercedes Sosa, all revolutionary artists with acoustic guitars.
http://www.youtube.com/watch?v=hyib8amSMgg
Working with English producer Quantic and recording between Chile and New York, Tijoux has also invited artists such as French rapper Akhenaton and Congolese artist Baloji to collaborate. "Akhenaton represents part of my musical childhood and I've always found his way of writing very interesting," she said. "And I love the mix that Baloji has made between hip hop and music from the Congo."
Other musicians that Tijoux is listening to at the moment include Chilean artist Portavoz, Guatemalan rapper Rebeca Lane, and Brazilian MC Emicida, but she also likes listening to artists from around the world. "Music has shown me whole countries," said Tijoux. "Even though I don't understand the words a lot of the time, I get to know places through their music."
"Music is a door, it's a key, it's a structure that you can use to explore new territory."
Tijoux spoke in London as part of the Thinking Iberoamerica events series run by Instituto Cervantes. Director Ignacio Peyró hopes that the events will form new connections between Britain, Spain and Latin America. "I'm not sure that Latin America gets the attention, geographically, politically, or economically, that maybe it should deserve in Britain," he said.
The events will shine a light on writing, music and thought from the continent, and shatter the illusion that Spain dominates Hispanic culture. "Spain is 10% of the Spanish language," said Peyró. "If you analyze the last 50-60 years of novels, the best novels have been written in Latin America, not in Spain."
To find out more, take a look at the Instituto Cervantes website: Thinking Iberoamerica.
Watch a live version of "Calaveritas" from the Roja y Negro project below:


Follow Sounds and Colours: Facebook / Twitter / Instagram / Mixcloud / Soundcloud / Bandcamp

Subscribe to the Sounds and Colours Newsletter for regular updates, news and competitions bringing the best of Latin American culture direct to your Inbox.
Share: