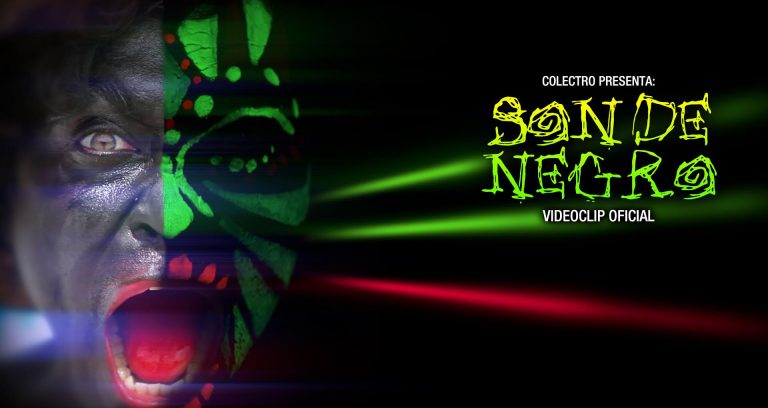 Colectro Celebrate Afro-Colombian Folklore in New Video
12 December, 2016
A new music video by Colombia's Colectro pays homage to one of popular characters and dances seen each year at Carnaval— el "Son de Negro."
"Son de Negro" is named after a traditional dance and one of the characters prominent in Barranquilla's bacchanalian carnival. He is regarded as a symbol of slave defiance over the Spanish conquistadors, who are represented in Carnaval by the amusing Rey Momo.
We did a little digging and found a little more about this dance and its character, courtesy of this Conversations blog post on "Being Black in Colombia: The curious Son de Negro of Carnaval:"
"El Son de Negro is a mid-20th century creation, a cultural celebration of Afro-Colombian identity and history. The black paint is meant to affirm, not denigrate, blackness; those participating in the dance must distinguish their folkloric expressions from those of the indigenous peoples. Skin color just happens to be the chosen visual signifier. Students of Postcolonialism may question the correctness of El Son de Negro costume – leaves, sticks and little else – reading it as a propagation of the stereotype of the uncivilized, jungle-born-and-raised exotic African. Even the dance's name suggests a Euro-centric intervention. Devia defends the costume as an appropriate representation of the cimarron (a runaway slave who led the slave resistance movement in Colombia in the early 17th century). It's not like runaway slaves had lots of clothes to pick from. The dance, a mix of mapalé with Bantu (central African) rhythms, is an example of pride in African history in a country where memory, consciousness and understanding of these issues is lacking. Like my relatives told me repeatedly, El Son de Negro's role in Barranquilla's Carnaval is to make fun of El Rey Momo."
Colectro's new song features Cartagenero rapper Jhon Primera of Systema Solar. The video, directed by Colectro's lead singer, Gonzalo Prieto F, finds the band in an arid jungle, where they encounter neon characters that lead them to a dream loaded with coletera and sensations of "good vibrations and joy."
The video was partly filmed in one of the most emblematic places featuring the fauna and flora of Barranquilla, "El lago del Cisne (Swan Lake)," which experienced horrific droughts in 2015, resulting in one of the most notable ecological damages in the entire region. Though recovery efforts are ongoing, the band figured featuring the locale in its video would bring awareness to the would-be tourist stop, which lost much of its biodiversity because of the drought.
Watch the new video for "El Son de Negro" below, and pick up Colectro's latest album, Coletera, released this past August, on iTunes.

Follow Sounds and Colours: Facebook / Twitter / Instagram / Mixcloud / Soundcloud / Bandcamp

Subscribe to the Sounds and Colours Newsletter for regular updates, news and competitions bringing the best of Latin American culture direct to your Inbox.
Share: