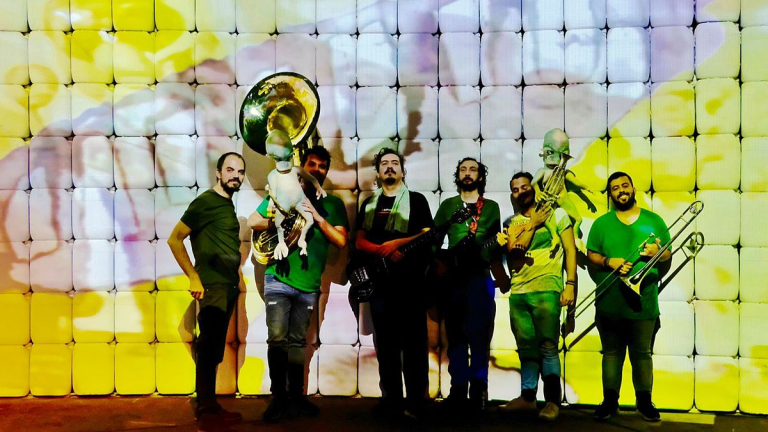 New Colombian Music Vault
22 July, 2021
As it is usual during this time of the year, a good stack of new and exquisite Colombian releases have piled up in all sorts of genres and formats. Though it's still dubious that live performances and music markets are fully back on track this year, the talent and maturity from the country's projects are as cutting-edge as usual. Both in terms of virtuosity and on the production front, this list of tunes is only a sample of the top class material that continues to pour out of these charming lands.
Los Pirañas – Infame Golpazo en Keroxen
Though it's already been a couple of years since their latest full length release, Historia Natural, the overlords of modern tropical psychedelia are back with a mighty live album, comprised of the band's greatest hits to date. Released on Discrepant's Canary Islands-based sister label Keroxen, the album was recorded in a massive disused kerosene tank, which has become a performance hub for experimental bands across the world for the last 10 years.
While the power trio's distinctive and noisy aesthetics are present throughout the entire recording, the true appeal in this one was granted by the unusual addition of a brass section, which has certainly been a focal point in some of the band's related projects, while being an absolute yet intoxicating rarity in the case of Los Pirañas. The non-stop, frenetic sound of pipes and whistles, plus the habitual dose of madness and musical talent that is always expected from these guys, make up for a dancier, fresher set of classics from the band's discography ("Sir de Gusano", "Monstruo Prometedor", among various others), making it one of 2021's most exciting and fun listens.
Mente Orgánica – Formentera
Multi-instrumentalist and producer Jacobo Polania a.k.a. Mente Orgánica has slowly morphed into one of the most prolific and exciting artists out of Bogotá's ever-growing scene. Heavily inspired by the country's social and political turmoil, the Chapinero-based project has become a non-stop factory of tracks that are meditative and carry a tonne of healing power, while maintaining a solid knack for rhythm and colourful beats
Only a couple of weeks after the release of his much anticipated LP El Espacio, Mente Organica is back with two tracks that perfectly sum up the project's vision. Released alongside Argentina's Fértil Discos as part of their Medio Ambiente series, Formentera presents two beautifully crafted tracks, showcasing Jacobo's habitual exploration of Andean sounds, with the perfect splash of electronic timbres and downtempo that are to be expected from him.
Yo No La Tengo "Todo Mal"
Yo No La Tengo (YNLT), is a brand new band from Bogotá, born in 2019, and who despite having debuted a few months before the pandemic, has already played in key venues of Bogotá's bubbling rock scene such as Asilo, Antípoda, El Chamán and La Roma Records. "Todo Mal" is a stylized noise song, constructed upon a post-punk/punk base, and hints of Colombian Tropicalia. Everything in the track is interwoven around a lyric that laments the abandonment from a father to his son.
This single is the first taste that the band have given us prior to FIEBRE, their debut EP: a work made up of six songs that oscillate between indifference, fear and self-criticism. "Todo Mal" features the work of María Paula Mondragón (recording engineer), Alejandro Araújo (mixing and mastering engineer) and Antonio Suárez (recording engineer). The artwork was the fruit of Natalie Boissard's imagination.
Towards the end of this month, prior to the release of FIEBRE, the band will publish its second single "En la Cara", along with a videoclip.
Mabiland – NIÑXS ROTXS
It's always refreshing to see artists expand on their sonic identity, while remainng true to their original identity. This is clearly the case for Medellín-born Mabiland, who is back with her second album NIÑXS ROTXS, a ripe collection of synth-infused tunes and bluesy ballads. After the massive impact that her first release made in the underground back in 2018, the LP is a self-produced project, which denotes a slick, high quality level of production, plus the mesmerizing voice of the young singer. The 14-track album also leaves space for contributions from acclaimed figures like Juan Pablo Vega, and PJ Sin Suela.
Afro Legends "El Golpe y el Bajo" / "Dime Si Puedo"
Back in 2020 we reviewed the first release of newly founded Discos Pacifico. Ever since then, the label has been developing talent in a pretty serious and consistent manner. Right in the midst of the highly positive reviews that projects like Bejuco's debut album, as well Semblanzas del Rio Guapi's phenomenal Voy Pa Allá record, the conglomerate of renowned producers Ivan Benavides and Diego Gómez now aims at a more contemporary view of Afro-Colombian music with Afro Legends: the merger of Liam V, Flowsiao and Sterling Delpa. A new encounter of dancehall, rap, and the varied repertoire of rhythms that spots like Buenaventura and Guapi have to offer.
Though it's more of a mainstream-aiming release (particularly the song "Dime Si Puedo", which is a pop ballad more than anything else), the singles portray the production quality seal that is to be expected from this record house, which for this occasion brought Prieto Riddiman and Scott Banks on board for production and mastering purposes.
Combo Chimbita "Mujer Jaguar"
Out of the group of Colombian artists that are making it big both in the larger marketplaces of the U.S. and Europe (J Balvin, Karol G) as well as in the world's alternative scenes (Ela Minus, Lido Pimienta, to name just a few) Combo Chimbita still remain one of the best kept secrets for tonnes of people. Even though they've been signed to the iconic ANTI- record label and have made appearances at the iconic KEXP radio studios, among various others, the band still remains an unexplored, and certainly underrated effort towards a brand of traditional Latin American folklore that is both ancestral and disruptive.
The latest single from the Colombia vía New York fourpiece is called "Mujer Jaguar", and it showcases an invigorating, set of syncopated, math-rocky guitar/drum fills, accompanied by singer Carolina Oliveros' energetic roars, which according to her, "are largely a crying out from the soul, a connection to our deep desire to construct a different world". The song comes along with a fiery video, and a set of North American tour dates announced for the month of September.
Conjunto Media Luna "En Este Mundo y En Esta Tierra" / "N21"
The bubbling scene of traditional cumbia remakes and revisions that has come about in Bogotá during the last decade, has now formally acquired Ivan Medellin's most recent project Conjunto Media Luna as one of its most shining and promising names. After headlining the Mes of Cumbia Ingobernable and other events since last year, the group released an Andrés Landero-style/dub single comprised of songs "En Este Mundo y En Esta Tierra" and "N21". The single was released by In-Correcto, with the contribution of Biche and seasoned local producers such as Nicolas Eckardt and Eblis Álvarez, who have already established themselves as a well known and effective combo for Medellin's multiple projects.
We have vinyl copies of "En Este Mundo y En Esta Tierra" / "N21", released by Okra, available from our shop

Follow Sounds and Colours: Facebook / Twitter / Instagram / Mixcloud / Soundcloud / Bandcamp

Subscribe to the Sounds and Colours Newsletter for regular updates, news and competitions bringing the best of Latin American culture direct to your Inbox.
Share: