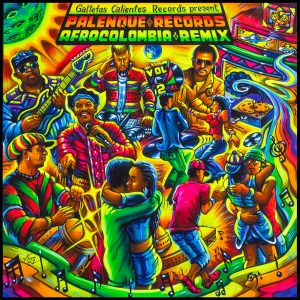 Review
Palenque Records AfroColombia Remix Vol 2
Palenque, a name that has always gone hand in hand with Afro-Colombia. "The only one with its own language, is San Basilio", Lucas Silva of the iconic record label named after the town, recently pointed out, "but there are many Palenques". There is, however, only one Palenque Records.
Whilst Afro-Colombian influences spread far and wide throughout the country, both in style and reach, one genre which has evolved supreme for much of Colombia's Caribbean region, and provided much of the impetus for Palenque Records itself, has been champeta.
With roots buried in more traditional themes, such as Congolese soukous and Nigerian afrobeat, many of the Colombian precursors to the genre have been brought into the spotlight through Palenque Records' 20 plus years of 'musical activism', shining a light on Afro-Colombia and its various cultural manifestations.
The label has brought to the fore a number of prominent artists, and Palenque Records AfroColombia Remix Vol 2 continues the trend, picking up where the first, shorter, edition kicked off. This time, it delves deeper into the pot of Palenque artists, featuring artists such as Son Palenque, Estrellas del Caribe, Batata y Su Rumba Palenquera and the legendary voices of Viviano Torres and Louis Towers. The latest release also shifts attention to Colombiafrica – The Mystic Orchestra, the group that was formed for the album Voodoo Love Inna Champeta Land and featured the aforementioned champeta artists as well as African musicians including the iconic, Congolese soukous guitarists Bopol Mansiamina, Diblo Dibala and Dally Kimoko as well as vocalist Nyboma.
As with the previous volume, the Palenque Records' artists have had their revival marked in the form of remixes from some of the world's leading bass DJs, in a fantastic joint release with Galletas Calientes. A work in which champeta's forerunners are celebrated by their modern-day adherents, the 15-track second volume brings us interpretations from all over the world today. Building an audial bridge between past and present, the 7 tracks on 12-inch vinyl, including 8 digital bonus tracks available for download, offer a high-tempo celebration of champeta culture and its Afro-Colombian roots.
The vinyl kicks off with an injection of pace courtesy of Boston DJ Bosq's dancefloor-ready remix of Son Palenque's "La Negra". Alongside are four fantastic remixes from the Colombiafrica Orchestra. One of two remixes of Colombiafrica track, "Mama Africa" comes from Ghanaian and UK artists, Zongo Abongo and The Busy Twist, who both collaborated excellently on last year's Ghetto Kumbé, Soy Selva, release.
"Zarandia Champeta", mixed by Argentinians Frikstailers cuts between break-beat and soukous lead melodies carved out by Bopol Mansiamina, pitted against the enchanting calls of Colombia's Viviano Torres, one of San Basilio de Palenque's most iconic voices.
A bass-heavy remix of "Mama Africa" by Dutch artist Umoja and a hip-hop/funk fusion on "No Habla Na" from Barcelona's DJ Panko complete the international remixes on the vinyl addition. Alongside them sit two tracks from modern-day champeta trailblazer DJ Rata Piano, that bring contemporary champeta into the fore; think darting soukous melodies, awry Casios and picó-ready bass.
The additional 8 digital tracks extending the party include Novalima's deep remix of Son Palenque's gaita-heavy "Alito Pio", young Colombian producer Thombs offers a high energy take on Son Palenque's "Aguata", meanwhile Denmark's Copia Doble Systema make their mark in a scatter-dub version of Son Palenques "La Negra". It's left to Galletas Calientes very own DJ's to close proceedings with a layered take on Batata y Su Rumba Palenquera's "Clavo Y Martillo", manifesting in a break-beat medley of tropical beats and chirimía-esque horns.
Through this joint release, one of Colombia's most relevant labels of recent times has combined with world-class artists in a compilation alongside one of Colombia and Europe's most exciting labels, Galletas Calientes. Unafraid to evolve, the result is a reflective and timely celebration of one of Colombia's best-known genres brought to new audiences via an international roster. The end product holds up well and, as you would hope it might, maintains its champeta roots beneath it all.
Exciting and full of energy, a worthy addition in its own right to any growing collection of Colombian music, and an excellent gateway for those seeking an excuse to delve deeper into afro-Colombian roots.
Palenque Records AfroColombia Remix Vol​. ​2 is available from Bandcamp.

Follow Sounds and Colours: Facebook / Twitter / Instagram / Mixcloud / Soundcloud / Bandcamp

Subscribe to the Sounds and Colours Newsletter for regular updates, news and competitions bringing the best of Latin American culture direct to your Inbox.
Share: