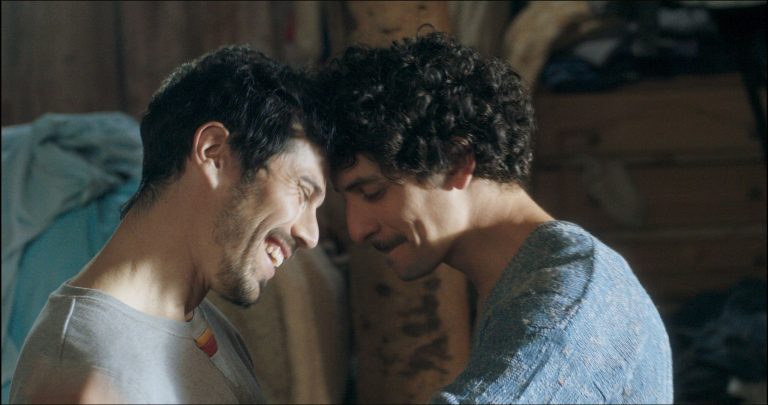 ¡VIVA! Spanish and Latin American Film Festival
¡VIVA! Spanish and Latin American Film Festival returns to Manchester's HOME Cinema for its 27th edition this August
09 August, 2021
Films from Argentina, Bolivia, Chile, Colombia, Dominican Republic, Mexico and Paraguay will be screened as part of the 27th ¡VIVA! Spanish and Latin American Film Festival, which returns to Manchester's HOME cinema this 6-22 August.
Ten Latin American films make up more than half of the programme at this year's festival, which runs across 17 days, and also includes a number of Spanish titles, as well as special events, including the popular Café Cervantes, a free but ticketed event offering audience members the opportunity to share their thoughts on the films they've seen while practising their Spanish with native speakers and other festival goers.
Ariel Winograd's El Robo del siglo (The Crime of the Century) the wildly entertaining true crime story from Argentina, which plots the events of one of the most famous and complex heists in the country's history opened the festival last Friday, with another opportunity to see this outrageously entertaining true story on Saturday 21st August.
Today the Paraguayan documentary Apenas el sol (Nothing But The Sun), which attempts to make visible the Ayoreo people, one of the 19 distinct original peoples that make up the indigenous guarani, will be shown at 18.45 with another screening on Sunday 15th August. Director Arami Ullón's film follows archivist Mateo Sobode Chiqueno as he traverses the arid and desolate Paraguayan Chaco region to register on cassettes the experiences of other Ayoreo who, like him, were born without any contact with white civilisation, until religious missionaries brutally forced them to abandon their ancestral territory, their means of subsistence, their beliefs and their home.
Diablada, based on the true story of the Alto Hospicio serial killer, who operated in Chile with total impunity from 1998-2001, will receive its UK premiere at on Tuesday 10th August. Alvaro Muñoz's debut film focuses on the desperate families appealing to largely unresponsive and uncaring local authorities, as one girl after another disappears from a poor desert town, and has echos of Lourdes Portillo's classic 2001 documentary, Señorita Extraviada (Missing Young Woman), which dealt with the disappearance and murder of hundreds of young women in Ciudad Juárez, Mexico, twenty years ago. Diablada is one of a trio of films from Chile showing at the festival this year, including Valentina Reyes' Las mujeres de mi casa (The Women of My House) about 3 generations of women living under the same roof and which screens Wednesday 11th August and Saturday 21st August, and Omar Zúñiga's passionately romantic Los Fuertes, (The Strong Ones) showing Thursday 19th August, which breaks new ground in Chilean cinema as a charmingly up-beat, same-sex love story.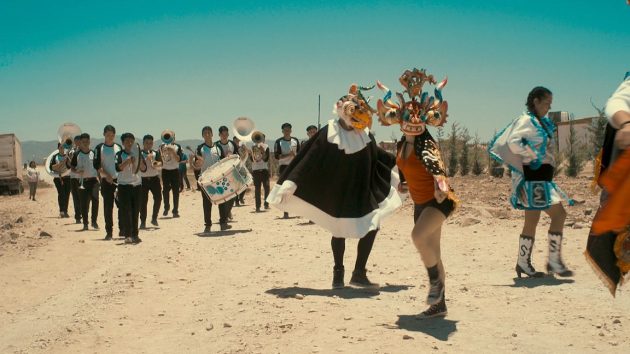 On Wednesday 11th August, Michel Franco's 2020 Venice Film Festival Grand Jury Prize winner Nuevo orden (New Order) previews with a special introduction from Jason Wood, Creative Director at HOME and author of the Faber Book on Mexican Cinema. A terrifying edge-of-your- seat commentary on the haves and have-nots of modern-day Mexico, when the lavish upper-class wedding of two affluent citizens is suddenly interrupted by violent rioters who take their house by siege, it soon becomes apparent that this seemingly random attack is part of a nationwide working-class uprising. As seen through the eyes of the sympathetic young bride and the servants who work for – and against – her wealthy family, it breathlessly traces the collapse of one political system as a more harrowing replacement arises.
Colombia's Salvador premieres on Thursday 12th August. Set in 1995 in Bogota, Cesar Heredia's debut film is an intimate story of fledging love, which also deftly brings home the corrosive atmosphere of violence and fear that permeated 1980s Colombia.
Directors Patiño and Reneo describe their film Pseudo as "a social thriller that takes a snapshot of a generation trapped between the passive old and the insurgent new Bolivia." Screening on Friday 13th August, Pseudo centres on La Paz taxi driver Julián who is scavenging for extra cash to pay for his brother's surgery. After picking up a customer who's new in town, Julián seizes the chance to assume his identity, and his well-paid career. When he unexpectedly plunges into a murky world of extremist politics and violence, Julián finds an opportunity to affect his Bolivian reality.
In Sin señales particulares (Without Any Particular Signs), Magdalena, a Mexican mother, sets out on a journey in search of her teenage son, who has disappeared en route to the US. Travelling through the desolate towns and landscapes south of the border, she meets other lost souls, including Miguel, an undocumented migrant who's been recently deported and is making his way home. Fernanda Valadez's first feature screens Saturday 14th August with a special introduction to the film from Jessie Gibbs, Film Co-ordinator at ¡VIVA! Spanish and Latin American Film Festival.
Juan Antonio Bisonó's wonderfully vibrant Mosh, from Dominican Republic, tells the story of Mosh, a 16-year-old dancer, who lives in a poor, urban neighbourhood in the Dominican Republic with her mother and her cousin, Gerónimo, an aspiring rapper. As her mother's ill health worsens, and Gerónimo gets involved with some very dangerous people, an unexpected visit changes the family's fortunes, and the film takes a delightfully surreal turn. Mosh can be seen on Wednesday 18 August and completes the line-up of Latin American films at this year's festival.
¡VIVA! Spanish and Latin American Film Festival runs 6-22 August at Manchester's HOME cinema. All films are in Spanish with English subtitles unless otherwise noted. Check out the full 2021 festival programme

Follow Sounds and Colours: Facebook / Twitter / Instagram / Mixcloud / Soundcloud / Bandcamp

Subscribe to the Sounds and Colours Newsletter for regular updates, news and competitions bringing the best of Latin American culture direct to your Inbox.
Share: