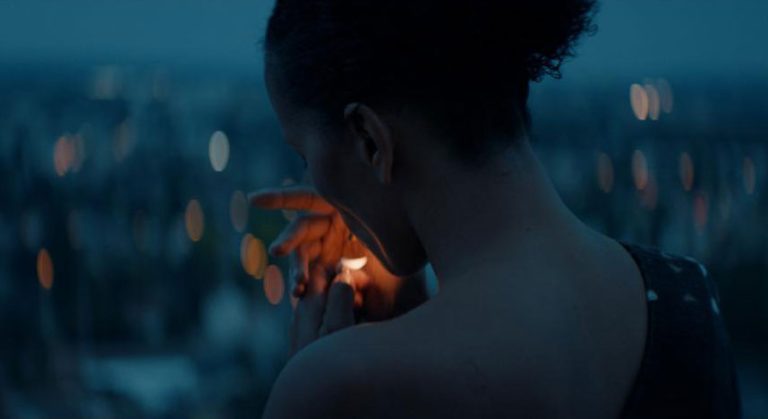 Ivan Herrera's BANTÚ MAMA at the 65th BFI London Film Festival
'Bantú Mama' And The Power Of The Chosen Family
16 October, 2021
Emma is a French-Cameroonian flight attendant who gets caught by the police when she tries to smuggle drugs on a flight from France to the Dominican Republic.
She escapes the police car, and still handcuffed, is picked up by Shulo and Tina, two teenagers on a motorbike who do not hesitate to bring Emma to their home and give her shelter, not knowing what she has done. Together with their younger brother Cuki, they live in Capotillo, the most violent neighbourhood in Santo Domingo.
Bantú Mama formed part of the 'Love' section at the 65th BFI London Film Festival, but what's love got to do with this story? There is tenderness between the protagonists as they cement their "new family", the Dominicans bonding with Emma after taking off her handcuffs. While the police continue searching for her, they are complicit in their affection for each other; the youngsters helping Emma overcome any language barriers, and Emma becoming a proxy parent owing to Tina's father being behind bars, and her mother dead.
They bond over food ("frito verde" or "maduro alloco" as Emma calls it); they pay "tributes" to the Maasai of Kenya; they laugh a lot and they play music. They meander and run around the derelict spaces of the shantytown, but there are also quieter and more intimate moments suggesting tenderness, as when Emma helps Tina with a 'crown' to become a 'queen'. She also cooks for the hosts, and buys them clothes from street vendors, seemingly unconcerned about other matters. Meanwhile, the police suspect Emma must be in the neighbourhood and eventually she has to make an "if you help me, I'll help you" deal with Tina.
The attractions of the film are the gripping quality of the plot and the corresponding immersion in its elements. We enjoy the sensory, almost textural images of the film: the sky, the water, the graffitied walls of the shantytown, the bodies dancing, and motorbikes circling. Of the actors, Clarisse Albrecht is believable as Emma, Arturo Perez is a compelling Shulo and Euris Javiel is adorable as a pre-pubescent Cuki lacking a mother but who has now, by some miracle, found another, yet it's Scarlet Reyes as Tina who steals the show.
The film places itself somewhere between morality tale and fable, more magical-realism than realistic. Lack of trust in the police, as well as social mobility, are issues, but there is nothing explicitly political about the Dominican Republic or France, or moralistic about the way that drugs or any other issue are framed. At times, as with the opening and final scenes, we even see "la isla bonita" in its perfect postcard image. With its characters, bonded through misfortune, dancing throughout, jumping up and down for no reason, there is a real sweetness to Ivan Herrera's Bantú Mama, despite the situation they have all found themselves in.
Bantú Mama will screen again in the UK on March 23rd and 26th 2022 as part of the forthcoming 28th ¡Viva! Spanish and Latin American Festival

Follow Sounds and Colours: Facebook / Twitter / Instagram / Mixcloud / Soundcloud / Bandcamp

Subscribe to the Sounds and Colours Newsletter for regular updates, news and competitions bringing the best of Latin American culture direct to your Inbox.
Share: