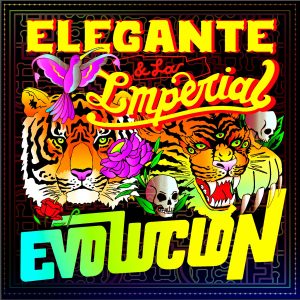 Review
Elegante & La Imperial – Evolución
Evolución highlights the past and present oeuvre of Daniel Martinetti, one of Peru's most prolific producers of the "nu cumbia" generation as Elegante & La Imperial in his current incarnation. The project represents yet another shift away from Martinetti's 'bedroom' approach, being backed this time by a band formation that enriches his productions with vocal (and lyrical) work by Estefanía "Fefa" Cox, bass by Alejandro León and percussion by Max Donagini.
Spanning a two-decade long career, Martinetti has never been shy of pushing the envelope further with every bounce off his music workstation. For those familiar with his output since 1998, Elegante is but the latest of a series of differently- and aptly-named projects influenced by Chicago house, Detroit techno and British IDM  as Danny M and Dr. Osc, and by electro as leader of both the defunct band SONORADIO and the DJ collective Elektrofreakz.
At the tipping point in 2008 (the 'year zero' of the cumbia revival) Daniel began fusing Afro-Peruvian rhythms such as festejo and landó, with the then reference styles dubstep and dub techno, coining terms such as 'afrostep' and 'maximal' (a light-hearted joke on minimal music) along the way. Soon after the stars of the south aligned and Elegante saw himself riding the front seat of the digital cumbia bus alongside Dengue Dengue Dengue!, Animal Chuki and Deltatron, among others, at the now legendary Toma! parties in Lima, Peru.
In this sense, Evolución is a justified title. The album features vocal reworks of classic Elegante tracks such as "Puro Comer" and "Piensalo" but the majority of its 10 songs are brand-new compositions where Daniel lets his trademark production style shine, notably via skilled synth programming which results in sparse, yet thick atmospheres with plenty of filter sweeps and saw envelopes – a well-informed, 21st century nod to the classic chicha keyboards of the 1980s. The beats are constructed following the hip-hop tradition: the right amount of, not just what samples to use, but also why and when to use them. While "Piensalo" features a sample that at this point could be considered the amen break of Amazonian cumbia, "Momento", with MC Bomgo's rhymes instilling a Brazilian aftertaste via his intermittent home-base of São Paulo, there is no understating Martinetti's expertise in the genre.
Evolución's release in the very diligent catalogue of Lausanne-based digital/vinyl label Hawaii Bonsai Records (managed by Axel de Pontbriand), which only two years ago graced us with its debut compilation Cumbia Libertad, fits the concept both musically and aesthetically. We hope to see further releases from this record label that is helping keep digital cumbia up-to-date.
Evolución is available on Hawaii Bonsai's Bandcamp.

Follow Sounds and Colours: Facebook / Twitter / Instagram / Mixcloud / Soundcloud / Bandcamp

Subscribe to the Sounds and Colours Newsletter for regular updates, news and competitions bringing the best of Latin American culture direct to your Inbox.
Share: