Tayrona and Taganga, underlying beauty
24 April, 2011
We travelled a bit north from Santa Marta to go to Parque Tayrona, probably Colombia's most visited national park. The landscape is covered with huge rounded rocks that seem carefully placed both on land and sea, with streams of pure mountain water that run through the forest all the way from the nearby snowy peaks.
The coast in this part of the country is not only beautiful, but also conveys an intense sense of power. The Caribbean Sea is extremely harsh on most of the Tayrona beaches, with tricky undercurrents that make swimming very dangerous. Also, its astonishing beaches and jungle paths contain many of the Sierra Nevada's sacred pagamento (offering) sites.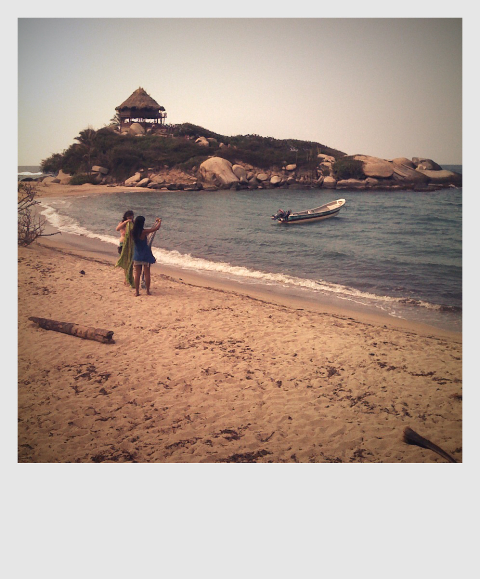 The first day we walked with our instruments and equipment in a cargo donkey (pictured below) to the paradisiac Cabo San Juan beach. We were surprised to find a restaurant and an energy generator in such a remote place. We ventured into the forest, away from backpackers, to film in the midst of rocks, trees and hundreds of paths of marching ants; Teto played flutes in dialogue with the birds and Luis played percussion with his hands on a hidden water stream. We sang in caves and springs. On the second day, we filmed a powerful sunrise, humming quietly with the Sierra wind and the crashing waves. The changing colours of dawn matched the changes in the bird calls.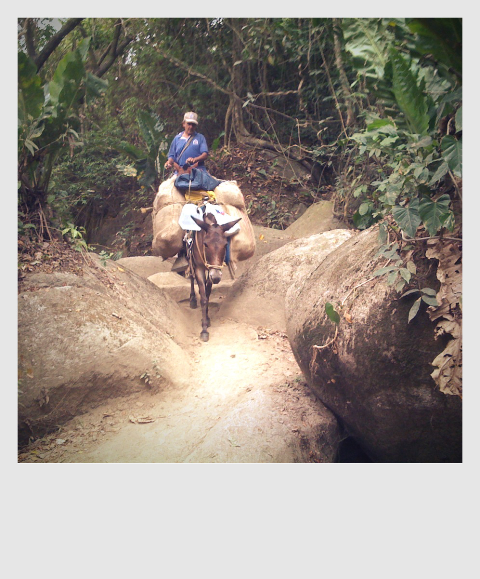 There are layers of profound beauty underneath the more apparent beauty of a place. Some of us, visited these same spots accompanying Arhuaco spiritual authorities (mamos) about a year ago. It was amazing to learn from them how to observe the territory in its integrity, not separating nature into isolated objects, but recognizing it as a whole, an interwoven and integral system. The mamos recognize both positive and negative, masculine and feminine forces in all of nature, and are capable of understanding the interrelatedness of mountains, rocks, trees, birds and humans. Learning to see beyond the apparent, they have taught us that there are many ways of inhabiting a place and interacting with a territory, giving us a hint of the mysterious yet ever-present natural order.
On the following days, we had the chance to learn more about the Sierra Nevada with Maria Teresa Villafañe, an Arhuaco spiritual authority. She is a community leader for different indigenous peoples, and a carrier and teacher of ancient songs and dances. We were fortunate to spend time with her, as she is constantly travelling (and helping people everywhere she goes). We were in the Sierra, in Santa Marta, and also at the nearby Taganga bay. Taganga is located in a beautiful, deep bay just 5 km north of Santa Marta. It used to be a tiny and tranquil fishing village, and is now a tourist hot spot filled with hostels, night clubs and scuba diving schools, as well as heavy drug sales and prostitution. It is also one of those places where you can feel a deep peace underneath the noisy and troubled surface.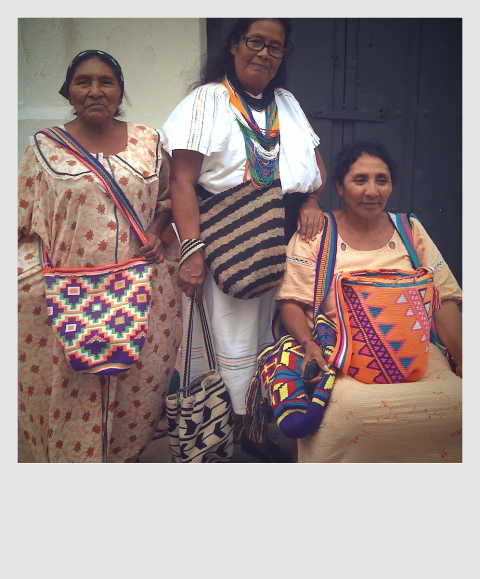 The Arhuacos tell that Taganga was a very revered site, where a wise and powerful feminine spirit dwelled. We sang and played with Maria Teresa on a small private beach on this bay. Whenever we sang, the birds joined us, and she said the mother spirit was still alive and happy that we were there. It didn't seem like a figure of speech, the place vibrated with bird songs that seemed to cut through the sound systems from nearby beaches.

Follow Sounds and Colours: Facebook / Twitter / Instagram / Mixcloud / Soundcloud / Bandcamp

Subscribe to the Sounds and Colours Newsletter for regular updates, news and competitions bringing the best of Latin American culture direct to your Inbox.
Share: