Buenaventura – Marimba as a Lighthouse
15 April, 2011
We arrived into the Buenaventura bay on a motor boat, coming from Ladrilleros. Compared to the small town where we spent the previous days, Buenaventura seemed like a huge city. We stayed at the hotel Titanic, where we had an incredible view of the bay and where we could watch the enormous boats on their way in and out of the port.
In front of the hotel was a small public park. A few weeks ago, we were told, the front of our hotel filled with people waiting to see Japan's tsunami. The event caused a huge commotion among the locals who were surprisingly excited to see the big waves come to their coast. Street vendors and people renting chairs took advantage of the opportunity and set up next to the water. The tsunami never arrived.
Our musical guide, Rocio Medina, an eclectic and talented percussionist and friend from Bogotá, took us to see her teacher. We met with Baudilio Cuama, a zambo (half indigenous and half black) marimba builder and player. A beautiful man who truly carries both of these deep musical traditions. We went to the house he made himself, in the barrio Viento Libre (free wind) on the Piedras Cantan street (singing stones street). His house is on stilts, below is the ocean. During parts of the day, the water rises and his back door acts like a small dock.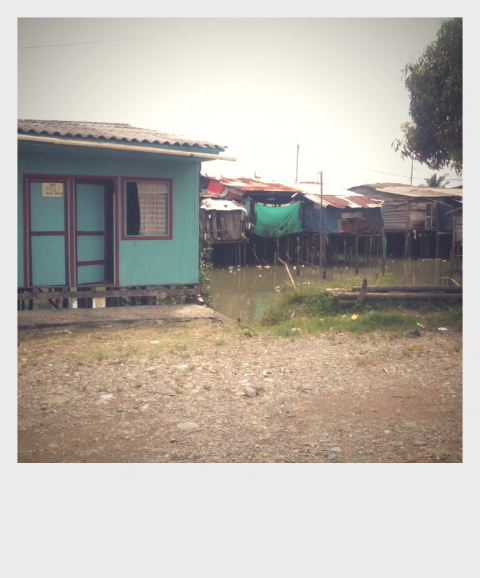 The materials for his instruments (marimba, bombo, guasa, cununo) arrive by boat to his back door. He prepares the materials then leaves the wood to dry for about 6 months, before constructing. Him and his wife Ines build the instruments together.
When he plays the marimba one feels the depth of his spirit. We were fortunate to play different types of music with him, including some improvisations, and some traditional marimba music. When he plays he becomes one with the instrument, his house, and the changing tides underneath him. Before we started playing we asked him "are you going to sing?" and he answered, "the marimba sings."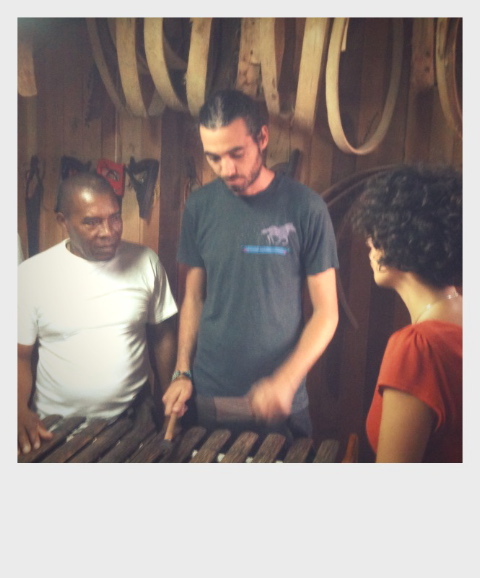 Not only is he an amazing musician, he is a devoted teacher and community leader… He is godfather of many children in the neighborhood, a generous uncle and adoptive father. He has raised and taught many kids, offering a rich and rare opportunity to rise above the hard life of Buenaventura. This city is one of the main ports for drug traffic out of Colombia. Small high speed boats leave from neighborhoods like Cuama's and all the locals end up being involved one way or another; either caught in drug traffic, in the violence associated with the gangs and the business, or the crossfire between armed "security" forces.
Our second day of filming was cancelled because there were two such deaths. The neighborhood was in mourning and music couldn't be played. We met with Cuama and his family to further talk about their roles as educators. We are truly inspired by these joyful and radiant beings, whose deep rooted, everyday spirituality is a source of strength and a role model for everybody around them.
Baudilio will be traveling to Washington DC in July to represent the music of Colombia's Pacific Coast at the Smithsonian Folkway Festival.
P.S. Fortunately Luis' scorpion sting got better. Now the whole team is suffering from mosquito bites. : )

Follow Sounds and Colours: Facebook / Twitter / Instagram / Mixcloud / Soundcloud / Bandcamp

Subscribe to the Sounds and Colours Newsletter for regular updates, news and competitions bringing the best of Latin American culture direct to your Inbox.
Share: