Isla Grande – Flute and drums mestizo music
06 May, 2011
We drove South from Santa Marta into Cartagena. From the popular market of Bazurto, we took a motor boat to our destination: Isla Grande on the Islas del Rosario archipielago. We went with Urian Sarmiento to visit his teacher Sixto "Paito" Salgado. Paito is a legendary gaita player, singer and composer, who has been mentoring Urian since 1999.
The gaita is an adaptation of the Kuisi flutes played by indigenous people around the Caribbean coast of Colombia. They say it all started when the African slaves arrived to the American continent brought by the Spanish conquerors. The Africans would gather to play drums by the coast and the natives would gather to play flutes higher up in the mountains. A story says that one day, the indigenous came down bringing their flutes and offered chicha (the alcoholic drink made of fermented corn) to the slaves. After a few drinks, they started playing music together. With time, the short kuisi flutes were adapted into the much larger gaitas, which were capable of more volume and could be heard amongst loud drums. It was the beginning of the mestizo styles of cumbia, and also gaita music.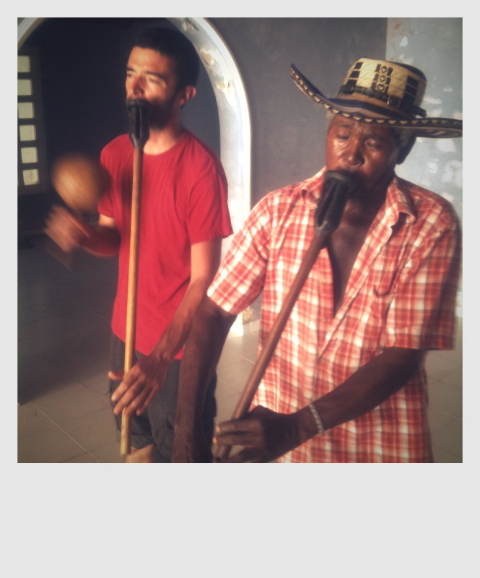 The gaitas are played in pairs: male and female. The female gaita has five holes and plays the melody and improvises; the male gaita possesses only two holes and gives the harmonic accompaniment. The male gaita player, also shakes the maracón with his/her free hand. The two gaitas' melodies intertwine, at times sounding like birds and others, developing complex melodic line. The gaitas are usually accompanied by an alegre drum, a llamador and a tambora.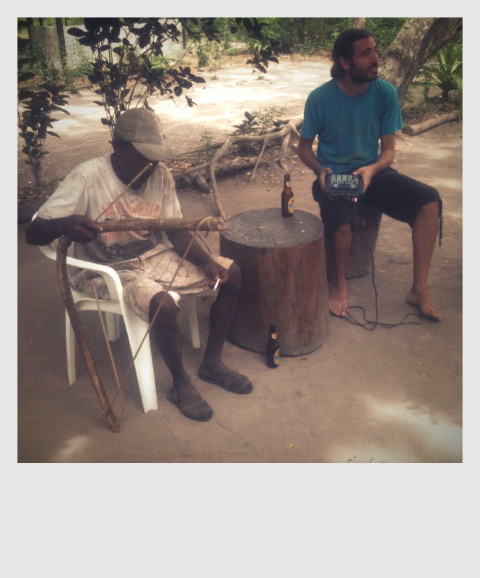 We had the honor of staying with Paito and his family, and played a lot of music with him, his group, and Urian. It was really beautiful to witness the deep love that Paito and Urian have for each other. The musical language between them is expansive and profound. Thanks to Urian's interest and insistence in learning from the elders, and thanks to Paito's generosity, the tradition of gaita music continues and evolves. Urian has recorded 2 albums of his teacher, and will accompany him to his first US tour through various cities this Summer.

Follow Sounds and Colours: Facebook / Twitter / Instagram / Mixcloud / Soundcloud / Bandcamp

Subscribe to the Sounds and Colours Newsletter for regular updates, news and competitions bringing the best of Latin American culture direct to your Inbox.
Share: