Bogota – Conclusion
14 June, 2011
We returned to Bogota full of music in our bodies and hearts… We were happy, grateful and full of things to finalise and process. It was a bit disorientating to return back to the capital to deal with altitude sickness, emails, traffic and the preparation of our closing show.
We used our last bits of energy to daydream about the coast while preparing new songs, making quick edits of the videos and chosing field recordings for the final show at the Museo de Arte Moderno.
During our last week, we also filmed our last collaboration, with the local group Frente Cumbiero. Having played together since highschool, these incredibly talented musicians studied abroad in the best conservatories in Europe and came back to their hometown, Bogota, to create some of the freshest, most authentic music of our generation… Psychodelic Cumbia, that pushes the limits of the genre.
While in Bogota, we also found time to visit Radio Nacional de Colombia. They deserve being mentioned, since they have been so supportive, not only of Lulacruza's music and the project with Vincent, but of all kinds of Colombian music. It's rare to find such an independent and strong radio (they broadcast all around the country).
Our closing show at the Museum was a big experiment, weaving sections of video with live songs, improvised sounds and field recordings. It served as a protoype to the kind of concerts we will be performing once the film is released. It was a good way to close this phase of the project. We are happy and exhausted… The trips were enriching and intense, challenging and inspiring… It's clear for all of us in the team, that we have learned so much already and that will continue to learn and grow from all we have experienced.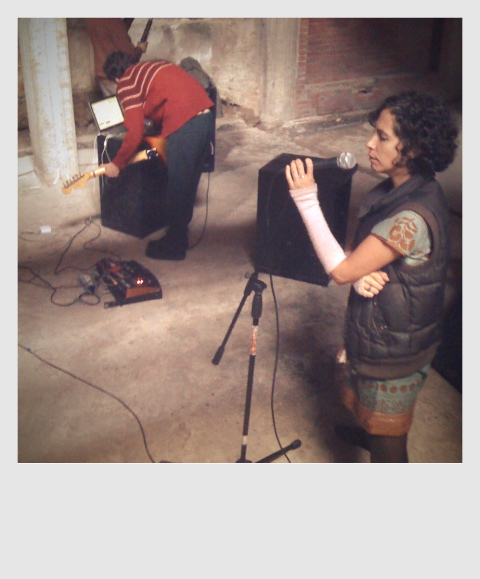 When we look at the map of Colombia, retracing our steps over the past weeks, we are surprised to see how little amount of land we actually covered. Even though we visited some key musical places, we explored less than 5% of Colombia's incredibly rich and diverse territory!!! It would take a lifetime to see and hear it all! The past two months were epic for us… we met amazing people along the way and felt the strong energy of so many places!
Now, we begin a new stage in the project. We have an overwhelming amount of precious material to work with from our trips and we will be sharing it all very soon. In September/October we will be releasing a film, two albums, a mixtape, a collection of field recordings and a website full of outtakes and mini albums to download, so that all the music and images collected can be enjoyed by everyone, freely!
This has all been possible because of the generosity and support of all of you!!! Thanks to all of you who donated money, those who wrote and offered help, those who have been reading the posts, and those amazing local people we found on the way, that will probably never read this, but who received us in such an open and generous way to share their music… We hope the fruits of this project (the movie, the albums, the website) bring many good things to all the local artists and the people who will enjoy it. We are very happy that so many different people got together to make this happen. It proved that there are ways in which we can weave networks to co-create in reciprocity.
Our thank you list is extremely long. We are still compiling all the names of the backers, musicians, technical, logistical and moral supporters to include in the movie and website 🙂
Stay in tune for the release of all materials!

Follow Sounds and Colours: Facebook / Twitter / Instagram / Mixcloud / Soundcloud / Bandcamp

Subscribe to the Sounds and Colours Newsletter for regular updates, news and competitions bringing the best of Latin American culture direct to your Inbox.
Share: