The Best Albums of 2010 — The Best Compilations
25 January, 2011
When we were compiling our favourite albums of 2010 (see parts one and two) we had a huge problem putting all our favourite albums into just twenty slots. We decided right then that maybe we should take out the three compilations that were some of our favourite albums of the year and include them in their own little chart. We still had a few albums which we simply didn't have room for, but hey, that's life!
Here are three compilations that came out in 2010 which are simply some of the best albums of the year. They also cover music from three countries in South America, those being Brazil, Colombia and Peru, which kind of has a nice geographical neatness about it.
Oi! A Nova Musica Brasileira!
Mais Um Discos
This is a compilation that never stops giving. Across two CDs Mais Um Gringo has compiled a wide-ranging snapshot of present-day Brazilian music, ranging from the indie, rock and MPB influences of artists such as Mombojó, Tulipa and Do Amor, to the Afro-derived pleasures of Northeastern artists Karina Buhr, Eddie and Otto, the avant-garde leanings of Lucas Santtana and M. Takara, and the sheer thrill of new forms of Brazilian dance music. While baile funk continues to get huge interest from the Western world, styles such as Tecnobrega and Eletromelody are just as vibrant, and tracks here from Gaby Amarantos, Maderito & Joe and plenty of others, prove this to be a style well wirth investigating. Which is the great thing about this. After every listen you'll have a new favourite song, and from there will want to find out more about its writer, heading off on a journey to discover the diverse and multi-faceted artists on offer here.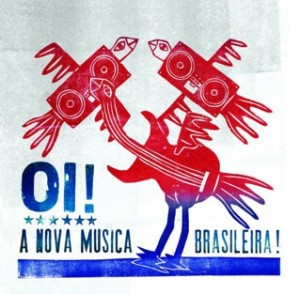 If we were to make any recommendations, we would say that Porcas Borboletas, Julia Says/Julia Disse and Instituto are our favourite artists on the compilation, but as this changes every week, we wouldn't like to stick to that.
You can read our featured review of Oi! A Nova Musica Brasileira here
Oi! A Nova Musica Brasileira! can be bought from Amazon and iTunes.
The Mais Um Discos website has plenty of information on the artists and styles of music. You should also visit the Mais Um Gringo blog for plenty more on new Brazilian music. Plus, you can download a 4-track sampler simply by clicking HERE.
Palenque Palenque: Champeta Criolla and Afro-Roots in Columbia 1975-1991
Soundway Records
Soundway Records are very much a label continuing the great ethnomusicology tradition of Folkway Records, especially in regards to the work they're doing increasing interest in African music and styles derived from the African diaspora. Champeta Criolla is a perfect showcase of this approach, documenting the Afro-Colombian music which began in the mid-70s and continues to this day, and which is more commonly referred to as champeta. Already with cultural links to Africa, from which many of the people on the Pacific coast of Colombia, had blood relatives, the people were invigorated upon hearing the Afro-beat sounds which had been brought over from travellers and record store owners hoping to make a buck. On Champeta Criolla we get to hear his fusion of Afro-beat and Pacific coast sensibility, especially on songs such as Lisandro Meza y su Conjunto's "Shacalao," a direct cover of a Fela Kuti song.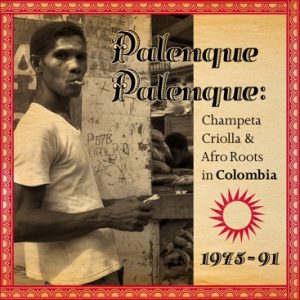 Across 21 tracks we get to hear this hybridised form of funk, often taking in influences of Son and Cumbia, but always sticking to a raw approach possible of infusing those attending the dances which this music became a central point of. It was at these dances, which utilised huge soundsystem in a similar vein to those used in reggae music, that Wganda Kenya, Son Palenque and Cumbia Moderna de Soledad made their names. They are all present here, on some of the most interesting African diaspora music to be made available in recent times.
You can read our featured review of Palenque Palenque here.
Palenque Palenque can be bought from Amazon and iTunes. You can find out more information at the Soundway Records website.
The Roots of Chicha 2: Psychedelic Cumbias from Peru
Barbes Records/Crammed Discs
The second edition of The Roots of Chicha felt more professional than the first, lacking some of the former's Amazonian bite and naive yet compelling playing, but still stands as a mighty fine compilation. Cuts from Manzanita y su Conjunto, Los Shapis and Ranil y su Conjunto are instant stand-outs on a compilation that explores the more urban aspects of peruvian cumbia (or chicha as this compilation prefers to call it.) The music is a hybrid of rock 'n' roll dynamics and Peruvia tradition, mixing the electric guitar with the huayno groove, the keyboard with the cajon, and introducing the electric bass (which without I can't really imagine any cumbia these days.)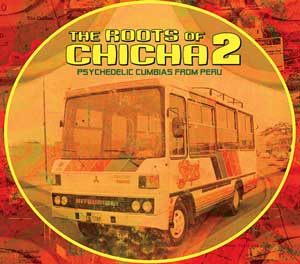 The star of the show, as with the first compilation, is Los Destellos, an incredibly tight group based around the guitar of Enrique Delgado, they evoke a meeting of Bola Sete and Link Wray, and a purity of expression that is extremely hard to find. This is music that was created to make people happy, and to make people dance. Record sales were not huge for this music, so many of the musicians relied on playing gigs for their income, and this is one of the reasons why many of the grooves are so deep here, positively intimidating the crowd into moving their feet.
You can read our featured review of The Roots of Chicha 2 here
You can buy The Roots of Chicha 2 from Amazon and iTunes.

Follow Sounds and Colours: Facebook / Twitter / Instagram / Mixcloud / Soundcloud / Bandcamp

Subscribe to the Sounds and Colours Newsletter for regular updates, news and competitions bringing the best of Latin American culture direct to your Inbox.
Share: