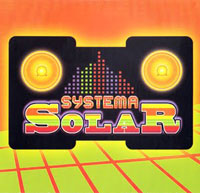 The Best Albums of 2010 10-1
15 December, 2010
Following on from the first part of our Best South American Albums of 2010 are numbers 10-1, meaning our favourite album will very soon be revealed! [Just scroll to the bottom if you want to find out.] It's been extremely difficult choosing, so difficult in fact that we had to move all the compilation albums we hoped to include to a new list, just so we could fit more great albums in. As always, please let us know in the comments what you think about our choices.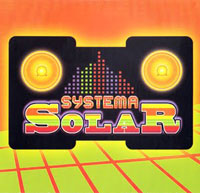 10. Systema Solar – S/T (Colombia)
If you wanted to be dismissive you could describe Systema Solar as just another band hoping to cash in on the attention currently being directed at cumbia-fuelled dancefloor-ready acts from Colombia such as Bomba Estereo, Frente Cumbiero, Choc Quib Town, etc. However, a deeper look reveals that Systema Solar's roots go a lot deeper. In tune with the history of dance music in Colombia they are an extension of the 'pico' soundsystem culture. Their music, to be enjoyed at its optimum level, should be accompanied by their visuals, dancing and their own sound system. On its own, the music, thankfully, still stands up to scrutiny. In tracks such as "Mi Kolombia" and "Sin Oficio" they have pulled off turbo-charged party tunes in the style of Manu Chao, and in Indigo they have a great rap voice along the lines of Cee-Lo Green.
For a debut this record shows immense promise, which should be refined in the future. The only criticism which could be levelled is that the band try too much, heading through techno, folk songs, R 'n' B, hip-hop and cumbia, although you could also argue that this is what makes this album so vibrant in the first place.
[soundcloud url="http://api.soundcloud.com/tracks/2022064″]
You can buy Systema Solar at Amazon or iTunes
Listen to the album in full at ONErpm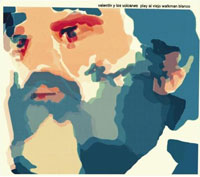 9. Valentin y los Volcanes – Play Al Viejo Walkman (Argentina)
It's impossible not to think of 80s indie-pop bands such as Orange Juice, the Jesus and Mary Chain and the Vaselines. Of course what made all of those bands special were the great pop melodies, and this is exactly where Valentin y los Volcanes pick up. In "Baila Conmigo" and "Piedras al Lago" Valentin and co prove themselves worthy of the comparisons, mixing up bouncy vocals, caustic guitars and a certain amount of healthy swagger. Their secret weapon always are the vocals of Jo Goyeneche, an earnest husky delivery always alluding to that little extra something.
This album proves that it is possible for Argentine indie-pop to be as good as any from the UK or US. In the case of "Baile Canmigo" you might say it is better.
Visit the Valentin y los Volcanes website to find out where you can buy Play al Viejo Walkman as well as download their older records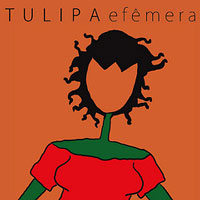 8. Tulipa – Efemera (Brazil)
Tulipa Ruiz is one of four female Brazilian singers in our Top 20. Out of them all Tulipa perhaps gets the least attention, which makes sense seeing how unassuming some of her songs are. In many cases they lull you in via sweet vocals or a hip-shaking beat, pulling you into the captivating world that Tulipa has built. Within a very minimal format of guitars, vocals, bass, keyboards and percussion a myriad of possibilities are envisioned. "Do Amor" is a haunting ballad evoking another one of favourites of the year, Cibelle; "Pontual" is a tongue twister of a song led by a rambling bass line; and "Pedrinho" often sounds like it's falling into White Stripes "Seven Nation Army" before pulling itself back into a kraut-rock beat. Across all songs Tulipa's voice takes center-stage with her band always playing enough to influence the mood but never enough to overwhelm it.
You can buy and listen to the album in full at ONErpm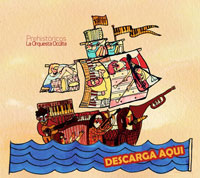 7. Prehistoricos – La Orquesta Ocúlta (Chile)
Grandiose pop music, paring falsetto vocals with an orchestra of instruments, in the vein of Sigur Ros. what makes this style of music work is melody and here Prehistoricos have it in bags, on the mid-paced "No Tenemos Remedio," the mysterious "Balada Sin Nombre" or the ridiculously good "Distintos."
Across the whole album it's hard to imagine that Prehistoricos are just a two-piece band. Yes, they always maintain the intimacy that this would entail, but the sheer scope of some of these songs is mind-blowing, as well as the ideas on offer. Perhaps "Ya No Te Espero" is the perfect example of this; huge in scope, yet never over-blown, always remaining personal, using the xylophone and vocals as remedy to the marching beats and effects that threaten to take the song off into another dimension.
[soundcloud url="http://api.soundcloud.com/tracks/3204403″]
You can listen to more Prehistoricos at Myspace
You can download La Orquesta Oculta at the Internet Archive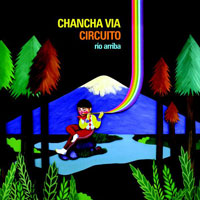 6. Chancha Via Circuito – Rio Arriba (Argentina)
Chancha Via Circuito is something of a curio within ZZK Record and the world of electro-cumbia. While many people working within the genre are trying to find ways in which to get more people on the dancefloor Chancha is simply looking for new ways in which to integrate nature and artifice. Rarely does Rio Arriba ever get to a point where you could label it as 'pulsating' or 'dancefloor-ready,' instead we get an exploration into the roots of Argentine music. Samples and vocals are taken from old records, mixed with dashes of IDM and then played at mid-tempo. We're talking Autechre here not The Prodigy. It's a formula that definitely works, breathing new life to Argentine folk music, which is at the same time doing the same for modern electronic music. On highlights such as "Cumbion de las Alves" and "Caracol" it truly feels like we're hearing a master at work, someone completely in love with every note that he shapes and presents on record, and with the Argentine folk music of the plains and mountains which rarely gets heard outside of its homeland.
[soundcloud url="http://api.soundcloud.com/tracks/3921529″]
You can buy Rio Arriba at ZZK Records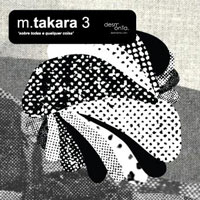 5. M. Takara 3 – Sobre Todas e Qualquer Coisa (Brazil)
It's rare for experimental music to be this much fun. But then, Sao Paulo's M. Takara is not just any musician. His work with Nacao Zumbi, Instituto, Cidadao Instigado as well as international musicians such as Rob Mazurek and Joe Lally has highlighted that this is quite a singular talent. Yet it's when his work uses how own names that you can really hear Mauricio Takara thriving. Accompanied by Rogério Martins and Richard Ribeiro, Sobre Todas e Qualquer Coisa finds a point where minimal techno and rhythms from Brazil's Northeast can combine. It makes for a pulsating record, one that can at times feel claustrophobic under the layers of rhythm but is always looking for a way out, whether through vocals, synths or simply a change of pace.
It's during songs such as "Pelos Cantos" and "Anticope" where the music blends Brazil's folkloric culture and rhythms with electronic equipment that the record reaches its high-points, the former being the perfect example of this. Yet in truth there is very little that could be deemed of lower quality during the record, such is its ability to offer new discoveries on repeated listens. This is a record teeming with ideas, ideas that are seemingly never out of place.
[soundcloud url="http://api.soundcloud.com/tracks/4513328″]
You can listen to M. Takara 3 at Myspace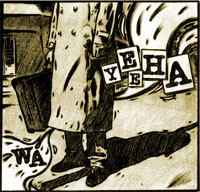 4. Woodie Alien – Yeeha (Argentina)
If you were looking for a Latin version of The Flaming Lips or Mercury Rev here's your answer. Over 10 songs Woody Alien pack more transcendental moments than most bands manage in a lifetime. On stand-outs "Cosas de Grandes" and "Lagrimitas" pleading vocals give way to a chorus of noise as the band reach for the skies. High-pitched vocals and exploratory spirit are the main-stays of the album, as around these styles vary constantly, including efforts at a mariachi song ("El Mariachi Punk"), ska ("Perro Loco") and Sergio Leone-style open spaces ("Perdido en el Despierto.")
Wherever they are Woodie Alien are never far away from a great melody, a point they reach so many times on Yeeha's relatively short 33 minute duration.
You can download all of Woodie Alien's album at their blog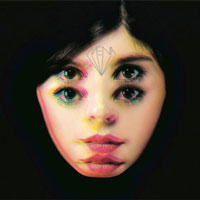 3. Javiera Mena – Mena (Chile)
On 2006's Esquemas Juveniles Javiera Mena had already perfected her formula. So it is that four years later, on Mena, she continues exactly where she left off, bringing another batch of classic electro-pop. The secret to Javiera lies in her effortlessness, never does she sound like she's bitten off more than she can chew, she's always in control, and capable of producing the kind of great pop songs that we got in the 80s from people such as OMD and John Foxx.
It's an album full of singles; "Hasta la Verdad" a serene song with perfect sing-along chorus; "Sufrir" offering both the best bass synth line and rave stabs making it truly intoxicating even before Jens Lekman adds his voice to proceedings; and best of all,  "Luz de Piedra da Luna" with its all-action chorus hard to resist. There is a definite formula to these songs, the mid-paced verses which bustle into life on the chorus, but that's the formula for any great pop song, and so why mess with it.
[soundcloud url="http://api.soundcloud.com/tracks/5558438″]
You can buy Mena at Amazon or iTunes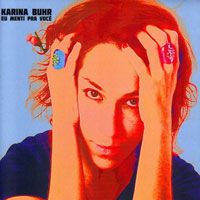 2. Karina Buhr – Eu Mentí Pra Voce (Brazil)
After maintainin such a strong connection with the North-East of Brazil via her band Comadre Fulozinha and by assisting bands like Eddie, Mundo Livre S/A, I'm not sure anyone was expecting what she was about to conjure up with Eu Mentí Pra Voce. The Recife rhythms were gone, replaced with an urban swagger and a more-standard rock band format complete with drummer, guitar and bassist, as well as added keyboards and horns. Through this reinvention she has managed to produce one of the most compelling Brazilian albums for a very long time.
Much of the allure of these songs lie in the wordcraft of Karina, the images she projects with them, and her expertly dry delivery. Combined with some of Brazil's most outstanding musicians, such as Fernando Catatau and Edgard Scandurra, all 13 songs on this album drip with style, humour and life. Opening track "Eu Mentí Pra Voce" is a perfectly judged riposte to a lover, seemingly oblivious of the obvious failings of lieing to your loved one, its tense arrangement with minimal drums, horn stabs and succinct guitar work perfectly.
It's a brave album too. In its centre are "Ciranda do Incentivo," a jumpy, baile funk groove; "Telekphonen," which shows a love for the avant-garde experiments of Stockhausen; and then "Mira Ira," a syrupy ballad which laps you up in its momentum. Not one of these songs fall flat despite such broad scope.
There is no way to look at this album other than to declare Karina Buhr the most exciting artist in Brazil right now. Combined with a great live show, there is little she can do wrong right now. Once this album gets picked up by an international distributor expect to hear a lot more from Ms Buhr.
[soundcloud url="http://api.soundcloud.com/tracks/1529179″]
You can buy Eu Mentí Pra Voce at Amazon or iTunes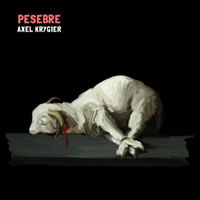 1. Axel Krygier – Pesebre (Argentina)
When it came to choosing our favourite record of 2010 it wasn't actually very hard. It's not that the competition was slim, it was just that with Pesebre Axel Krygier managed to produce one of those albums that combined intelligence, ingenuity, pop hooks and pathos into a package that we just didn't see coming. While many Argentine artists are playing around with ideas of fusing tangos, zambas, balkan music and electronic instruments together, none have ever done it as well as this.
The album starts with "Cucaracha," a bass-heavy stomper straight from the Balkan sea, it's a brilliant fusion of so many styles that stands up on its own. Cries of  'cucaracha' are flanked by accordion, dub beats, strings, synths and all manner of other noises but is perfectly-judged. Axel Krygier is a veteran of the Buenos Aires scene, performing with a number of bands, as well as creating music for tango performances and theatre, and his experience shows.
"Serpentea el Tren" is a dusty milonga that doesn't sound too far from Buck 65. The point when glitchy beats and the echo of a steam train break the song up towards the end are just one of the many highlights of this album. Others include the farmyard funk of "Pesebre," the 50s rock 'n' roll groove of "Esclavo de Olor" and "Llega Enero" which could be the theme tune to the scariest children's tv show ever.
Across all of these songs Axel Krygier shows an ability to incorporate any number of genres, to then be able to play with them, adding an infinite amount of his own ideas, before judging the end result perfectly; it's an album that never feels over-done or narcissistic. And rarely has a year produced an album this much fun worthy of being the best album of the year!
[soundcloud url="http://api.soundcloud.com/tracks/2674558″]
You can buy Pesebre at Amazon or iTunes

Follow Sounds and Colours: Facebook / Twitter / Instagram / Mixcloud / Soundcloud / Bandcamp

Subscribe to the Sounds and Colours Newsletter for regular updates, news and competitions bringing the best of Latin American culture direct to your Inbox.
Share: