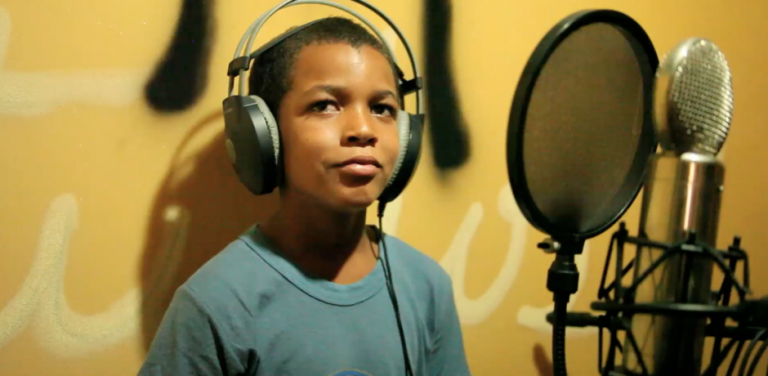 Jeffrey
16 April, 2018
Jeffrey (2016) is a docudrama from Dominican filmmaker Yanillys Perez, following a young boy who cleans car windscreens in the busy traffic jams of Santo Domingo and dreams of becoming a reggaeton singer like one of his nine brothers. We follow the trials and tests that confront this working twelve-year-old with modest dreams of securing a good future for himself and his family.
Docudrama seems to be the perfect medium for telling Jeffrey's story, avoiding pity or education and focusing on human aspiration. As an actress and a self-taught film-maker, Yanillys Perez finds shots that allow us to see what's important; the effort of young boys practising their dance moves, the casual expertise of Jeffrey's mum as she sieves rice, Jeffrey's frustration and embarrassment of having broken shoes. We do not become distracted by art-house shots of crumbling city walls, which would only serve to glamourise the poverty that holds the characters back. Instead we are offered intimate shots and extensive conversations between them, accompanied by amateur drone shots to show us Jeffrey as "una pequeña molécula, en medio del universo".
Jeffrey's articulate and considered wishes narrate more pensive and often sadder moments of the film. It doesn't matter that his aspirations are presented perhaps in the director's words, they are his ideas and dreams which drive the film and enrich it with a sense of understated magic.
Despite the backdrop of shockingly poor neighbourhoods and shanty towns which the characters inhabit, the focus is not on the lack of infrastructure, health care or services but on the relationships and dreams of the characters. In one scene, Jeffrey and a girl he likes, María, go to collect water from the well into large plastic cartons with some other kids from their barrio, Los Tres Brazos. Although we learn more about their living conditions through the scene, the focus is on teenage flirtation. Another moment shows Jeffrey and friends who've finally got hold of some paints to make promotional posters for his record. They argue over who's got the correct spelling and worry about wasting the paints, but what stands out is not the boys' poor literacy but each of their strong characters and their humorous boyish interactions.
You quickly gain a sense that although Jeffery is particularly good-hearted and wise beyond his years, his family represents many many others in the same situation.
The role of women in this environment is shocking. They are rarely shown to drive their own dreams. In one scene, Jeffrey's brother passes an ultrasound probe over his girlfriend's belly. She lies quiet and expressionless on the bed, the screen out of her own eyeshot. As we later learn through his honest and fearful words, mother and child will rely totally on the father for money. Jeffrey's younger sister is positive, loving and sensible. Her brother, who barely seems two years older than her, looks after her and pays the rent for the family home, hoping La Mella will have the chance to stay in school. In an uncomfortable scene where the children are visited by their absent and drunk father, diligent La Mella is ordered to put his boots on for him. He can barely stand. This same man has beaten his wife and many of his children. One gets a sense that they are not a unique family.
However, there is hope to be found in the unembellished adversity. La Mella equally looks after her brother, hanging their washing, smartening his hair and lovingly nagging him. Jeffrey's love interest María is independent and gutsy. She is no pushover. Perhaps there's hope for this younger generation. 'Forget the past. We have to focus on moving forwards', Jeffrey and his brother repeat throughout the film.
The characters are true, the places exist, the relationships are genuine but you are not watching a documentary. You are happy to suspend disbelief at the murky details of the opportunities which arise for Jeffrey; it is not important how he has managed to record his track in a studio or make his way onto a late-night Dominican TV show. Overall Jeffrey presents a fun and realistic look at life in the comunas of Santo Domingo. It is not about art, nor talent, but about ambition and support. It is no fairytale, offering the fears and insecurity of life for Santo Domingo's youth, who become teenage parents, work from the age of six and role play gang fights with guns in hand. Jeffrey will make you laugh, will remind you of what's important and will inspire you to cherish relationships, moments and details.
Jeffrey is screening in the UK as part of ¡Viva! Spanish & Latin American Festival 2018. Details of the screening at homemcr.org/film/uk-premiere-jeffrey

Follow Sounds and Colours: Facebook / Twitter / Instagram / Mixcloud / Soundcloud / Bandcamp

Subscribe to the Sounds and Colours Newsletter for regular updates, news and competitions bringing the best of Latin American culture direct to your Inbox.
Share: