Review
Henry Cole & The Afro Beat Collective – Roots Before Branches
It takes a certain level of self-confidence to name your band The Afro Beat Collective, as is the case with Puerto Rican drummer Henry Cole. Bracketing oneself under a particular musical style can be a risky move, one that may deter potential listeners and restrict the directions in which the band can develop, whilst potentially discouraging the musical evolution that is a theme of all great musicians. There is also the fact that the term 'Afrobeat' is synonymous with the man who invented, inspired and symbolised the music: Fela Kuti. The name of Cole's band, whose new album, Roots Before Branches, has just been released, invites inevitable comparisons with the Nigerian king of Afrobeat and creates some lofty expectations to live up to.
For those unfamiliar with Fela and the original Afrobeat sound, it is a style with elements of funk, jazz and rock blended with traditional West African musical rhythms that originated from the popular Highlife music of the Nigerian club scene in the sixties and early seventies. When the young Fela visited the United States he discovered the likes of James Brown and Curtis Mayfield, while also becoming entranced with the revolutionary fervour of Malcolm X and the Black Panthers. Once back in his home city of Lagos, he fused these elements into his sound and with his band, the Africa 70, invented an explosive new musical form that became massively popular, with highly politicised lyrics attacking the political corruption prevalent in Nigeria at the time or a world order that kept African countries economically strangled while extracting the continent's abundant natural resources in imperialist ransacking. With up to thirty musicians at a time, the archetypal Afrobeat sound is one of chaotic celebration of African culture laced with a seething fury that surges throughout the music. It is a sound utterly alive and kicking: the expression that 'music is a weapon' has never rung truer than with Afrobeat.
Whereas Fela was an undisputed frontman, as a drummer Henry Cole is the foundation and heartbeat of his music rather than the conjurer whose magic interweaves its multiple musical layers. In this sense he has more in common with Africa 70 drummer Tony Allen who has released numerous albums under his own name. Cole's career began by playing Latin music such as Rumba or Puerto Rican Bomba, before developing an affiliation with jazz whilst studying in the US. His band are not the first to have looked to Fela Kuti and his ilk for inspiration and guidance, but whereas the original Afrobeat musicians came from Nigeria or Ghana, recent years have seen many groups emerge from the cities of North America, a legacy of the growing international recognition and influence of Afrobeat. Henry Cole & The Afrobeat Collective are the latest in a new wave that includes Brooklyn's Antibalas Afrobeat Orchestra, The Chicago Afrobeat Project or Afrodizz from Montreal, each representing a continuation of the art begun by Fela Kuti and representative of the genre's modern day appeal.
So how does Roots Before Branches measure up? As with all Afrobeat, this is an album that draws inspiration from across the spectrum, with aspects of hip hop, electronica, soul, psychedelia and Caribbean music, in addition to the staple ingredients of funk and jazz. Intro track "Aurea V" glides in softly with water effects, soft percussion, and lazy New York City streets sax, before suddenly erupting into swirling jazz-rock. It is a somewhat risky choice for an opener, its initial languid ambience a far cry from the frenetic intensity that characterises classic Afrobeat. The subsequent "Trabájala" punches in on more familiar ground, all grating guitars and demonic organ, with shades of Zappa, and vocalist Hermes Ayala's growling refrains slashing a militant line through the mix.
The album goes on to dovetail through patterns and rhythms while maintaining a ripe vivacity. The music sounds fresh, a multicoloured range of styles injected with new urges and perceptions, reworked through a fusion of musical forms and some adroit technical ability. "Año 2010" is a Last Poets-inspired slice of spoken word mastery, with Ayala again on the mic, that flourishes into the excellent instrumental "No Eres Tu, Soy Yo", whose hedonistic tone rises and falls in exquisite brass-led dexterity, featuring the peerless David Sanchez on sax.
"Comienzo" lays a fat slab of bass over spacey electro to create a sweet harmonic groove, but the album drops off slightly with "Una Para Isábel", whose overwrought guitar skits around but never really goes anywhere. Things launch back into orbit with the exuberant "Solo Dos Veces", in which Cole's percussive talents provide a scintillating platform for the Collective to shine. Experimental strings and poetry are on the menu in "Uncovered Fears", featuring Mara Pastor, a tune unique in style on the album and a vibe that highlights the inventive vision of Roots Before Branches' outlook. "Música Para Un Sueño" is pure mind-bending Afro-lounge and is the band's grand finale on the record, with final track, "Solo", seeing Henry Cole ripping into his kit in a well-earned indulgence that brings the curtain down on a highly innovative musical project.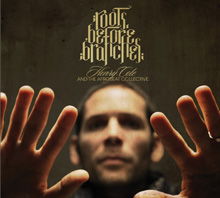 Roots Before Branches starts out low-key but constantly evolves to transport the listener through a vast range of styles, emotions and concepts that alternate from the delicate to the breathless. The numerous extended solos and jazz scales may not be to everyone's taste but this is an album that reworks musical forms and delivers them with a beguiling hook. Is it Afrobeat? Well, the slick production and absence of a lead focal point, a Fela-style ringmaster, means the album lacks the raw vigour that is so prevalent throughout the genre, yet the influence of the seventies kings of West Africa can be heard throughout. Regardless of your taste for the original music, this offers enough dimensions and ideas to make it a compelling journey.
Roots Before Branches is available from Amazon and iTunes

Follow Sounds and Colours: Facebook / Twitter / Instagram / Mixcloud / Soundcloud / Bandcamp

Subscribe to the Sounds and Colours Newsletter for regular updates, news and competitions bringing the best of Latin American culture direct to your Inbox.
Share: