Review
Ojos de Brujo – Corriente Vital
Rumour has it that Barcelona-based Ojos de Brujo are splitting up to focus on their own musical projects and mayhem. Having toured the world with their flamenco-hip-hop-rumba sounds and energy-fuelled live shows, the nine-piece present Corrente Vital: 10 Años, celebrating over ten years since their debut release Vengue (Edel, 1999) – an album that catapulted their unique gypsy-drenched sounds right up there in with other world music giants.
Since their debut Vengue, the band have made seven world tours, enthralling audiences from Mexico to Japan to the UK as well as releasing four further albums including Bari (World Village, 2002), Techari (Six Degrees, 2006), Techari Live (2008) and their Latin Grammy award-winning Aocana (Warner Bros, 2009). Recently released Corriente Vital celebrates Ojo de Brujo's musical lifetime, consisting mostly of tracks already recorded on previous albums (for example, five of the tunes can be found on their Aocana album). Instead of writing a heap of new tracks, the band decided on revisiting their own personal favourites and those enjoyed by their endless loyal fans.
What is particularly enticing about the album is the numerous collaborations with well-known artists and guest producers, including long-time friend of the band Nitin Sawhney in the opening title track, Uruguayan Jorge Drexler in "Ley de la Gravedad" and Roldán of Orishas in "Todos Mortales". There are also two fresh tracks for those eager ears- the first "Corriente Vital" – with its gypsy-rumba rhythms and Catalana melodies presents the standardized sounds of which many Ojos de Brujo fans have been acquainted with for years. However, "La Machine" reveals an enticing change – primarily down to the featured Juno Reactor, a music project that centres around Ben Watkins and his collaborations with various musicians around the world such as Ghetto Priest, Yasmin Levy and Sugizo. The track stands out as an energetic mishmash of global styles, combing the well-known flamenco and rumba sounds of Catalana with hip hop drum beats, English lyrical rapping, vinyl scratching and raucous electric guitar – a contemporary track that clearly represents the band's unique sound of which they call "Jip Jop Flamenkillo".
What particularly stands out on the thirteen track extravaganza is not only the deeply-layered textures, the vast spectrum of sounds including Indian tabla drumming, hand-clapping and cajón pounding but also leading lady Marina "La Canillas" Abad's sensuous sounding vocals. As the songs of Ojos de Brujo rarely remain in one specific style, neither does Abad's vocal range and capabilities. Ranging from a distinct pop tone to quasi-Indian-inspired melodies to sultry whispering, Abad's vocals are incredibly mesmerising and totally unforgettable.
The album also proves worthy in its 28 page booklet that documents the band's musical journey over the past ten years. It also presents original lyrics and English translations- providing aficionados with Abad's socio-politically driven lyricism. Although Ojos de Brujo appear visibly older in recent images presented in the booklet, the music presented in Corriente Vital: 10 Años seems as high-octane and indefatigable as when they first formed.
Whether this is their final release or not is at this moment in time- a mystery. However, what is distinctly established is that this album is a well worthy buy.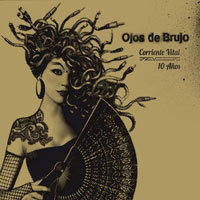 Artist: Ojos de Brujo
Album: Corriente Vital
Label: Wcj
Release: 1/1/11
Corriente Vital is available from Amazon and iTunes.

Follow Sounds and Colours: Facebook / Twitter / Instagram / Mixcloud / Soundcloud / Bandcamp

Subscribe to the Sounds and Colours Newsletter for regular updates, news and competitions bringing the best of Latin American culture direct to your Inbox.
Share: