Review
World Routes: On The Road
The eagerly anticipated World Routes compilation of musical treasures has finally arrived. Lovingly collected by BBC presenter and ethnomusicologist Lucy Duran and her team of producers, World Routes: On The Road presents a global mix of tracks recorded since the birth of the programme in 2000. Since then, the team have visited over fifty countries, exploring unknown musical territories. The two-disc album – a belated celebration of its 10th year as a popular Radio 3 programme – presents a refreshing change to the 'world music' superstars and overplayed genres we all know.
Saying that, presented on World Routes: On The Road are some artists not estranged to the global music stage. However, such figures are recorded not in their usual studio surroundings but in more au naturel settings. Malian kora virtuoso Toumani Diabaté, for example, performs the stunning "Musu Maramba" in the living room of one of his Bamako houses. Guitarist Tito Paris plays a truly hypnotic "Mar Azul" in a Cape Verdian hotel – blending a heady mix of traditional mornas and coladeiras with an added twist of the modern sounds of Portugal. In addition, exhiled Iraqi singer Ilham Al Madfai sings an emotional lament to his homeland, "Baghdad", recorded in a cafe in Jordan. The intimacy of each track introduces world music aficionados to a 'purer' dimension of recordings – reflecting to a certain extent the early years of 'on-the-spot' audio recording in the early twentieth century. Nevertheless, the recording and post-production skills involved still reflect a high standard in their consideration towards such recorded material.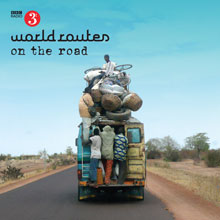 What particularly stands out as a triumph in World Routes: On The Road is the number of tracks that are relatively unknown. The Watmon Cultural Group – a collective of mainly Northern Ugandans based in Kampala, present an instrumental extravaganza of a variety of thumb pianos as well as lukeme xylophones – all native to their Acholi roots. Another musical bounty worth listening to is "Vale De Jucá" by Brazilian-born Siba E Fuloresta. The origins of this track is neither the urban jungle of Rio or the popular Bahia region, but in fact the Pernambuco area of the North-Eastern coast.
World Routes: On The Road is worth every penny and more. It presents itself as a refreshing change to the already over-ridden selection of over-produced albums that strip the musical essence and soul out of music from around the world. Let's just hope it won't take another ten years for the next compilation.
World Routes: On The Road is available on Amazon and iTunes

Follow Sounds and Colours: Facebook / Twitter / Instagram / Mixcloud / Soundcloud / Bandcamp

Subscribe to the Sounds and Colours Newsletter for regular updates, news and competitions bringing the best of Latin American culture direct to your Inbox.
Share: