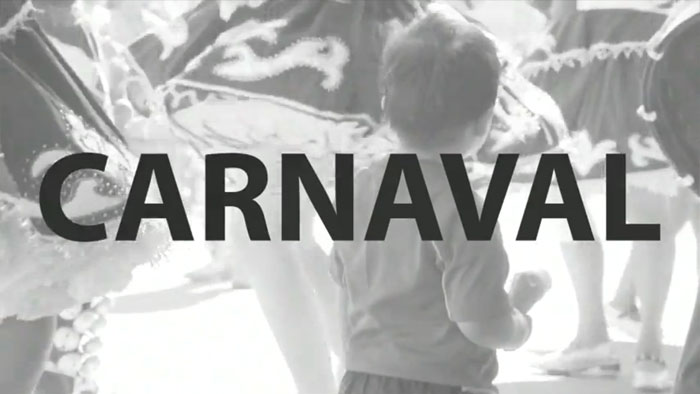 The Best Carnival Songs (A Youtube Playlist)
01 February, 2013
Here are 10 of our favourite carnival songs, including choice cuts old and new from Brazil, Colombia, Peru and Venezuela. Whether you're in Latin America or not this February make sure you keep the Carnival spirit alive with a few of these…
Anibal Velasquez "Rumba En Carnaval"
If you're heading to Carnival in Barranquilla you will hear a lot from this man, Anibal Velasquez. Known for his hit "Mambo Loco" he is Barranquilla through and through and provides many of the insanely catchy accordion rhythms you will hear during carnival. This is one of many songs he has written about carnival in Barranquilla.
http://www.youtube.com/watch?v=ezjHmaGVAeE
Elza Soares "Quero Morrer No Carnaval"
Now let's switch to Brazil and one of queens of Rio's carnival, Elza Soares. Regarded as one of the best interpreters of samba in Brazil she is also strongly affiliated with the Mocidade bloco, the samba group from the neighbourhood where she grew up. "Quero Morrer No Carnaval" is taken from her 1969 album Carnaval & Samba, an album full of great samba tunes.
Jorge Drexler "Cái Creo Que Caí"
We're actually going to drift away from Latin America for a moment as this song is extremely topical. "Cái Creo Que Caí" is a song composed by Uruguay's Jorge Drexler for the 2013 Cadiz carnival in Spain. While it has a slight influence of candombe, a rhythm which is hugely popular in Montevideo carnival, it is also seeped in the influence of Spain (where Drexler has lived for a number of years now). If anything, it's interesting to hear the difference between the carnival of Spain and the rest of the entries here.
Sonora Matancera (feat. Nelson Pinedo) "El Carnaval"
We're now going to return to Colombia, but not necessarily to Barranquilla. Sonora Matancera were in fact a Cuban band schooled in son that started in the 1920s and has most of their big hits in the 50s. Though not a big hit, they recorded "El Carnaval" with Colombian Nelson Pinedo for the album Sonora Matancera En Colombia in 1955, representing an interesting mix between Colombian and Cuban influences.
Caetano Veloso "Atrás do Trio Elétrico"
Veloso paid homage to the trio elétrico in this song from his 1977 album Muitos Carnivais. Trio elétrico is the name given to the type of float you will now find all over the world which features the musicians and normally a singer playing live on top of a truck with a huge sound system to amplify their playing. It originally started in Bahia in 1950 when Brazilian musicians Dodô and Osmar Macedo played as a duo on top of an old T Model Ford. When they invited a friend to perform with them in 1951 the name trio elétrico was born.
Sancamaleon "Sambodromo"
Sancamaleon are an Argentine band who formed in 99 and soon came to the attention of the worldwide press thanks to their own take on mixing rock, reggae and Latin rhythms. "Sambodromo", named after the huge arena where Rio carnival takes place, is taken from their first album Cancionero Para Niños Sin Fe though was released earlier as a video that got serious airplay in Argentina and across Latin America.
Fernando Milagros "Carnaval"
For an altogether different take on carnival music here is Fernando Milagros from Chile and "Carnaval", taken from San Sebastián, Milagros' third disc. This is a slightly melancholy take on carnival, though it does also showcase one of the finest singer/songwriters in Latin America (as well as the incredible indie-pop scene that is happening in Chile right now). Plus, it comes with an amazing video…
Los Kjarkis "Carnaval"
Bolivian group Los Kjarkas will always be famous for coming up with the melody to the lambada via their song "Llorando Se Fue" but they also wrote many songs about carnival. This shouldn't be too surprising as the Oruro carnaval in Bolivia is one of the largest in the world, even if this fact is somehow obscured by the sheer size and marketing push of Brazil's. So, here is a little taste of Bolivian carnival:
Pernett & The Caribbean Ravers "Carnaval del Mundo"
We also wanted to show a new take on Barranquilla carnival here by posting this tune from Colombia's Pernett. Mixing detailed electronic beats and textures with the raw rhythms and influence of Caribbean music Pernett is one of the most interesting electronic musicians around and "Carnaval del Mundo" is a perfect example of his music; a melting pot of youthful enthusiasm, modern production and sense of place and history.
La Sarita "Carnival"
Proving that the Peruvians can do it too, here are La Sarita, a Peruvian band known for fusing rock with cumbia, chicha and huayno. "Carnival" is from their 2009 album Mamacha Simona.
http://www.youtube.com/watch?v=HQgXekHXjPo

Follow Sounds and Colours: Facebook / Twitter / Instagram / Mixcloud / Soundcloud / Bandcamp

Subscribe to the Sounds and Colours Newsletter for regular updates, news and competitions bringing the best of Latin American culture direct to your Inbox.
Share: