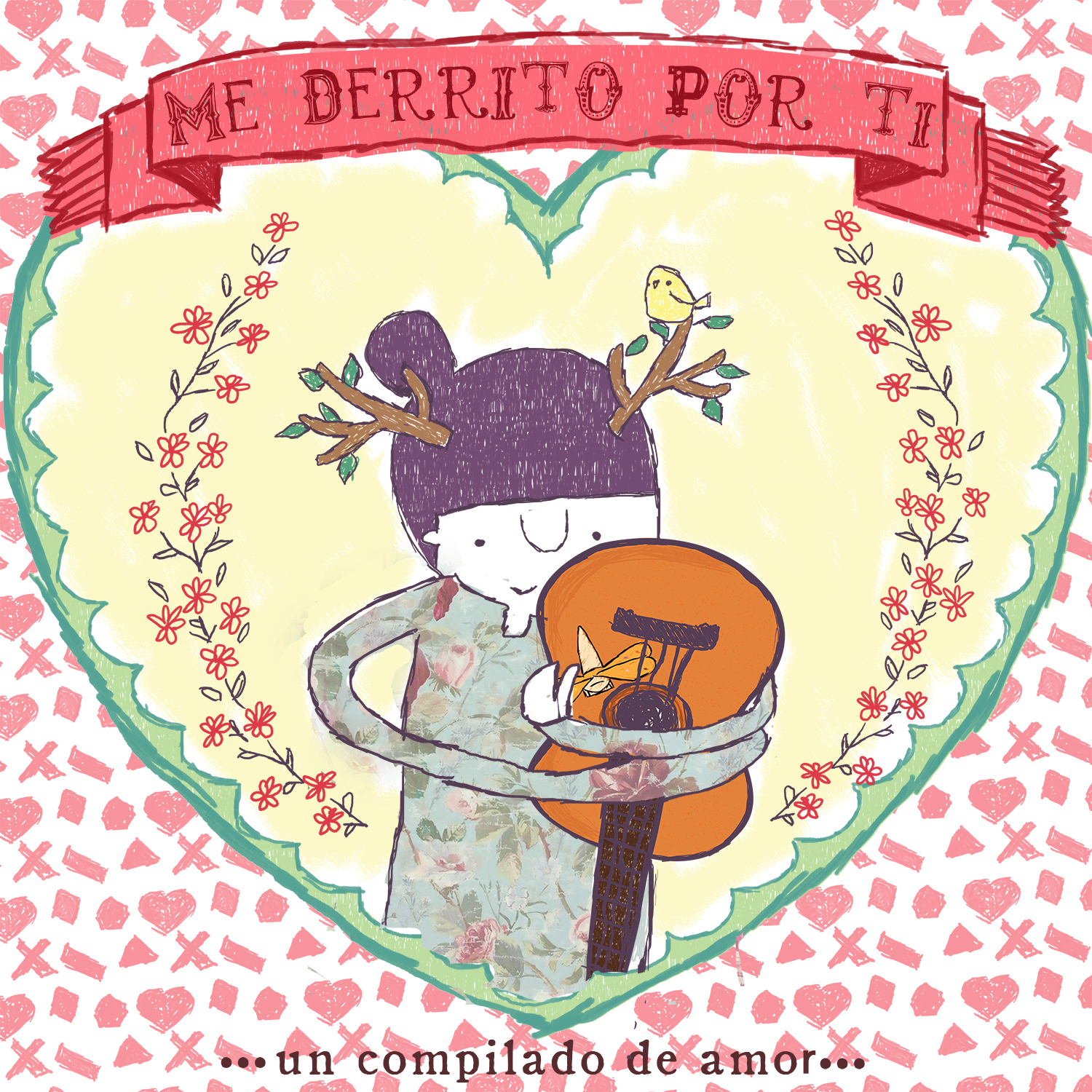 "Me Derrito Por Ti": Eleven Musicians Take On Love And Valentine's Day
14 February, 2013
It's pretty easy to get overdosed on all the chocolate shaped hearts; after all, a big chunk of the world is celebrating Saint Valentine's Day today. It's a holiday for the lovers, for the grouchy ones, for those great friendships, for the bitter ex's, for sharing weird moments with strangers on public transit… well, you get the idea. It's also a pause for those great moments that, undeniably, come from the heart. This is what Me Derrito Por Ti (I Melt For You) is: a collection of unreleased songs from Latin American musicians on the topic of love, orchestrated by one industriously sweet musician from the Dominican Republic who, not only wanted to reunite her favourite bands in one record, but also wanted the listeners to fall in love.
"Love is our natural state. It's what we are when we take of our masks," said Anabel Acevedo of the Dominican indie pop group Las Acevedo, in an interview via email. She is the curator for the compilation released today as a special Valentine's gift to the world. The record is also a labour of love: eleven independent musicians from Venezuela, Dominican Republic, Puerto Rico, Mexico and Argentina united by Acevedo's wish to collaborate with them under one project. Me Derrito Por Ti features unique collaborations by: Lucila Inés, Mateo De La Luna En Compañía Terrestrial, Florentino and Adrián Juárez from Argentina; Loocila and Dolli from Venezuela, Niñovan and Juan Manuel Torreblanca from Mexico, Las Acevedo and Alex Ferreira from Dominican Republic, and El Medio from Puerto Rico.
How did she get such an eclectic mix of musicians on the same page? "I was in my hammock listening to a playlist that I have specifically for sitting in that hammock and I thought: 'this is the best playlist in the world, it would be awesome to unite all of these artists in a project'. So I wrote to the people that I had in my playlist and the reception was impressive! They all loved the idea, and in a short period I got responses from most of them and they were all beautiful. They were contributing ideas and had this beautiful energy and commitment, and I appreciated that a lot," Acevedo explained.
The mixtape also features artwork by Venezuelan artist Carolina Leal, who has provided artwork for a lot of Latin American bands, including Twin Cabins, Panda en el Nitbus and Dolli. Starting with Leal's contribution, this compilation hosts a vast amount of charming musical moments, including a folk rendition of "Moon River" by Dominican musician Alex Ferreira, and Juan Manuel Torreblanca's incredible take on the pressures of fulfilling socially constructed ideals of love and the feelings of loneliness those can bring.
Me Derrito Por Ti is a heartfelt endeavour that explores love across Latin America, but it's also Acevedo's beautiful ploy to get everyone to spread some love: "I hope this compilation touches the hearts of those who listen; that those who are in love feel how beautiful it is and those who aren't remember how beautiful it was… hahaha. If somebody tells me that they decided to look for a boyfriend or a girlfriend after they listened to this compilation, I will be the happiest girl in the world."
Me Derrito Por Ti is available for free on the following links:
Mediafire: mediafire.com/?1ht706mwghjkt6l
Soundcloud: soundcloud.com/mederritoporti/sets/me-derrito-por-ti-un-compilado
Bandcamp: mederritoportiuncompiladodeamor.bandcamp.com

Follow Sounds and Colours: Facebook / Twitter / Instagram / Mixcloud / Soundcloud / Bandcamp

Subscribe to the Sounds and Colours Newsletter for regular updates, news and competitions bringing the best of Latin American culture direct to your Inbox.
Share: