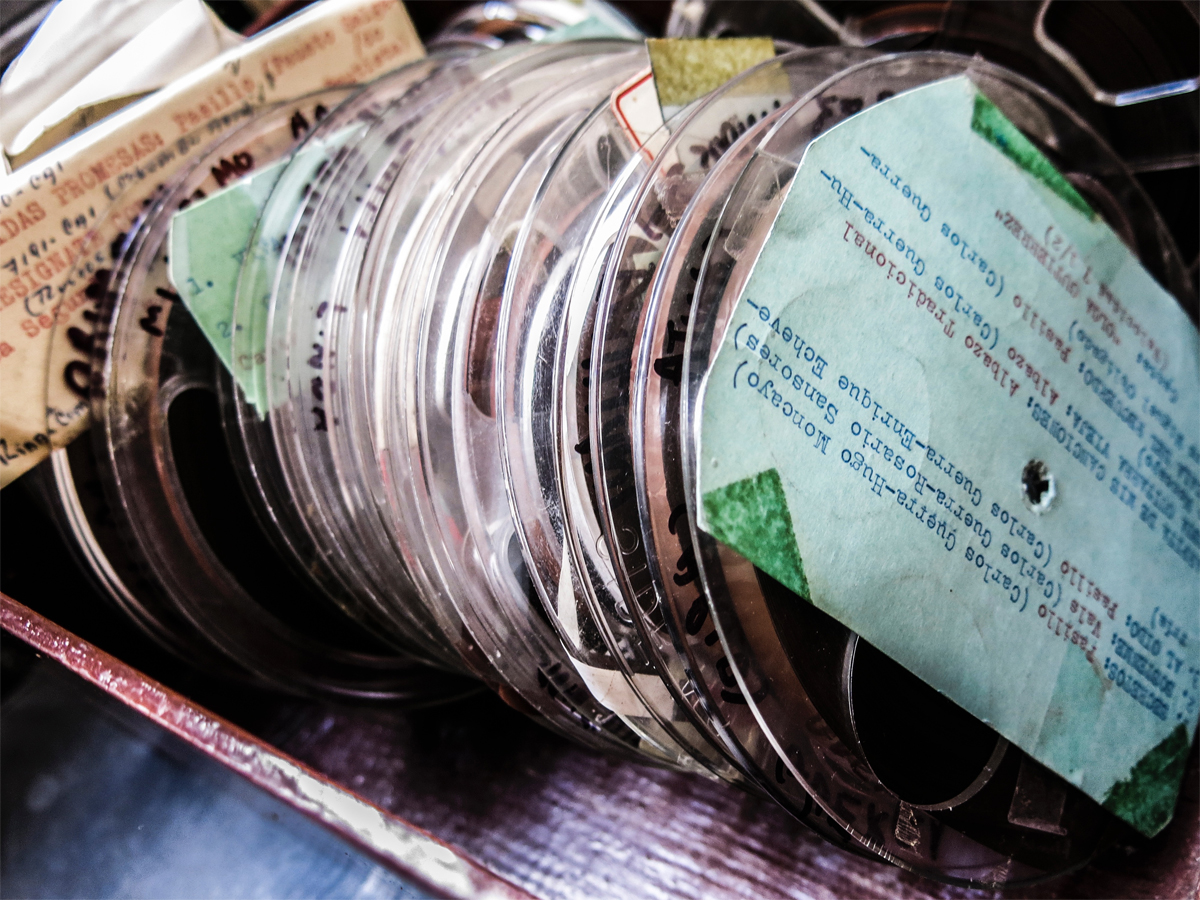 Daniel Lofredo Rota
Episode 1: The Suitcase Tapes
16 June, 2015
History is the story of what we remember. But sometimes we forget what we've forgotten.
Music history is no different. We view history through a narrow telescope, and the vision it gives us is minuscule in comparison to the unspoken totality.
Time has left many singers unsung. It has buried the stories of millions of music-makers who lived their lives somehow removed from the eyes of history.
Folk traditions are the bits of sound and information that outlived their authors, in name and body. We consider their chord progressions and lyrics as authored by the anonymous, when in fact it is our narrow memory that made their authors nameless.
Last year, my grandfather, Carlos Rota, passed away. Carlos was a strange and difficult man; eccentric does not quite cover it. To some he was too far on the fringe, and to others a misunderstood genius; the two encounters I had with him failed to confirm either hypothesis. After his death, when I entered his old office, I got as close as I would ever get to him, and what I found was an incomprehensible tangle of a man, filled with ambition, obsessed with history, business, glory, and paper.
The office, a four room flat in the north of Quito had been used almost solely for storing paper media. Buried in it, we began to find all kinds of oddities from the past. Twelve typewriters, US army food rations, a library of conspiracies, and three and a half tonnes of newspapers dating as far back as 1957.
We dug for a long while before we reached the tapes. Box after box of labelled original recordings on half-inch analog magnetic tape. Bosch, Audiotape, Barclay, RCA, Scotch. The tapes had been buried under newspaper for 45 years, preserved by the dry Quito air, and the newspaper had kept them away from the light and dust. The collection was in surprisingly good condition.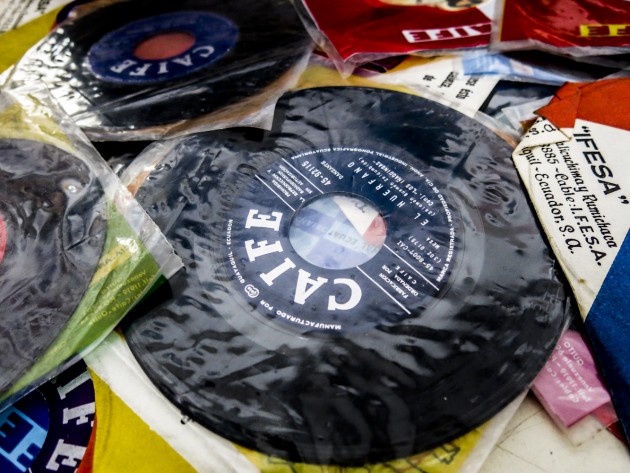 It turns out Carlos had founded and owned a record label in the late 50s and 60s; the tapes were the stored catalogue of all their recordings. The label was called CAIFE and it specialized in Ecuadorian and Southern Colombian music and served as a distributor for larger international record labels like Barclay and RCA Victor in Quito, Ecuador.
CAIFE had surged as a result of increased availability of high fidelity gear in Ecuador. My great grandfather, an Italian radio engineer who had been sent to Ecuador in the 30s to establish a high quality radio network, had become the representative of RCA Victor in Quito, and by the time Carlos had hit his mid-20s and was ready to take on the world, all the cards were lined up for a record label to be born. And so it was.
The history of CAIFE is not quite clear, but for about 10 years, CAIFE recorded, pressed and distributed thousands of 12" and 7" vinyl at 45 RPM. At first, the cost of recording and producing stereo records was prohibitive, which meant that the CAIFE catalogue was largely monophonic. However, by the late 60s stereo was growing up. This meant that the audiophile standard for recording was beginning to shift away from mono, and stereo systems and tapes were becoming more affordable. However, it seems as if the technological transition might have been too much for the small label, and by 1970 CAIFE had closed down.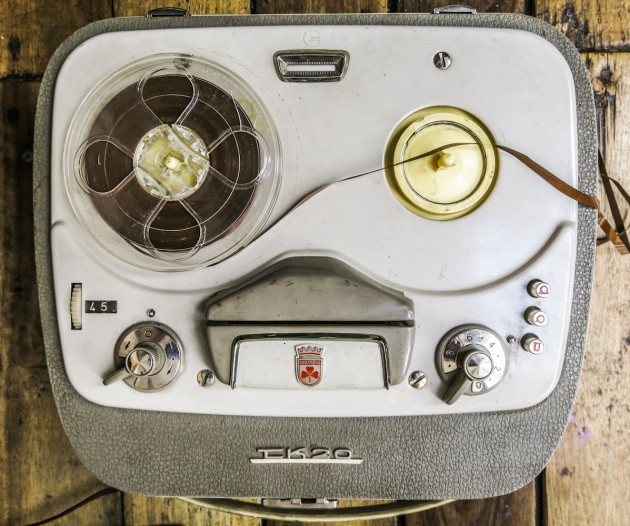 I wanted to hear the tapes, and began to dig deeper into the piles in search of a tape player. In one of the boxes, I found an old reel-to-reel, an ancient Grundig TK20 from the 1950s, and I took it home along with some tapes. When I plugged in the machine, I heard the sound of the electronics warming up, tubes. I strung the tape through the heads like an amateur, and switched the knob into gear.
Recorded at 15fps (feet per second), the tape was too fast for the TK20 which could only do 3.5fps. This made Olga Gutierrez's voice sound distended, beastly and in slow motion. The old circuitry hissed as it warmed the sound through its circuits and tubes making the tones sound impossibly rich; I was astounded by the depth and proximity of her voice, those extended deep bass tones of the transposed guitar sounded like nothing my digital ears had ever heard.
I recorded it and increased the speed digitally, listening as the melodies emerged in real time… By then it was April, and by May I would have left Quito. Only a year later did I get to dig deep.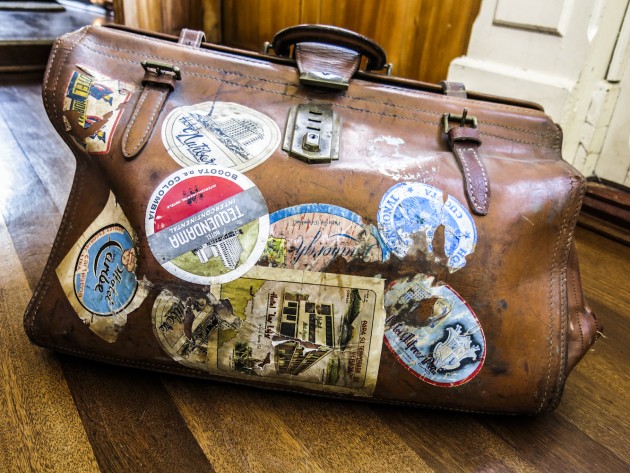 The first cluster of tapes I got my hands on was in questionable shape. There were about one hundred tapes, uncovered, no plastic, no boxes, and they were stuffed into an old leather suitcase covered with hotel stickers from all over Colombia and Ecuador. Although some of the tapes had been labelled in the past, the scotch tape that had been used to tape the typewritten paper labels onto the reels, had lost its stick and most of the reels were bare, unidentified mysteries.
The suitcase was a tangle of obsolete media, a complete unknown. I searched for months before I found a working reel-to-reel, an Ampex Atr-700. I cleaned the oxide gunk out of the heads, fixed the transformer, dusted all of the connections, and then began the long process of digitizing the audiotape.
It became clear that the tapes could contain absolutely anything. I found old hits and demo reels that had been used for mailing promoters and radio stations, but I also found recordings of my grandfather's telephone conversations; it seems he had configured his TK20, via a series of strange German cable adaptations, (3, 4, 5 and 7 pin din) to tap his own phones just in case he caught some dirt on somebody that he could use in the future.
There were also extensive recordings of radio interviews and perhaps most strangely, an archive of his incoming phone messages that he had taken the time to comment. The deeper I dug, the more strange my grandfather appeared to be, and the less I seemed to know him. But I felt a strange camaraderie for him, as though I was tying the loose ends of his life.
I never knew grandpa, and from what I know of him, I am not sure I would have wanted to. But I cannot do anything but thank him for the gift he accidentally gave me. The music on those acetate reels had me from the start:
A full orchestra in a room with one microphone, live, the VUs saturating, botched takes and retakes, imprints flowing virtuously from the souls of polished session musicians; odds and ends, broken edits, failed jokes; interesting bits from long dead radio hosts, and also, finished, complete pieces, recorded beautifully, the matrices that had been used to press the records.
Vivid. Warm. Crackling sound.
For about three weeks, I spent all day everyday in front of the reel-to-reel, loading and playing as many tapes as I could, listening to the stream from the past, getting in touch with the sound of another generation, so far yet so close to mine.
Memoria Analoga details the process of rediscovering the CAIFE catalog and the artists that made it, 45 years after it was buried under three tonnes of newspaper.
All photos by Daniel Lofredo Rota

Follow Sounds and Colours: Facebook / Twitter / Instagram / Mixcloud / Soundcloud / Bandcamp

Subscribe to the Sounds and Colours Newsletter for regular updates, news and competitions bringing the best of Latin American culture direct to your Inbox.
Share: