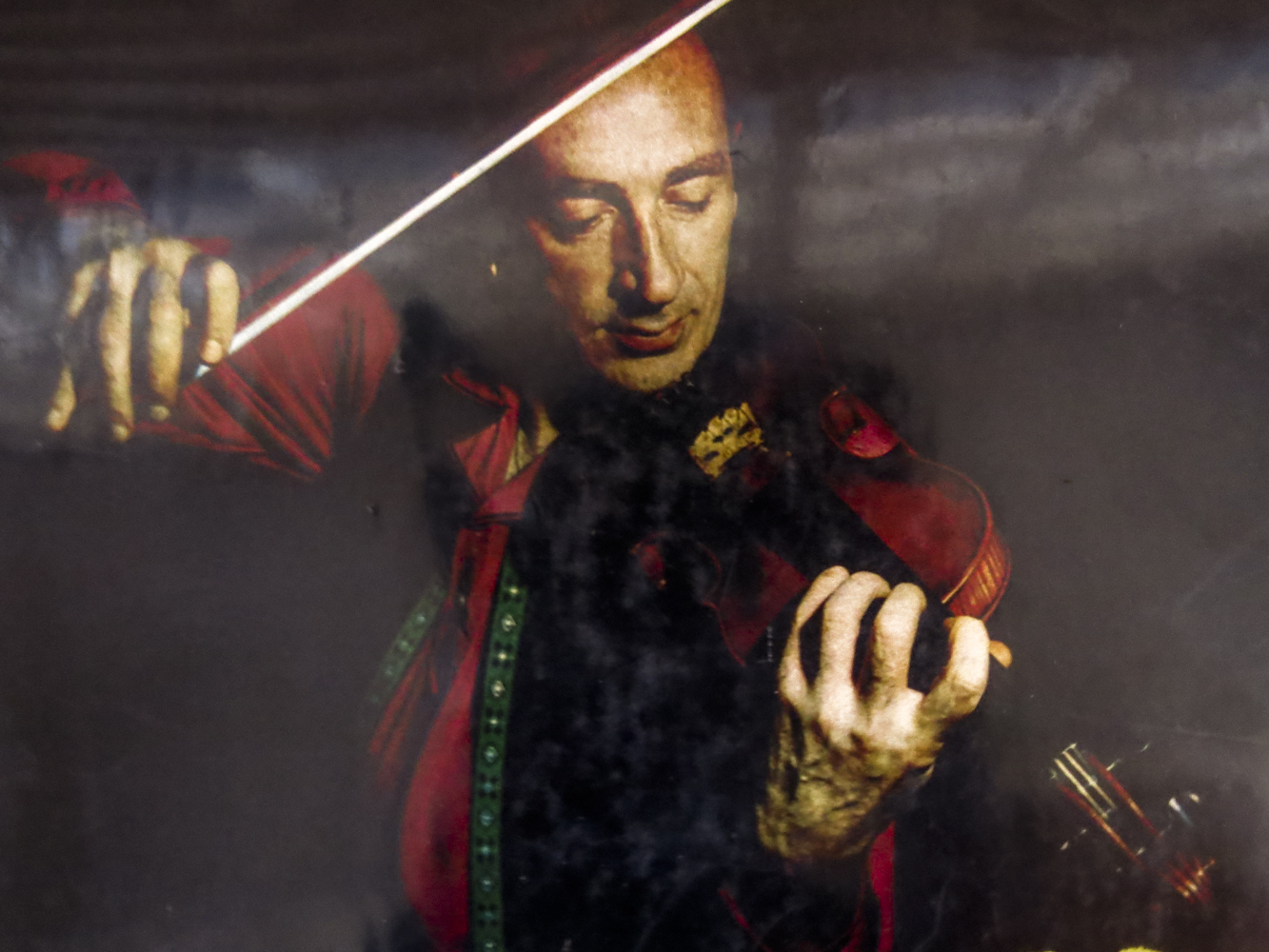 Episode 2: Raul Emiliani
04 August, 2015
From amongst the hundreds of tapes, one man's name had a way of resonating a bit louder than the others. Perhaps it was the myth of him. A name I had heard my whole life, a man whose music had marked my mother's childhood, and who had held me when I was an infant.
Raul Emiliani was a remarkable man. Born in Bologna, Italy in 1918 to a family of Roman descent, he was a young boy when he began to play the violin. It is said that during Mussolini's regime, Raul and his brother Emiliano were summoned by Il Duce himself to entertain the then visiting Adolf Hitler.
Needless to say, Raul left Italy as a result of the fascist rule, which considered people of his ethnicity to be less than human. He left with a violin on his back, by boat to the new world, and somehow he ended up in the Andes. A place that he came to love very deeply. In Quito he got his license as a player for the National Symphony Orchestra, and began to make his name, not only as a violinist, but also as a pop composer, director, and teacher.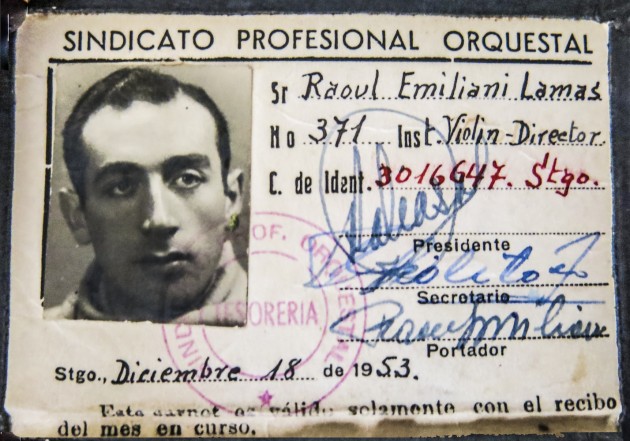 The man was handsome, and had a voice deep like a well. His skill with the violin is impressive. To my ears, he is a virtuoso, undoubtedly a maestro. He plays music of such detail and speed with such ease, it has always blown me away.4
While in Ecuador, Maestro Emiliani became good friends with Carlos Rota, my grandfather. They seem to have understood each other. Carlos was a very airy man, focused mainly on the workings of the mind, largely ignoring the appeals of the heart. Raul, on the other hand, even now, 26 years after his death, radiated the energy of an enormous heart, warm with fire and passion. Kind, and tender, sensitive, delicate, yet piercing like a shrill and perfect tone on a resonant E string.
Perhaps they were a good balance for each other. One all talent, no ambition, and the other all ambition, no talent. Carlos claimed to have found the talent of the Maestro, which may well be true. Whatever the case, It was through CAIFE that Emiliani made his first attempts at putting his music to the press.
It seems like Raul was caught between two worlds. One of symphonic virtuosity, and another of pulp fiction, pop culture, and musical consumption. He began to write a series of ballads, and chachachas, to fit the sounds of the time, maybe even become hits, and bring in some cash.
With the help of CAIFE, Raul Emiliani recorded a series of singles drenched in innuendo, moons and rockets, and the monokini which apparently was all the rage at the time. For those of you who don't know, the monokini was a one part bikini, that is, a topless bathing suit for women that was supposed to be the thing during the sexual revolution. Clearly, society couldn't handle the monokini, but Emiliani's two singles about such a tantalizing subject, have survived the dust: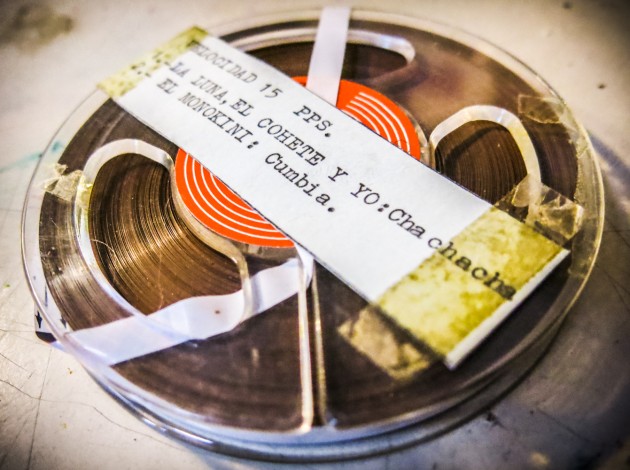 Raul Emiliani, however, was best known as a virtuous violin player. During the 1960s he was the director of the Quito Symphony Orchestra and took up posts as a teacher and scholar at Conservatorio Antonio Maria Valencia in Cali and various posts throughout the south of Colombia.
I contacted one of his previous students who spoke fondly of the pedagogic method Emiliani had created, and of the signature "gypsy cut" with which he interpreted all of his music.
There is no doubt in my mind that Emiliani was a virtuoso. I played the viola for 10 years, and I am baffled by the dexterity and freedom of his fingers. Not that my skill is any measure of virtuosity, but at least it gives me an honest measure of the skill that I lack. Raul's playing is butter, smoothness of the best kind, at velocities unheard of to my 50bpm fingers. The way he slides into tone, so far ahead that it sounds like he's slightly behind. His playing is raw gitanity. It is light-footedness and detachment, it is present moments passing into warm remembrance with immediacy and flow. A river. Perhaps his virtuosity is the sensuous relationship with the instrument, and his sheer passion, a sharp shrill like a caring knife cutting melodies through the air, buttered in analog warmth.
If you search "Raul Emiliani" online, you'll find few results, most of them pertaining to the Raul Emiliani String Instrument line created by Eastman Strings. The Eastman Strings "Raul Emiliani" run in the $4,000 range, which means, they are instruments to be reckoned with. High quality, good wood, professional hand made instruments. that is to say, this is no cheap line of violins, but a serious musical enterprise run by master luthiers. On the web page a single paragraph states:
"In Memoriam: Raúl Emiliani was an Italian-born violinist, composer, and arranger. His work as a pedagogue contributed to the development of numerous fine instrumentalists. Professor Emiliani died in 1989."
I contacted the company, wondering if it was the same man. To my surprise I received an email almost immediately from Rubén Salazar, Head of Orchestral String Sales at Eastman Strings, and he confirmed that he had been Emiliani's student in Cali in the late 70s and early 80s. He said that when he first arrived at Eastman Strings in 2005 he decided to pay homage to his former teacher by naming the company's top instrument line after him. It was indeed the same man.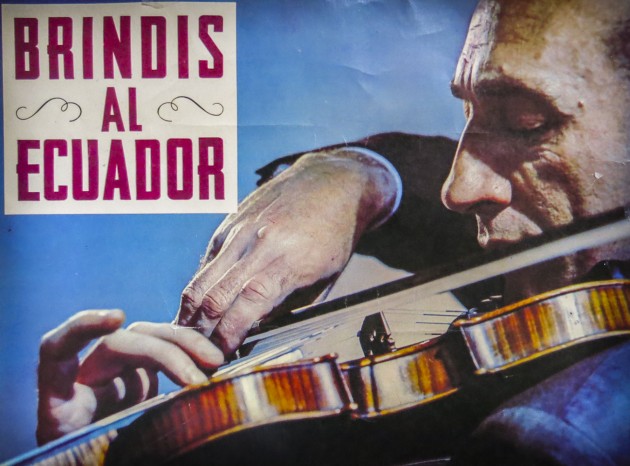 It is so strange the way a person's mark can be left on the world in such obscure and disconnected ways. At least to the outside observer, Raul Emiliani's virtuosity lays encapsulated in a cryptic message, in the form of beautiful instruments; his name side by side that of Stradivarius, yet his music, the sound he purveyed, the art of his fingers, has vanished without a trace. Gone. Only a series of clues remain, guiding those who are willing to look, to uncover the virtuosity of a man buried by time.
According to Rubén, nowadays a lot of the top players in the Northern Andean region, and perhaps throughout Latin America received training from Raul himself.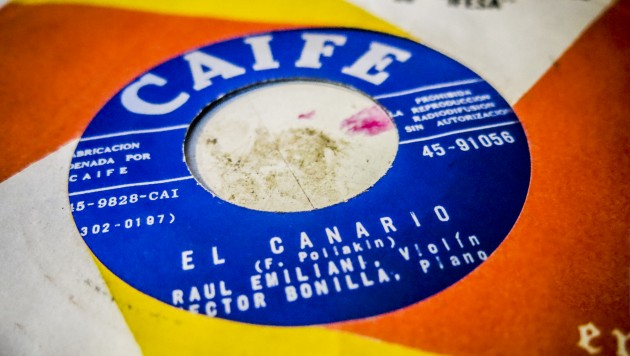 One day I came across a recorded interview, Pinceladas Musicales, where the host, a man with a tinny radiophonic voice introduces the Maestro, as a purveyor of pure musical spirituality. After concluding that all music is about love, he tries to coax Raul to tell the story of the mysterious Nathalia. When the host starts to make unwarranted assumptions, Raul interrupts him, so he may stop rambling. The Depth of The Man's Voice made me check the tape speed. Could it really be that deep?
My mother came in to listen to the tape, and she told me that this voice didn't sound right, and it was true; it turned the tape was playing fast; that his voice was even deeper.
Thank you to Paulina, Ruben Salazar and Francesca Rota for their help with research and resources.
This weeks audio starts off with two of Emiliani's orchestral singles:
"La Luna El Cohete Y Yo" (Chachachá)
and "Monokini" (Cumbia)
Emiliani directed the orchestra and wrote the two songs, which were meant to be ballroom hits. Though they are not characteristic of his personal style, they embody his flexibility, talent, and even his sense of humour.
We continue with 4 violin pieces recorded by Raul Emiliani and Hector Bonilla:
"Nathalie" (by G. Becaud / Pierre Delanoe)
"El Canario" (F. Poliakin)
"Para Tus Lindos Ojos" (Alfredo G. Martinez)
"San Juanito" (desconocido, Ecuadorian folk song)
We end with a short radio interview featuring Raul's music, accompanied by Maestro Hector Bonilla's piano. We start with "Aria Y Rigodón", a classic whose author I have been unable to identify. We then go into an interpretation of an Ecuadorian folk classic "Chola Cuencana", beautifully interpreted and embellished with gorgeous trilling arpeggios. After a short commercial break, we return with "Ligia" a piece written by Raul himself dedicated to a beautiful woman, a good friend's fiancé, whom he appreciated greatly, it has the feel of a gypsy fantasy, with Hungarian undertones, and a fierce energy.

Follow Sounds and Colours: Facebook / Twitter / Instagram / Mixcloud / Soundcloud / Bandcamp

Subscribe to the Sounds and Colours Newsletter for regular updates, news and competitions bringing the best of Latin American culture direct to your Inbox.
Share: