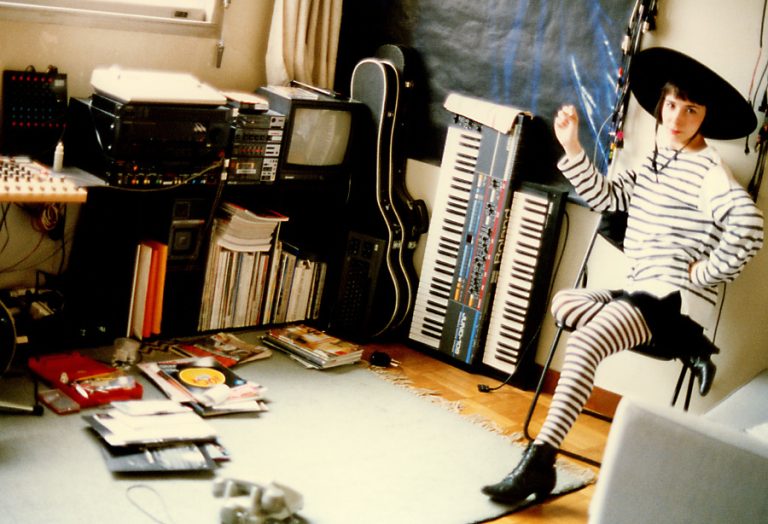 On The Margins – Brazilian Music Round-Up (Bruno Berle, Bella, Naná Vasconcelos & Itamar Assumpção, Black Pantera, M.Takara & Carla Boregas and More)
23 November, 2022
Welcome back, this month I've been listening to some sublime lo-fi MPB, celestial drones, politically-charged metal, non-binary static and dreamy Amazonian ambient. Many of the artists who can be found in the column this month will be performing at Chico Dub's Novas Frequências festival in Rio de Janeiro from the 1st to 3rd of December, so if you're in the area I urge you to go along and support them. 
---
Bruno Berle – No Reino dos Afetos (Far Out Recordings)
Whereas our thankfully recently defeated far right have been looking back to the years of lead and the dictatorship with fondness and nostalgia, the much more liberal music scene has also been plundering the 70s for ideas. While his most excellent MPB contemporaries – Sessa, Tim Bernardes –  have been partaking in the kool aid of the delicate bossa samba of mid-seventies Caetano Veloso, Berle seems to have his eye on a different Caetano album, that of Araçá Azul, his album of avant garde samba and field recordings, probably the second most returned album after Lou Reed's Metal Machine Music, and this is meant as a great compliment, as it's one of my favourite Caetano albums.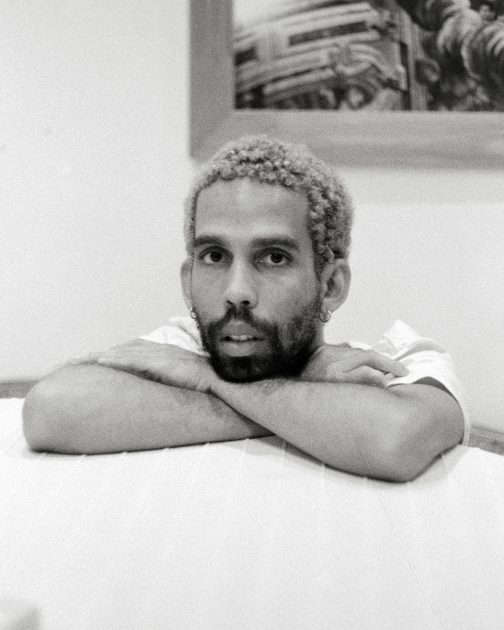 From Maceió in the north-east, Berle serves up this delightful dish of tropical soul and tuneful MPB, embraced by his earnest high-pitched voice, singing charming lo-fi Brazilian love songs, ambient vignettes, accompanied by warm, home-cooked beats and gentle strokes of MPB genius. However, as with Araçá Azul, amongst the simplicity, the compositions, arrangements and productions on No Reino Dos Afetos are strangely off-kilter but tingle with nuance and detail. Far Out have had a good year, what with their Joyce re-release among many others but they have released a gem with this one.
---
Naná Vasconcelos & Itamar Assumpção – Isso Vai Dar Repercussão (Noize Record Club)
Two sadly missed figures who left unmistakable marks on Brazilian music came together for this album originally released in 2004, which has just been released in a luxury vinyl edition through subscription-based Noize Record Club. Though as I write this it has probably sold out, you can find it on streaming, and search it out you should, as it's two greats really bouncing off each other in great style. Invited by Zeca Baleiro, the two artists started in 2001 to record together and then three years later, after Itamar's death, bassist and producer Paulo Lepetit, with the collaboration of artists such as Anelis Assumpção, Bocato and Vange Milliet, finally completed the material, using the initial recordings of Itamar interpreting his compositions with voice and guitar, accompanied by Naná on percussion. Itamar Assumpção is one of the originators of the vanguarda paulista, a movement that spawned such experimentalist MPBers like Arrigo Barnabé and who are such an influence on modern artists such as Negro Leo. He has a theatrical quality in his singing, a style dating back to his shows at the Teatro Lira Paulistana. This can be heard on the playful opener "Leonor", and the melancholic "Fim de Festa", always with samba as the foundation. Closer "Assim Naná Ensina" will have you grinning from ear to ear with its joie de vivre. It's such a favourite of mine that I bought the box set of complete Itamar Assumpção recordings just to get this album, so do yourself a favour!
Available from Noize Record Club
---
Black Pantera – Ascensão (Deck)
This has a striking cover that I would say references the cover of the book Torto Arado by Itamar Vieira Junior, a riveting read that examines the hypocrisy and hardship of post slavery Brazil and lays down the fact that for many slavery never really ended but just became servitude. I am also intrigued by the fact that they are from Uberaba, Minas Gerais, a couple of hours up the road from where I live and certainly not the place where you would expect to find such a terrific metal band. You can hear influences from Bad Brains, Motorhead, Devotos (great Recife punk-metal band) and of course Sepultura, a band whose influence can never be underestimated but also, more importantly, for their politicising of the Brazilian metal scene, specifically their support for indigenous communities (what other music scene does this so defiantly?).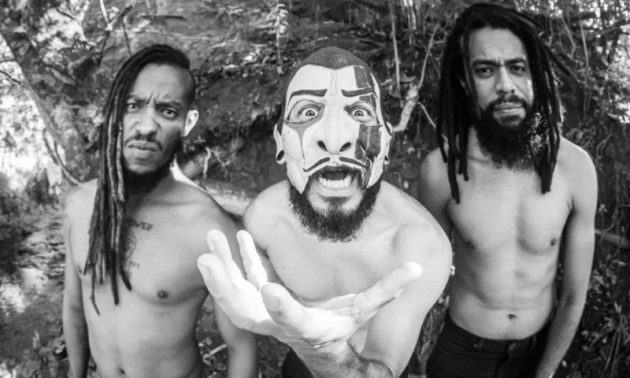 This album contains the anthem "Fogo Nos Racistas" (Set Fire to the Racists), which has become a call to arms recently, its funky bass and chunky metal riffage pointing fingers at the guilty. Fine, fine metal from the interior, Brazil needs more bands like this!
---
Bella – Tinku (Buh Records)
Bella, Amanda Irarrázabal & Inés Terra  – SO(Ñ)AR (QTV)
Bella is originally from Rio de Janeiro, a sound-visual artist and electronic instrument builder, who investigates the physical and magical possibilities of matter-sound as well as light, participating in exhibitions for Oi Futuro, OneBeat, and the Museum of Tomorrow.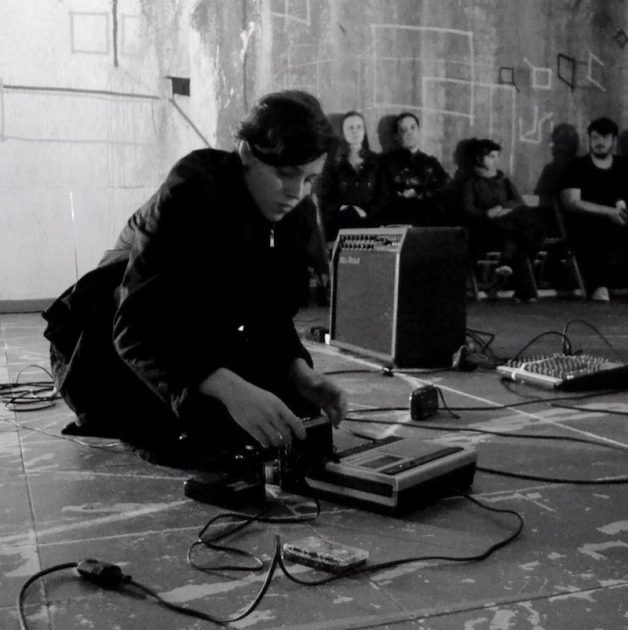 Tinku (a quechua word) means encounter, and here her impressive set of collaborators which include Ale Hop, Ava Rocha, Inés Terra and Raquel Dimantas (all fascinating Latin American artists in their own right) contribute to Bella's playing of the 'TWINS', twin devices which generate sound waves from the oscillation of light and shadow. The artist says "The idea of bringing these artists together was born out of a desire of mine to connect women from Latin America, who, with their very own languages, could weave points of light and shadow, just like the Andean tapestry". It's a noise record of surprising light and shade (as stated above), with juddering slabs of digital static, low level hums, and muttering voices making it a disconcerting listen.
Bella further explores female collaborations in SO(Ñ)AR, this time inspired by dreams, considered a knowledge practiced for many centuries in the American continent, and in some ethnic groups it is especially cultivated among women. These three tracks were all made through virtual meetings and take on a more collage form, with lots of strange otherworldly sounds accompanied by Bella's resistor busting noises.
SO(Ñ)AR will be released on November 24 by QTV
---
Mitar Subotić and Gorjan Vejvoda – The Dreambird (Lugar Alto)
This re-release harks back to a time when environmental recordings were being discovered as new forms of music, as David Toop writes in his book Exotica: "…some recordists stuck to the idea of birdsong as music, a notion that is surely as old as music itself." And believe it or not birdsong is central to this organically humid production.
Mitar Subotić aka Rex Illusivii aka Suba, was originally from Yugoslavia, but is best known in Brazil for his 1999 album São Paulo Confessions and the remix album that followed, a hugely influential release that effortlessly walked the line between modern MPB and 90s electronica, influencing a whole generation of Brazilian beat makers. However, he died just after it was released and never benefited from its critical acclaim and success. This smart looking vinyl release from column favourites, the uber boutique label Lugar Alto, was recorded in Paris while Suba's partner Goran Vejvoda was living there. Relaxed days were spent sitting around, tinkering with sounds and improvising. Goran had a Japanese field recording album called Bird Island Seychelles that contained the exotic bird sounds and sea waves used to create the natural textures of the album. Suba left with the 8-track tapes and rough mix cassettes and adapted the music for a sound art installation by the Danube. The tapes were eventually released on the Catholic label, COMEP. According to João Parahyba (legendary percussionist), Suba managed to convince the nuns who ran the label that The Dreambird was a recording for meditation, enabling him to adapt the name and 'conception' of the album. The tracks released on the album in Brazil were shortened so this release finally contains the four tracks in their original full-length form, plus two never released tracks that are available for digital download. So, what does it sound like? Well, it's a deeply immersive organic experience. It's ambient music that seems to integrate with your environment. Bird calls and shrieks intertwine with lush synth tones, imagine late seventies Tangerine Dream in a tropical hothouse while floating around a floatation tank located in the Amazon, an ecosystem of rich and strange sounds. 
---
Iara Rennó – Ewe O 
Iara releases this new video from her Grammy-nominated album Oríki, which is one of my Brazilian albums of the year. The video features symbolism of Candomblé rituals and the video has a psychedelic transforest ambience. The singer, composer, and film-maker Ava Rocha (daughter of Glauber) edits, while Iara herself directs.
---
Flavia Goa – Moto-Perpétuo (Brava)
João Madeira & Wagner Ramos – Mesistema (Brava/4da Records)
Two experimental and worthy albums from vanguard mainstays, Brava. The first from Flavia Goa, a sound artist, guitarist and composer based in Rio de Janeiro. She curates the F(r)esta Festival of improvisation, which currently takes place at Audio Rebel, Rio's version of Cafe Oto. The first track on her album, "cadência" is a stunning piece of celestial drone, something along the lines of classic Popul Vuh. The rest of the album is just as satisfying with guitar, synths and software effects, lots of drifting drones and textures. Of course she's part of the line up at Novas Frequencias festival this coming December, where this kind of thing goes down a treat.
Mesistima is a great piece of real time composition. João Madeira, from Lisbon, on double bass and Brazilian Wagner Ramos on drums, with touches of electronics. Ramos is from the always interesting Radio Diaspora, who I've covered here before, and the duo play a trio of epically long pieces, pushing their instruments through the outer edges of their respective sounds. Much rolling toms, splashing cymbal work and loose stringed bass playing tinged with very subtle electronic effects.
---
White Prata – bocadipelo123 (MAMBA rec)
The always reliable and unfailingly idiosyncratic MAMBA rec have released what they claim is a rock recording. I beg to differ, this is gabba hard electronics with a touch of rave madness. White Prata is the alias of music producer Elisabeth Prata (the alias inspired by the bizarre case of a Brazilian banned from Facebook for her name). From Rio Grande do Sul, she co-founded the collective Vorlat in Porto Alegre, where she developed her musical productions and live PA: basically powerful bass and corrosive melodies recorded in live jamming. This bonkers EP is an 11-minute trans allegory divided into 3 movements: "I hate myself I and want to gouge out my eyes" (Oedipus Rex), "I want to kill someone" (kll jff bzs pt II) and, finally, "Really, I feel great" (mona fuck art deco). It has convulsive beats, siren wails and acid squeals, all inspired by São Paulo and its millions of tons of grimy concrete, cold-heartedness and soot. Again, another artist who will appear at the upcoming cutting-edge Novas Frequencias festival.
---
Fordmastiff – Counterfeit (Municipal K7)
Quickly turning into a new label to watch, this new release by Municipal K7 (the K7 is pronounced as cassette), who have a label showcase at the Novas Frequências festival, follows in a similar hauntological vein as the previous release by Fantasma do Cerrado, though sounds nothing like it. "Counterfeit" is a lo-fi odyssey influenced in a twisted way by Rio de Janeiro's iconic carnival parades, a celebration reimagined, where unnatural subterranean atmospheres seep up through the phantom city. Fordmastiff, namely Lucas Stamford, was recently inspired by the high weirdness of an abandoned ship that went adrift in the Guanabara Bay in Rio after a windstorm and collided with the Niteroi bridge. It was later revealed that there were people living inside the vessel's decayed carcass. The sounds in this cassette release could be coming from deep inside the hull of this haunted ship, echoing and rumbling. He says: "I've always felt the city has a kind of secret hidden reality in itself, as if beyond the visible, there was an invisible world striving to manifest through portals that become accessible between a certain part of the night and dawn, maybe around 3am to 6am." That dead of night period, when a far off carnival party can be heard through a dulled house beat, are the sounds hidden inside the tracks of this album as they push through the seams of an alternative carnival from a parallel universe.
---
Bufo Borealis – Diptera (Zenyatta Records)
What started as a São Paulo duo has turned into a tightly arranged sextet of players. The original duo created by Juninho Sangiorgio, from classic Paulista punk band Ratos de Porão and drummer Rodrigo Tucano released the album Pupilas Horizontais in 2020 full of guest appearances, among them, Edgard Scandurra (Ira!), Fernanda Lira (Crypta) and writer Rodrigo Carneiro. That first album was a pleasing jazz-punk mix of electric period Miles Davis and Can-like funk rhythms. On this album they further explore their jazz roots; "Argila", with its swampy groove, looks back to the 70s, before going all free and glitchy. In fact we can hear a lot of the 70s here, prog, funk, afrobeat, psyche and general all round instrumental experimentalism. "O Alfaiate" is cool bebop based around a three chord Hammond B3 vamp played by Adam Scone, and "Divino" has wah-wah aplenty with soaring sax playing.
---
M.Takara & Carla Boregas – Grande Massa D'Agua (Hive Mind Records)
If you read this column regularly then you may know that Mauricio Takara plays in Hurtmold, and Carla Boregas is from Rakta, and they are São Paulo's no.1 avant-garde power couple. This is their follow up to Linha d'agua, which I wrote about and was a huge fan of.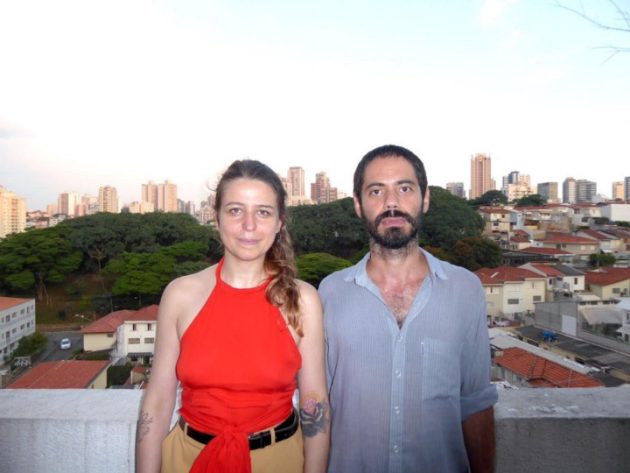 Here the two of them get together again with water as the running theme and the music itself ebbs and flows in a streamlined manner, always kinetic and driven along by Takara's fluid, nimble percussion. I'm a huge fan of Takara's playing, he manages to incorporate krautrock, jazz, dub and cosmic Brazilian vibes, and creates a nicely disciplined atmosphere as the pair harness and channel the aquatic elemental force from which they've drawn the inspiration for their works. At times the lines between Takara's skittish percussion and Boregas' synth work and sound manipulation blur into freely flowing torrents of sound. 

Follow Sounds and Colours: Facebook / Twitter / Instagram / Mixcloud / Soundcloud / Bandcamp

Subscribe to the Sounds and Colours Newsletter for regular updates, news and competitions bringing the best of Latin American culture direct to your Inbox.
Share: