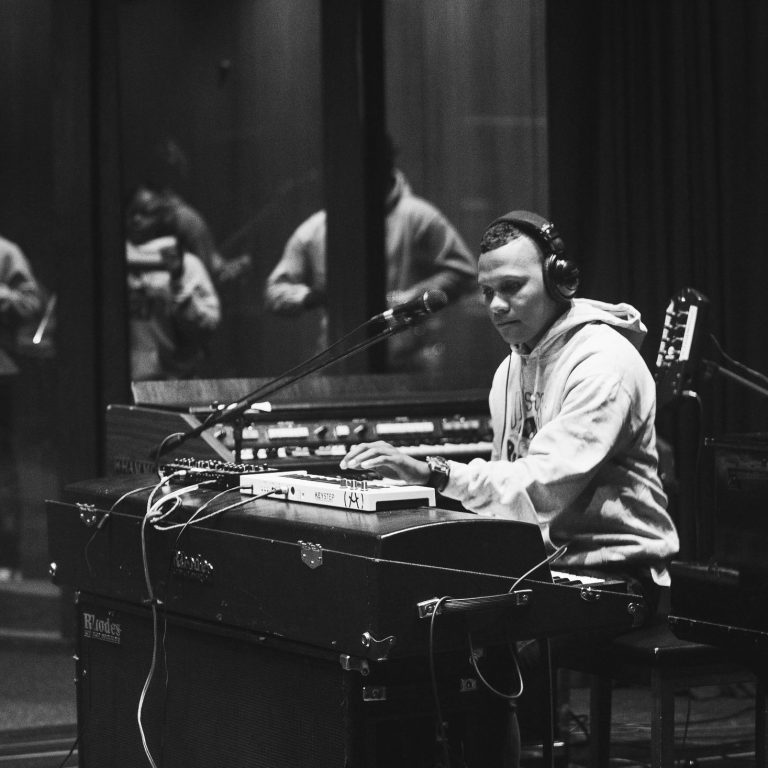 Under The Influence: Cankita
19 July, 2022
Born in Tumaco, Nariño in the Pacific Coast region of Colombia, Juan Carlos Mindinero, aka Cankita, is a well-known figure within the region's music scene. Staying true to the oral tradition and legacies of the Pacific Coast, Cankita is continuing a long cultural history that has been passed down through families for generations. 
As the musical director of Bejuco, he is part of a new musical movement combining traditional Pacific rhythms with more global sounds. With contemporaries such as Herencia de Timbiquí, La Pacifican Power, and ChocQuibTown, Bejuco is responsible for propelling Tumaco into the global music limelight. His group can even be credited with creating a new music genre: Afro-Pacifican beat. Upon listening to Bejuco's album, Batea, the influence from Fela Kuti's Afrobeat is clear with the famous Kuti tapline, stabbing jazz keys and funky drums commonplace among the 12 songs.
Cankita, a composer and musician who is well-versed in a variety of instruments including marimba, percussion and keyboards, takes us through some of the musical influences that have led him to become such a distinguished musician in Pacific Music, looking afar for inspiration from Africa and the Caribbean as well as getting deep into some of the groups and artists that have made a huge impact on his marimba playing and his understanding of what's possible in Pacific music.
---
Fela Kuti – Zombie
Fela Kuti has allowed me to understand deeply the music genre, Afrobeat. His music has been fundamental in the creation of the genre that my group, Bejuco, has invented: Afro-Pacifican beat. 
---
Perlas del Pacifico "La Juga Grande"
Perlas Del Pacifico have had a huge influence on my music. Their first album, although it doesn't have a title and is not available to stream online, features all of the Tumaqueño sounds and rhythms. This band and album in particular truly helped me to understand the Tumaco sound.  
---
Grupo Bahía – Pura Chonta Recargado
Pura Chonta Recargado from Grupo Bahía is another inspirational album. I listened to this album while I was a part of Agrupación Changó and it inspired me to create, draw and explore the marimba de chonta. 
---
Los Van Van "Soy Todo"
I love how Los Van Van place so much emphasis on the traditional rhythms of Cuba, ensuring that their roots are at the forefront of their writing. This is something I always try to do when creating also. 
---
Irakere "Ximoara"
I love everything about the sound and virtuosity of Irakere and their music. It reminds me to not place barriers upon my music making and to continue my musical exploration. 
---
Grupo Bahía "Con El Corazón"
This track from Grupo Bahía showed me how the marimba could work alongside other instruments and how it's possible to create new sounds and genres this way.
---
Agrupación Changó "Entre Patia y Sanquianga"
"Entre Patia y Sanquianga" from Agrupación Changó has been another important musical inspiration for me. When I am keen to include rhythms in my music from the entire Nariño area and not just Tumaco, this is what I listen to for guidance and inspiration. 
---
Bob Marley "One Love"
The central message of "One Love" by Bob Marley is extremely powerful to me. I want this type of message to be reflected in my music also so that I can invite my listeners to think about social issues, wherever they are in the world.
---
BONUS: Bejuco "Batea"
And of course we'd be remiss not to include a song by Cantika himself, so here's "Batea", the title track from Bejuco's debut album:

Follow Sounds and Colours: Facebook / Twitter / Instagram / Mixcloud / Soundcloud / Bandcamp

Subscribe to the Sounds and Colours Newsletter for regular updates, news and competitions bringing the best of Latin American culture direct to your Inbox.
Share: