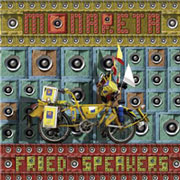 The Best Albums of 2010 20-11
14 December, 2010
Our end-of-year coverage starts here with the first half of our favourite albums of 2010. Unlike the normal lists of Best Latin American albums of the year (which are mainly a selection of songs from Cuba and Mexico, with perhaps the odd one from Colombia) we've gone South America crazy, and in fact the hardest thing has been leaving albums out. I think it's fair to say this has been one bumper year!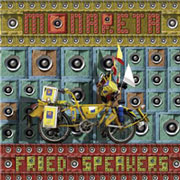 20. Monareta – Fried Speakers (Colombia)
A ludicrously good party record. Reverberating cumbia beats bang against accordion, stinging guitars and bomping bass. If you wanted to know what would happen if you mashed together all of Colombia's local styles and took it into club land, it would sound a little like this. This duo from Bogota, along with Bomba Estereo and Systema Solar, are leading the pack in creating electronic Colombian music ready for the dancefloor.
You can buy the album from Amazon or iTunes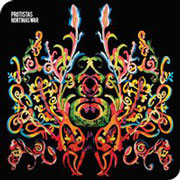 19. Protistas – Nortinas War (Chile)
Chile is home to a number of great indie bands, Protistas being one of them. Nortinas War was a welcome distraction upon release earlier this year. Opening track "Mascara Religiosa" highlights their appeal, as they play with textures and dynamics creating a pulsating instrumental romp. The later tracks (with vocals) only heighten the emotions on offer, at times mirroring The New Year for tenseness and The Moldy Peaches in its quirkiness.
You can download Nortinas War at Sello Cazador.
18. Moldes – Moldes (Peru)
From Lima in Peru come Moldes, a delightful band who released their debut album this year. Full of charged rockers and cheery dirges it has rightfully earned comparisons with the Jesus and Mary Chain and Sonic Youth, but this only tells half of the story. On songs such as "Tres Malade" and "El Arbol" they manage to fuse the garage aesthetic with the charm of Beat Happening and the kind of vocal harmonies that made the B-52s such a formidable act back in the day. This is definitely a band for the future, albeit one that is pretty damn capable of producing wondrous results in the present.
[soundcloud url="http://api.soundcloud.com/tracks/4483876″]
You can listen to Moldes at Myspace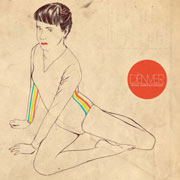 17. Denver – Música, Gramática, Gimnasia (Chile)
Denver are capable of hitting electronic highs just as well as compatriot Javiera Mena, while at the same time offering something a little different in orchestral indie-pop such as they served up on lead single "Lo Que Quieras." In both departments the results are painfully good. Chugging guitars, stuttering harmonies and heart-wrenching swing swathes were the key to the success of "Lo Que Quieras." In this indie-pop vein we also get melodically intriguing efforts such as "Los Bikers" and "Cartagena," little dashes of Elliott Smith or Brendan Benson-style perfectly-formed nuggets. But we also get techno-charged pop on "Olas Gigantes," "Feedback" and the exceptional "En Medio de una Fiesta," all of which deserve plaudits for their abilities to go off in a number of different directions, showing no fear of experimenting and the sheer quality of the grooves.
You can buy the album at iTunes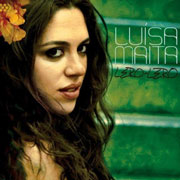 16. Luisa Maita – Lero-Lero (Brazil)
This album is such a breath of fresh air. Sao Paulo has fast become the hot-spot for great new young Brazilian singers, which often means that the marketplace gets clustered with too many identikit troubadours. With Luisa Maita it's clear we're getting something different. Lero-Lero, her debut album of original songs shows both an unnerving act for writing fresh, relevant songs (ones that echo life in Sao Paulo) and then presenting them in her own unique manner. Just listen to songs such as "Lero-Lero" or "Alento" to hear this for yourself.
[soundcloud url="http://api.soundcloud.com/tracks/7116136″]
You can buy the album at Amazon or iTunes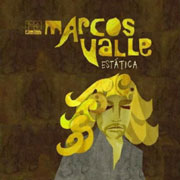 15. Marcos Valle – Estatica (Brazil)
A legendary figure in Brazilian music, there is very little Marcos Valle still needs to achieve, yet he keeps on going. In many ways Estatica feels like the album Valle had been waiting his whole life to make. A searing mixture of up-tempo samba rhythms, funk and soul overtures and full-on jazz backdrop. The title track says all that needs to be said about this album. A heavyweight epic that feels like the bastard child of Stevie Wonder and Weather Report if they had been brought up on Copacabana beach. There is a sense that Valle has finally taken the reins off his classic pop songs, giving them room to spill out, to make new combinations, and most importantly, to flourish.
[soundcloud url="http://api.soundcloud.com/tracks/3888178″]
You can buy the album at Amazon or iTunes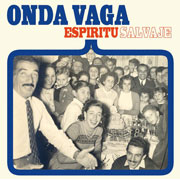 14. Onda Vaga – Espiritu Salvaje (Argentina)
It's taken two years for Onda Vaga to release the sequel to their superb debut. 19 songs of joyous folk music prove it was worth the wait. Onda Vaga perfected their formula very early on, the mixture of numerous acoustic guitars with skittering drums and occasional horn blows, pulled through with the band's ridiculous levels of effervescence, all that was left was for the band to produce a few songs with classic written all over them. On Espiritu Salvaje they deliver. "Jovens" feels like a mix between Beirut and Los Lobos, a dusty, jaunty trip through rural Argentina, on "Asi" they have managed an under-stated infectious sing-along and on "Continente de Perlas" they just, well, go off on one, brevity and careening pace the names of the game.
[soundcloud url="http://api.soundcloud.com/tracks/5626795″]
You can buy the album at Tiendalinda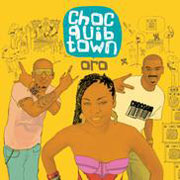 13. Choc Quib Town – Oro (Colombia)
Choc Quib Town really caused something of a stir this year. Whereas Bomba Estereo and Systema Solar played more with electronic textures and dancefloor fillers Choc Quib Town went down a hip-hop-oriented route. On songs such as "De Donde Vengo Yo" and "Somos Pacifico" there is very little doubt that it was worthwhile. Evoking their heroes The Fugees in both delivery and style they have quite rightfully won a series of nominations at the Latin Grammy and Grammy Awards themselves. By incorporating elements of traditional Colombian music such as palenque and cumbia they have also managed to get the word out on some of the amazing music that can be heard on the Pacific Coast of South America.
[soundcloud url="http://api.soundcloud.com/tracks/7997174″]
You can buy the album at Amazon or iTunes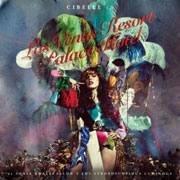 12. Cibelle – Las Venus Palace Resort Hotel (Brazil)
While perhaps not as strong as her previous The Shine of Dried Electric Leaves album Cibelle's third effort still finds her as one of the most innovative artists around. Sultry electronic grooves ("Man from Mars") meet haunting ballads ("Sad Piano") and all out pop ("Frankenstein") on an album where anything goes, but everything somehow holds together. Many ears were pricked to the unusual covers on this album with "It's Not Easy Being Green" (originally sung by Kermit the Frog) and "Underneath the Mango Tree" (originally written for a James Bond soundtrack) getting plenty of attention but it's the great originals such as "The Gun and the Knife" and "Man from Mars" which really make this album above the ordinary.
[soundcloud url="http://api.soundcloud.com/tracks/5217227″]
You can buy the album at Amazon or iTunes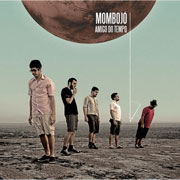 11. Mombojó – Amigo do Tempo (Brazil)
It's taken three albums for Mombojó to truly hit their stride. While Nadadenovo and Homem-Espuma showed plenty of promise it's here on Amigo do Tempo that we get to hear a band truly in their element. At times, such as on "Entre a Uniao e a Saudade" or "Justamente" they sound like the French pop of Phoenix or Stereolab, but there's also that possibility of the band throwing in something a little different. So it is that we get songs such as "Antimonotonia" which do with their sound what Common's Electric Circus did with hip-hop, which is to say completely turn it upside-down. This rich vein of experimentalism continues through the album, which shows a band able to play around with their own sound while always sounding extremely tight and fresh, which is quite a feat indeed.
You can buy the album at iTunes
You can view our 10 favourite albums of 2010 right HERE.

Follow Sounds and Colours: Facebook / Twitter / Instagram / Mixcloud / Soundcloud / Bandcamp

Subscribe to the Sounds and Colours Newsletter for regular updates, news and competitions bringing the best of Latin American culture direct to your Inbox.
Share: