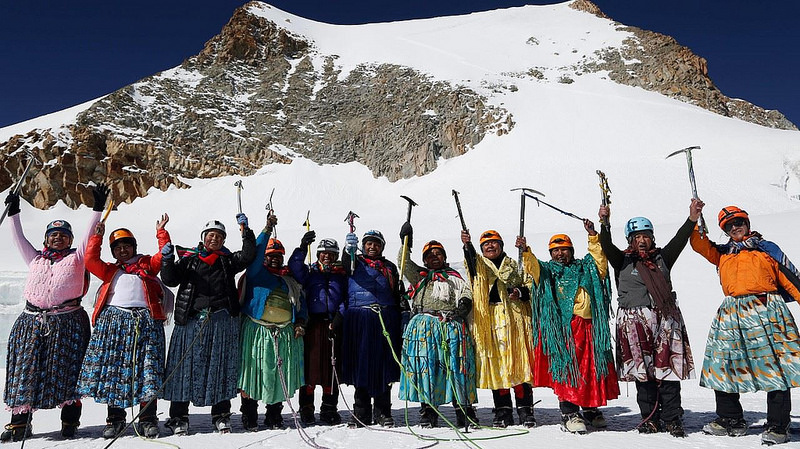 Juan Karita
Indigenous Bolivian Aymara Women Climbing Huayna Potosí
26 January, 2016
Think of cholitas, the indigenous Bolivian women, and you will most probably have ladies dressed in bowler hats, pleated multi-layered skirts and even more colourful shawls known as "mantas" in mind.
Now imagine eleven indigenous Bolivian women with helmets, polarized goggles, hiking material and crampons attached to shoes. A sight that is definitely not too common among Aymara women. Aged 20 to 50 years old, these "cholitas" climbed the 6,099-meter high Huayna Potosí earlier in January 2016.
Located near the capital city La Paz and being one of the highest peaks in the Bolivian mountain range Cordillera Real, Huayna Potosí makes for a demanding but exciting climb for many tourists. But so far it has not been a popular expedition undertaken by traditional Aymara women.
The traditional clothing together with the climbing gear make for an unusual sight, but as Adrian Quispe, a mountain guide explains, "women [in Bolivia] also have the right to climb mountains".
Many of them start their career as wives of cooks and porters of tourists who explore and climb mountains around Bolivia. The base camp at Huayna Potosí is located at 5,130-meters, and most "cholitas" have never climbed further than that.
Times are changing though, and financial incentives encourage more local women to get into mountain guiding. According to Associated Press, in Bolivia, a housekeeper earns around $175 a month, whereas guides earn $35 a day and the female cooks about $20 a day, making the mountain profession more exciting for the Aymara women.
It is often difficult for the Aymara indigenous women to acquire appropriate hiking gear. As 41-year-old Domitila Alana Llusco, one of the climbers tells, "my feet are small, there are no boots". But after climbing for more than 15 years from and to the base camp, "nothing stopped me and I have reached the peak of three mountains", Domitila tells of her adventures.
Although the ascent is tough, the women wear their traditional clothing until the last difficult meters of the climb. That is when they remove their pollera (pleated skirt) to prevent accidents, revealing thermal sweat suits covering their bodies.
Having knowledge of the Cordillera climate and experience in scaling to the base camp, the women reach the top by dawn by departing from their final camp after midnight, when the snow is harder.
The term "cholita" goes back to the times of Spanish colonization. Spanish bullfighters used to have assistants, "chulos", whose wives were known as "chulas". Although modern US-style fashion reached Bolivia as well, the Bolivian traditional dress is worn throughout Bolivian society and often stands as an expression of heritage, empowerment and cultural pride. The youngest Aymara climbers already have a far more challenging goal ahead: they want to scale the Aconcagua at 6,960-meters one day, the highest mountain in South America and outside Asia.

Follow Sounds and Colours: Facebook / Twitter / Instagram / Mixcloud / Soundcloud / Bandcamp

Subscribe to the Sounds and Colours Newsletter for regular updates, news and competitions bringing the best of Latin American culture direct to your Inbox.
Share: