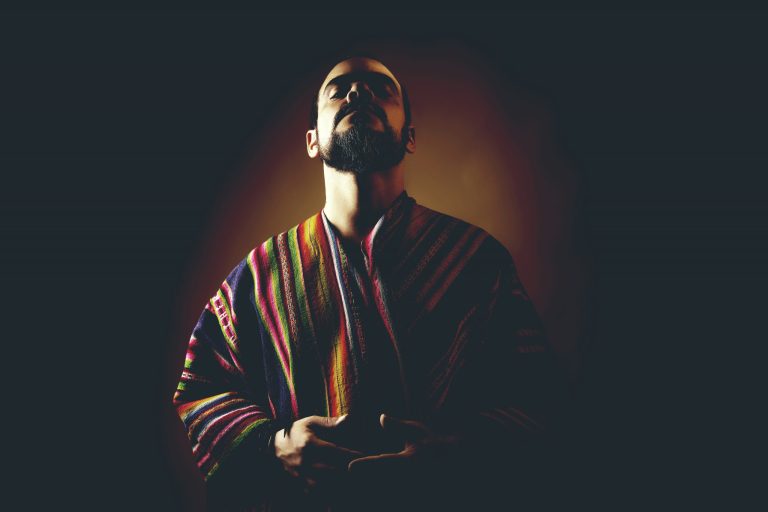 Nunca Tarde – Album Round-Up (Dendê, Lobo Gris, Bruno Morais, El Leopardo, Jose Conde, Lucho Bermudez and more)
07 June, 2022
Welcome to a brand new regular feature, Nunca Tarde, our column for rounding up any albums that almost passed us by. The world moves so quickly that it's important we remember to look at the recent past, because there are some fine albums that, normally due to a lack of marketing resources, don't get the attention they deserve. This is our attempt to redress the balance, with a mixed bag of recent albums that our writers have taken a shine to.
---
Dendê & Band – Agô
The publicist seduced me with his explicit haiku: "Ecstatic rhythms/Commune with the deities./Grooves for Orixas!" Captured in three brief lines! There's an emphasis on the ecstasy and grooves in this splendid album, on the estimable Ropeadope label, from the Brazilian percussionist, singer, composer from Salvador de Bahia, Dendê Macêdo, who delivers rhythm and melody in spades. Music and dance are fundamental to Afro-Brazilian Candomblé ceremonies and if the church in our commune were serving up stuff like this, I'd be there every Sunday. Mark Sampson
---
Lucho Bermudez y su Orquesta – The Coastal Invasion
The first time I knew that I didn't just like cumbia, but loved it, was when I heard "Colombia Tierra Querida" blaring out of the sound system at Latino Power in Bogotá. Damn, it swings! It's one of the signature tunes of Lucho Bermudez, a bandleader who helped modernise cumbia in the 40s and 50s, taking the sound of cumbia and porro (in those days, porro was a genre used to describe a lot of what we now simply refer to as cumbia) from the coast to Bogotá, switching from the Amerindian gaita flutes of the coast to European clarinet, as part of a big jazz band set-up, as was the style. This compilation collects together music that Bermudez made while he was in Medellín, and it includes so many classic songs – "Danza Negra", "Arroz Con Coco" and "Gaita da las Flores" to name just a few – that all have that irresistible groove, with just a hint of exotica owing to the era they were recorded. Russ Slater
---
Lobo Gris – Último Recurso
Lobo Gris is not afraid to venture into musical terrains that are enormously dissimilar from each other. His exploration crosses sound boundaries between song and song. Hip hop, folk, pop, rock and other genres are explored with reckless daring and an eclecticism that itself expresses a political and inclusive manifesto as clear as the lyrics of their songs. These end up being a log of what we all lived in the last two years and some; sound collages in which death, confinement and the abuses we have suffered are sampled, but also the desire to fight against all that and to spit in the face of our usual enemies. Fidel Gutiérrez
---
Dario Acosta Teich – Folklore
On a rather more sedate and introspective level comes this refined album from the Argentinean (largely acoustic) guitarist and composer, Dario Acosta Teich. Now based in New York and part of the thriving jazz scene in that tall city, Teich and his core Argentine group – enhanced by guests of the quality of guitarist Mike Stern and Snarky Puppy violinist Zach Brock – create a musical hybrid that blends their native folk roots with sophisticated metropolitan jazz. "Argentina is the thread running through Folklore," Teich says, and it's one that deserves to be followed. Mark Sampson
---
El Leopardo – Solsticio
It's so nice to hear an electronic artist doing something a little different, as the craze for folktronica and Andean beats has been strong in Latin America for a number of years now, and sure there are elements of that in this album from El Leopardo – aka Systema Solar's Dani Boom -, felt most notably on the cumbia-inflected "Leopard Point", but this goes to different places too. Take the first track, which is mainly a bubbling synth line with some minor effects, and could easily serve as a Twin Peaks soundtrack out-take, yet it's completely compelling, the melody and dynamics subtly changing, weaving in and out of your consciousness. "Kukukumbia" rumbles on, those effervescent synth lines still present, but now pushed to the edges, and when big beats do come along, as on "Lluvia" and "Amacanoa" they do little more than give constant thrust, this is music after all that's focused on nuanced details in the production, melodies or effects that slowly evolve, rhythms that tease their way in rather than barge, and it's a delight from start to finish. Seriously, give this one a try, it's got legs. Russ Slater
---
Bruno Morais – Poder Supremo
Still in South America, Bruno Morais' third album is a bit of a curate's egg, but it's one that's already growing on me the more listening time I give it. With collaborators like Bixiga 70, Juçara Marçal and Metá Metá's Thiago França, one should certainly sit up and take note. His musical influences are clearly diverse and it's a real kaleidoscope of sounds that made me think – a little outside the box, admittedly – of Todd Rundgren's A Wizard, A True Star: the same kind of whacky mix of tuneful songs and big production pop numbers. Closer to Morais' Brazilian home, there are shades, too, of Lucas Santtana and Rodrigo Amarante in its contemporary MPB feel. As the bespectacled Nazi soldier in Rowan & Martin's Laugh-In would utter, vairree een-teresteeng. Mark Sampson
---
Los Golden Boys – Cumbia De Juventud
Los Golden Boys can be seen as continuing the evolution of cumbia from Lucho Bermudez (see above), for these lot came along at the beginning of the 60s and were part of a generation of Colombian musicians taking cumbia from the ballrooms of Bogotá and Medellín to the movie theatres, nightclubs, plazas and anywhere else the authorities would let a smaller group like theirs, which still had brass, but now had electric guitar and Solovox organs as the lead instruments, perform. I've always liked Los Golden Boys but have to say that usually there is only 1 or 2 tracks on any of their albums I want to go back to, so massive kudos to Mississippi Records for selecting choice tracks from across their 60s and 70s output for this compilation as there is not a bad track in sight. "La Cumbia de la Mariguana", with its intense Solovox solo is essential, but then so is the solid groove of "Cumbia y Beso", while "Sonrieme" and "Si Me Quieres" will appeal to any fans of chicha thanks to their marauding guitar lines. Russ Slater
---
Hyldon – Parceiros
Fans of Tim Maia, especially, will be familiar with the name of Hyldon, his former close friend and collaborator, and one of the architects of Brazilian soul. Next year marks his half century in the business and a new album celebrates the anniversary by re-recording with his current cohorts the products of eight former musical partnerships – including Tim Maia, Caetano Veloso and novelist Paulo Coelho – along with two other tracks: one recorded with the São Paulo rap duo, U-Clãn, and the other a ballad with Nando Reis. I thought I'd mention that the cover depicts Hyldon with his wife of 38 years, Zoé Medina. Isn't that sweet and lovely? Mark Sampson
---
Gustavo Yashimura – Living Legend of the Ayacucho Guitar
Considering the biography reads "Gustavo Yashimura-Arce comes from humble origins in the Ayacucho region of the Peruvian Andes", you'd have to wonder how he feels about being described as a "Living Legend of the Ayacucho Guitar", albeit it's a title that certainly gets your attention. Yashimura's sonic world is not a million miles away from Manuelcha Prado's but Yashimura keeps it even more simple with his acoustic guitar the main instrument on the majority of these songs – four tracks feature vocals from Greys Berrocal Huaya. It's this simplicity that pays dividends with Yashimura embellishing the huayno melodies with pathos and charm, putting himself alongside American primitive guitarists like John Fahey and Robbie Basho. Russ Slater
---
Jose Conde – Souls Alive in the 305
I haven't really had time yet to digest this one fully, but I liked Jose Conde's Ola Fresca band and their brand of breezy Miami salsa. And I love this single, so apologies for offering up the video again. I've been struck, too, by the jazzy song "Poetry In Motion" and the title track, a delicious slice of disco rap that conjures up memories of the Gary Byrd Experience. Which is fine by old-school me. However, I do think there's an apostrophe missing in the title if I've interpreted the personal nature of the lyric correctly. Sorry, sometimes I just can't help being a pedant. Mark Sampson
---
Various Artists – Viento Sur
Back in 2019, Vampisoul released a revelatory compilation of leftfield Uruguayan music from the 80s, America Invertida, featuring the likes of Eduardo Mateo, Leo Maslíah, Mariana Ingold and Travesía, which showed what happened when Uruguay got hold of synths and applied them to their folk and troubadour traditions. They've now followed this up with a similar style compilation, but this time focused on music from Argentina. In truth, aside from Litto Nebbia, influential in the development of rock nacional, these were all new artists to me, and it's made me want to investigate this side of Argentine music further. Compiled by Argentine DJs/collectors Bárbara Salazar and Alejandro Cohen (dublab), these recordings were originally released by Melopea Discos, and there's some real gems full of woodwind and percussion instruments, played by a variety of folk-jazz fusion outfits. The melodies and vocal harmonies of Alfombra Mágica's "Pequeño Y Primitivo" and the synth-jazz of Quique Sinesi and César Franov's "Sudan" being two of many tracks worth checking out. Russ Slater
---
Maher Beauroy – Insula
Last but not least, one that I almost forgot – probably because it came out a few weeks ago now… Maher Beauroy is a pianist, author and composer from Martinique. Insula is his second album: a blend of music and spoken word, and a fascinating mix of Antillean and Maghreb Latin jazz, a little in the creative spirit of Omar Sosa. With an eleven-strong band that features voices, violins, cello and oud (among other instruments), Beauroy highlights a number of texts written by his Martiniquais inspiration, the radical post-colonial philosopher, Frantz Fanon. Definitely not one to be overlooked. Mark Sampson
---
Still looking for something new to listen to? Don't forget to check out our Best New Music playlist:

Follow Sounds and Colours: Facebook / Twitter / Instagram / Mixcloud / Soundcloud / Bandcamp

Subscribe to the Sounds and Colours Newsletter for regular updates, news and competitions bringing the best of Latin American culture direct to your Inbox.
Share: