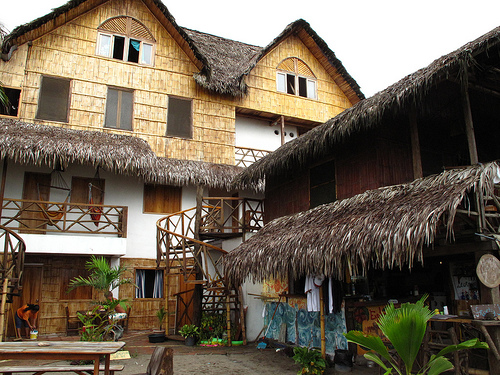 Ecuador's Beaches – Some of the Finest Coastline in Latin America
31 October, 2010
Ecuador sits between Peru and Colombia, often not getting the platitudes it should. If you're a traveller or tourist looking for beach destinations that are as beautiful as they are authentic and unique then you can't fail with Ecuador. Great news also that many of the beaches in Ecuador are very close to each other, we're talking about half-day journeys rather than the 48 hours it can take to go from one Peuvian beach to the next. With that in mind there is really no reason why you shouldn't be visiting all of Ecuador's beaches on your next trip – they're definitely worth it!
Canoa
This is where you go if you like the simple life. It's why I spent so much time there. Canoa is a very small town that maintains a level of tranquility but still manages a lively nightlife which picks up considerably at the weekend. It's one of those places where if you stay for a decent length of time, i.e. more than a week, you will find yourself knowing everyone in the area.
When I visited in 2008 it was at that perfect juncture as a travel spot where enough people know about it that there is a steady stream of tourists (i.e. people to drink with) and a few different places to go to at night but it escapes the crime and drug problems that blight these places once they become too popular and the tourists begin coming in their droves (which is what I believe has happened in Montañita – see below.) As there's not too many tourists you will also end up mixing with plenty of the locals as bars will always be stocked with a mixture of both.
In terms of things to do, Canoa is great for surfing with a beach break, especially good for beginners as the sea is relatively calm but can also offer decent swells. There is also the possibility of paragliding from the nearby hills, exploring the caves on the beach, but mainly you will end up relaxing under assorted beach umbrellas, playing chess or Risk, enjoying the food at the excellent Café Flor and waiting for the next party when it comes."
RS
Hostal Coco Loco on the beachfront (photo by milan81)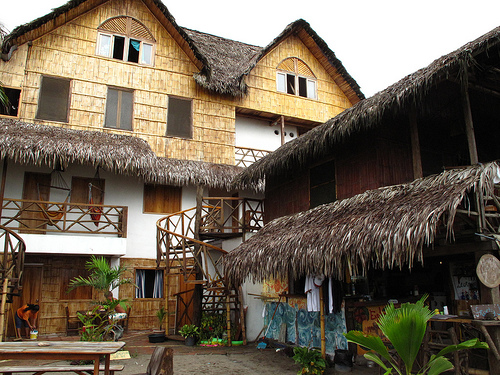 Puerto Lopez
Known as the "ecological capital of the Ecuadorian coast", Puerto Lopez is a laid-back, slightly run-down seaside town a two hour bus ride from Montañita. For tourists, the town acts as the base for good whale-spotting trips, visits to the Isla de Plata, and exploring the Parque Nacional Machalilla.
Hotels in the town are cheap and simple and there are a good few cafes and restaurants, serving freshly caught seafood and stock standard breakfasts. If you're up early enough in the morning for a day trip, you can see the fishing boats full with the day's catch approaching the shore. There is a gringo-run cafe to the south of the main road stretching the length of the beach, which serves pancakes for breakfast, if you're fed up with the standard egg and bread options, and they also run a book exchange with a good selection of modern fiction.
Known as "the poor man's Galapagos", the Isla de Plata is home to blue and red footed footed boobies, frigate birds and pelicans, amongst other birds. Tours to the Isla de Plata will often include whale-spotting opportunities. The swell out at sea en route to the island can be quite vicious (there were several seasick people on my trip) but the uncomfortable trip out to sea is worth it just to see whales breaching and get a sight of the famous blue-footed booby, for those on a budget that cannot fork out for a trip to the Galapagos. Tours will often stop for snorkelling – there is a reef just off the island, housing an abundance of sealife.
As with other places along the coast, whale-spotting is best from July to September. I went in August and we saw whales in abundance, although the weather wasn't brilliant – cold and rainy.
SG
Whales in Puerto Lopez (photo by pirindao)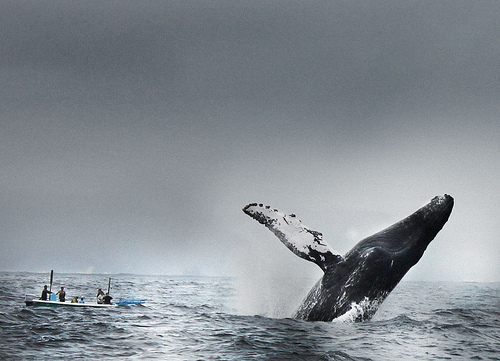 Mompiche
Reaching Mompiche from the south involves getting a bus from Pedernales to anywhere north, and then getting off where the main road reaches the intersection of the road to Mompiche. I made two mistakes when I did this trip. First, I left Pedernales too late so that once I had reached San Jose de Chamanga, roughly halfway there, it was already dark, and after an hour eating dinner I was informed by many of the locals that I shouldn't get a bus in the night. So, without hostels in San Jose de Chamanga I slept in one very dirty small room situated 10 foot above where the sewage meets the river. It wasn't very pleasant and so I got the first bus north in the morning. This was my second mistake as once I'd got to my drop-off point I started walking to the beach, hoping that someone would be able to give me a lift. However, it was too early and no-one was about. I walked for one hour until finally a jeep passed and I jumped in the back. This trip did make the satisfaction of arriving on Mompiche's beautiful beach, surrounded by green forest, so much more serene.
Okay, I got sidetracked. Mompiche is one of the most incredible beaches I've been to. If you like your beaches green then this is the one for you. It's not a beach for sunbathing, it's for fishing, swimming and exploring, and there's plenty to explore, with nearby beaches, including playa negra ("black beach,") that will blow your mind. The surfing, where there is a point break, is pretty good too.
There's one very important thing to remember in Mompiche; money. I hardly brought any and I regretted it greatly after a few days. The nearest cash point is in Pedernales, and I didn't want to go back there again. I should also point out that there are direct buses that come North from Esmeraldas to Mompiche. It's if you're going in the opposite direction that you have a tougher task.
There is just the DMCA Hostel in Mompiche, and then a selection of guesthouses and rooms for rent, some of which are very cheap. On the beachfront there are many places to buy fresh seafood and other meals, which all seem a little over-priced (well they are a little disconnected!) As I was on a budget I spoke to one of the restaurant owners a little further away from the beach to make me a meal for a few dollars each day. She needed the warning as she only ever has enough food in the house for one day's cooking and doesn't anticipate random tourists.
There's a real youthful vibrance about Mompiche with a strong surfing community, who are also very welcoming. The DMCA Hostel is owned by these surfers, and they run a couple of the hostels too, which make it a really nice place to hang out, even if you're not a surfer, as it's a really tight-knit group, and they like to hold regular barbecues which is always good as far as I'm concerned.
RS
Mompiche Beach (photo by Oliver Castelblanco Martínez)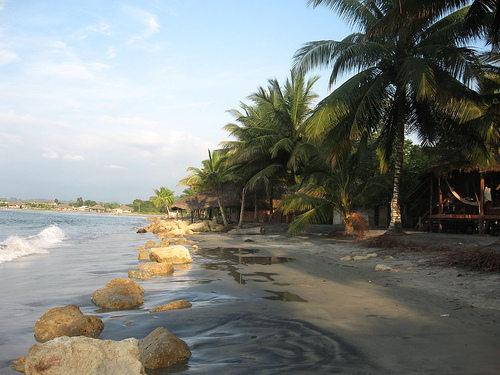 Montañita
This is Ecuador's party land. Whenever I tell people I spent a lot of time on the beach in Ecuador they always assume it was in Montañita. It's the equivalent of Cartagena in Colombia I guess. Now I really like Montañita but the thing that it hasn't got and that Canoa and Mompiche have is that there is space to relax and unwind a little. In Montañita it's hard to get away from the party crowd, and because it is a burgeoning tourist destination there is an element of crime creeping in. This is unfortunate as it's one of the best places to surf in Ecuador. In fact, it's the only place in Ecuador that really has any surfing infrastructure.
There are three main hostels here; Ricky, Kamala and Kundalini, but plenty of other options, including cabins, guesthouses, hotels and camping. It's a destination that changes a lot, with different restaurants and bars changing all the time. It's a destination with the best reputation for partying in Ecuador so does get the youngest crowd, and as the beach itself is not very beautiful, this is only really the place you come to either party or surf.
RS
Montañita beach (photo by Jorge Pérez)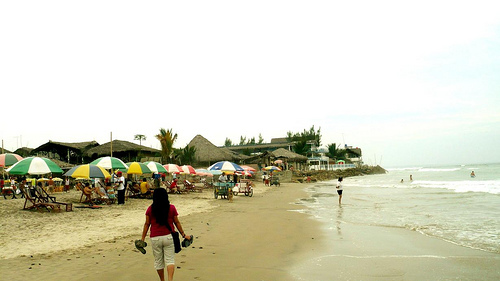 Atacames
This beach town in the North deserves a mention as it's a nice party town with a family atmosphere too. The long, wide beach, sprinkled with bars and juice sellers, is the perfect place for playing sports on the beach or messing around with your friends or family. As it's slightly off the 'gringo trail' it tends to be a place which attracts mainly Ecuadorians, especially from Quito, as well as Colombians, who come for the relaxed party vibe, which is does effortlessly well.
There are very few hostels in Atacames. I had made notes of two before I arrived in 2008 but couldn't find either so instead opted for a hotel on the beach front, which was a relatively modest price (with some room for haggling.)
For something a little more tranquil the village of Sua just down the road is sheer bliss, and is only a short bus ride from Atacames.
RS
Atacames beach (photo by Guillaume Lavaure)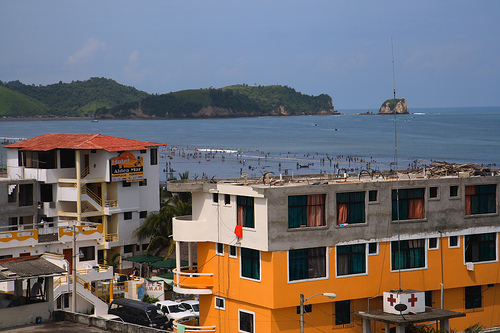 Follow Sounds and Colours: Facebook / Twitter / Instagram / Mixcloud / Soundcloud / Bandcamp

Subscribe to the Sounds and Colours Newsletter for regular updates, news and competitions bringing the best of Latin American culture direct to your Inbox.
Share: