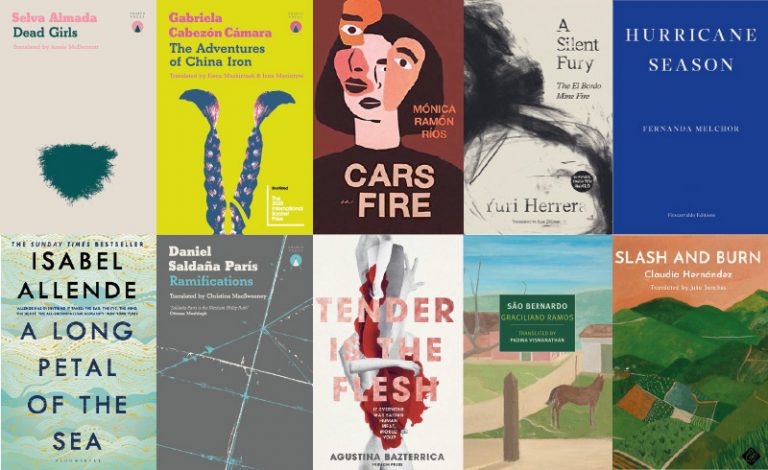 Latin American Books: 2020 Highlights
|

17 December, 2020

For me, 2020 was a big year of reading in translation. In a year where COVID-19 made us all stay at home, reading provided me with one way of avoiding my world being reduced to my flat. 2020 was also the year where big book festivals went online, for example, allowing me to 'attend' the Edinburgh Book Festival for the first time.

This year my Latin American reading took me to Mexico, the Dominican Republic, Cuba, Colombia, Chile, Argentina, Brazil and Ecuador. The list below represents a small selection of 10 Latin American reading highlights from 2020, collected from my own reading and the generous responses to a call-for-tips on Twitter.

It felt fitting to start a list of 2020 highlights with a novel of pure escapism, described by publisher Charco Press as "a riotous romp taking the reader from the turbulent frontier culture of the pampas deep into indigenous territories."

Cabezón Cámara's novel, translated by Fiona Mackintosh and Iona Macintyre, was shortlisted for the 2020 International Booker Prize. It is a novel of "alternative histories, polyamorous adventures and an epic journey through Argentina's lush landscapes."

At the centre of Hurricane Season is is the murder of a Witch in the small town of La Matosa, near the city of Veracruz, based on a real-life murder Melchor read about in a local paper. Hurricane Season, translated by Sophie Hughes, was also shortlisted for the 2020 International Man Booker Prize. An English translation of Melchor's short story collection This is Not Miami, is due in 2021.

Click here to read our introduction to both of these books, described as "honest and gritty portraits of Mexican society."
Dead Girls by Selva Almada (Argentina)
The next two tips are non-fiction books, both written in a stark, direct prose. Selva Almada's journalist novel, translated by Annie McDermott, narrates the cases of three teenage girls who were murdered in the 1980s.
Jorge Sarasola wrote in our review of the book: "Dead Girls doesn't have the suspense nor the resolution of a detective story as different readers will develop their own interpretations on the cases and their suspects based on the evidence and competing perspectives provided. Instead, it is a careful reconstruction of the broader society where these deaths are allowed to occur."
A Silent Fury, translated by Lisa Dillman and published by And Other Stories, is a seriously impressive piece of journalism, a hundred years after the events of March 10, 1920, when a fire tore through the El Bordo mine in Pachuca, Mexico.
In my review of the book earlier this year I wrote: "A Silent Fury is a devastating, anger-inducing account of the horrifying events of the fire, the victims' stories and the ensuing cover-up. Readers will see universal themes in this book: trauma, abuse of corporate power, poverty and neglect. But this story is also deeply personal: Pachuca is Herrera's hometown."
It all happened so quickly. First, animals became infected with the virus and their meat became poisonous. Then governments initiated the Transition. Now, 'special meat' – human meat – is legal.
This dystopian novel, translated by Sarah Moses and published by Pushkin, won the Premio Clarín de Novela, a prestigious prize for literature written in Spanish, when it was first published in 2017. With its English release this year it has similarly made headlines, being dubbed "disturbing", "hideous" and "gut-churning", to lift from a few reviews of the book.
Cars on Fire by Mónica Ramón Ríos (Chile)
"When you live in an adopted country, when you're an exile in your own body, names are simply lists that dull the reality of death."
This novel, the English-language debut by Mónica Ramón Ríos is translated by Robin Myers, and was described by Publishers Weekly as "art house literature at its best: provocative, alluring, and uncompromising."
Ramifications by Daniel Saldaña París (Mexico)
This is another Charco Press novel, translated by Christina MacSweeney. Do also check out Charco's brilliant line-up of books publishing in 2021 here.
In our review, Charlotte Mackenzie de Urrea described it thus: "Narrated only in the first person, the reader is drawn into an almost memoir-like story, interjecting snippets of real-time Mexican history with the dreamlike quality of being stuck within a house."
São Bernardo by Graciliano Ramos (Brazil)
This is a new translation of a novel by one of Brazil's most famous novelists, published as part of the NYRB Classics series.
"If we were to take stock of Brazilian writers from the first half of the twentieth century—from among those writers who produced the most relevant parts of their oeuvre in the first half of the twentieth century—and ask which writer has had the greatest impact and influence on the way Brazilian writers write today, I have no doubt that the name of Graciliano Ramos would make the top of the list."

Brazilian writer Paulo Scott on Graciliano Ramos for Asymptote Journal
According to Serena Chang in our review, "A Long Petal of the Sea follows two Spanish refugees who settle in Chile, and the extraordinary lives they build there. Roser and Victor Dalmau reach Chile in 1939 by travelling on the real-life ship SS Winnipeg, a ship funded by the Chilean poet-diplomat Pablo Neruda."
Allende's most recent novel in English, translated by translated by Nick Caistor and Amanda Hopkinson, will be followed in 2021 with The Soul of a Woman, described as "a meditation on power, feminism and what it means to be a woman."
Slash and Burn by Claudia Hernández (El Salvador)
The final book in this list is a soon-to-be published recommendation, publishing on 5 January 2021. Slash and Burn, translated by Julia Sanches and published by And Other Stories, is an extraordinary story about a woman's fight to keep her daughters safe through war and its aftermaths. This unusually-written novel will stay with you long after you read it.
You can purchase these books from Sounds and Colours' page on Bookshop. Visit our US page here and UK page here.

Follow Sounds and Colours: Facebook / Twitter / Instagram / Mixcloud / Soundcloud / Bandcamp

Subscribe to the Sounds and Colours Newsletter for regular updates, news and competitions bringing the best of Latin American culture direct to your Inbox.
Share: