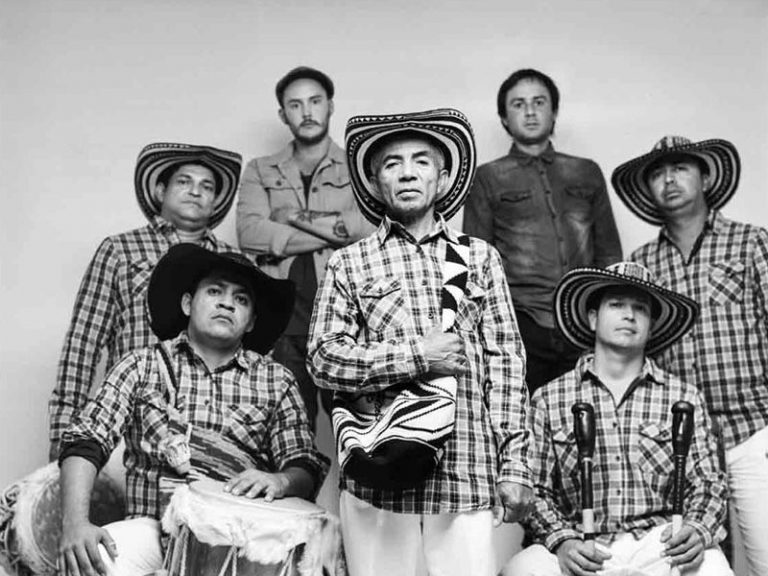 Carlos Saavedra
The Colombian Independent Labels Putting Cultural Preservation At The Heart of Making Music
13 June, 2018
"I continue because well, it's what I do. I could be totally 'out of business', without even a peso. That doesn't matter to me. If I have money, if I don't, it's only me. If I die financially, nothing happens. I record, I record, I record and will continue to do so for as long as I can." Palenque Records' Lucas Silva, spins around on his computer chair in the labels' Bogotá headquarters, that is to say, his Chapinero apartment.
Silva's set-up is not too different from the others I've been hopping between over the last month or so. Humble, but evidently effective. Powered on the drive and vision of a determined individual, well aware of the limitations of the industry in which he works but nonetheless resolute in his end goal.
Anyone looking for sports cars and number one hits here is missing the point.
This is a labour of love, driven by cultural goals and originality in artistic expression, where the greatest luxury is the autonomy and freedom to choose who you work with and pursuing an end that you ultimately believe in.
Colombia may have gained its reputation as a land of 1,000 rhythms, however, accessing and finding them all still proves a challenge. Celebrating them in a way that balances cultural preservation against the murky waters of cultural appropriation is another. Fortunately, there are a number of key players dedicated to the task.
"It's all about the preservation of the cultures, communities and their stories", Lucia Ibañez from Sonidos Enraizados explains.
The label, which doubles up as a cultural platform, works in exactly these areas. "Right now we are working with communities of displaced people, mainly from the Pacific coast here in Bogotá, in a project to embrace and preserve the music and the culture. It's not just people from the Pacific we work with in those communities, of course, it's anyone, but it's about preserving and working to deal with the cultural impact of that displacement."
Fighting Cultural Stagnation
However, things haven't always been this way. There is a feeling that from the 60s through to the 80s and the heyday of salsa and Discos Fuentes, a churn and burn mentality prioritising short-term gain over long-term sustainability (on both an economic and cultural level), ultimately contributed to the void which artists and labels are left to contend with today.
"The 80s has a lot to answer for. I believe the downfall of labels came through not listening to the community. There are still songs you hear today, every day, playing throughout television and radio; some of those artists are earning nothing off of their work", points out Llorona Records' Diego Gomez.
Sonidos Enraizados' Lucia echoes a close sentiment: "there was an element of people going in, from the 60s all the way through to the 90s, and not caring for the people in the regions, so of course there is some suspicion. However with us, we are known and recognised as a cultural platform, we are recognised and often welcomed in. It's about working with the community to get the best out of them, but also the best for them"
Changing The System From Within
Palenque, Llorona and Sonidos Enraizados are part of a handful of labels now fronting up with a new approach to the way music is being approached in Colombia.
Diego Gomez explains of Llorona, which is in equal measure a social initiative designed to actively work and benefit the communities and regions from where they draw some of their greatest talents: "we want to build a community again. We're (Llorona) are working on the new Canalon de Timbiquí record; it's all about bringing together the communities. We're going to record some of it over there (on the Pacific), raw and with nature to capture the sounds and the atmosphere, and then some bits fully produced in the studio."
"We're going to have kids from Bogotá and Timbiqui going to each place to learn about the culture; experience the city or the coast and the respective cultures for the first time. It's going to be amazing."
It's over in the colonial quarters of Bogotá's Candelaria district, beneath the imposing mountains, that Urian Sarmiento, who also runs Sonidos Enraizados alongside Lucia Ibañez from their bedroom, echoes a similar sentiment. "We're here to work as a bridge between the regions and cities. A cultural bridge. It's all about the artists and their stories, it's all about bringing their stories to life and telling them in an honest and authentic way."
Sonidos Enraizados' (who though only working under their current name for a little while now, have been actively involved in projects since the turn of the millennium) focus is centred on the preservation of sounds and styles previously unearthed, or at least undocumented. It's about celebrating traditional styles in their purest form, as a means of cultural salvation.
"It's all about the preservation of the cultures, communities and stories, and we look for the stories we can tell. Take for example "Perlas del Pacifico", these aren't famous singers. They play a traditional style of marimba [el bambuco viejo] that is recognised in the region [Nariño], of course, but not as widely with audiences further afield. To record, document and share this is important."
Urian continues as he holds up a copy of Sayas' Tradición Negra en la Gaita. "It's important because whilst yes it may be gaita, it is a very a specific type of gaita, from a specific community of people in that region. It has its own unique story, history, and it shapes the way things have evolved; we want to tell and share that"
Urian hands me some more CDs to look at, "they are difficult to produce and to sell, but it's important to present the complete work of art; the photos, illustrations, the artists' words, the maps; it is all about them, all of it is what we are trying to preserve and celebrate. The CD is the complete project, and we will continue to work like that"
Whether Perlas del Pacifico, Sayas, Carmelo Torres y su Cumbia Sabanera or the abundance of other projects in Sonidos Enraizados' catalogue, all have their unique stories waiting to be told in a fast-evolving world that may otherwise have been lost as generations age.
Finding An Audience
Over at Llorona, who celebrated their 10th-anniversary last year, Diego Gomez explains a little more about the label's own unique vision, still focusing on cultural preservation but with a slightly more contemporary musical direction.
"It's like we have roots and the future, we're trying to bridge the two. That is to say, this is where we have come from and this is where we could go with this". Gomez holds his hands apart to demonstrate the opposing ends of the spectrum.
He continues: "we are thinking, OK this music is important, and it is important to preserve the culture. However, how can we present it to new audiences, to reach more people. To keep it alive and progress it in a way which is true to its themes and its roots."
One of Llorona's most exciting projects from last year was Dub de Gaita, in conjunction with Los Gaiteros de San Jacinto. "We thought, how can we preserve this music and celebrate it, but also open it up and make it more attractive to new audiences, to people who maybe haven't come quite into contact with it so much", explains Gomez on the driving force behind the double release.
Palenque maverick Lucas Silva is no less clear: "music is so important to culture".
Silva started Palenque records over 20 years ago when a trip to the Caribbean coast introduced him to champeta music and had a profound effect. "It changed my life", he reflects. "20 years ago, champeta was not like it was today. It was gritty, it was outside of the law, it was associated with dangerous communities and regions".
Yet whilst champeta was underground, it still had forms of music that had been produced and released.
It was upon meeting Justo Valdés, from Son Palenque, that Silva found his calling. "I went to Palenque. You know at this moment people like to talk about Palenque in somewhat of a hipster way. Again, let us be clear that at that time Palenque wasn't so safe, no-one wanted to go there and it was a poor area with no infrastructure for music production," Silva adds.
"Well, I loved the music and thought, if no one else is going to do it, then I have to. I have to share and capture this. Champeta had production but the music from Palenque, no. So, who else but me? When I started, I didn't really know how to do what I needed to in order to start the label, to distribute and these things but I wanted to, so I learned by just doing it."
I ask Silva about how Palenque has changed over the years as a place "a lot, it now has a lot more infrastructure, but the surrounding towns are still a lot poorer." Yet it's the cultural element rather than the financial aspects that Silva reverts back to. "It's so important to retain and celebrate the cultures through music", he reiterates.
In addition to travelling around Colombia, to the Caribbean and Pacific coasts unearthing a host of Afro-Colombian sounds, Silva too has spent lot of his time in London and France, collaborating and collecting West African records along the way. It has been through these excursions he has come to question the representation of Afro-Colombia on an international level.
"For me, the best of Colombia is Afro-Colombia and the Indigenous cultures." Yet for him, the challenge, or lack of exposure as it were, runs deeper, taking on the importance of shining a light on such cultures.
"We still have a problem with race in this country. We still have a lot of colonialist values. I lived in France for a while and spoke a lot about Colombia, but the people never knew we had a large African [diaspora] community with strong cultural links. It is changing. Colombia is extremely diverse, but many people think of Colombia like Peru or somewhere, and of course, we have Andean cultures but we don't paint enough of a picture of other indigenous cultures or Afro-Colombia externally. I don't know why. Are we ashamed?" It begs a deeper question, which for now, lays beyond the frontiers of this article.
International Exposure
Whilst the first stop for many labels is working tirelessly to celebrate, preserve and share music from around Colombia in the cities, the musical journey does not stop there. As more rhythms and styles find their way into these hubs where contemporary artists ply their trade, so too does new inspiration, whether conscious or subconscious.
Many contemporary Colombian artists with international releases are also introducing audiences to previously unheard sounds. Ghetto Kumbé and Quantic & Nidia Gongora are to name but a couple of European releases last year which have blended Colombian folkloric elements with present-day production principles to positive acclaim.
One label working to bring music out of Colombia is Big In Japan. The London/Berlin-based label is headed up by Seb Jenkins and Liam Nolan who have been working with more contemporary Colombian artists such as Dani Boom, Cero39 and La Payara.
"I'd come to Colombia many years ago and always knew I had to come back." explains Jenkins, "it took me about 10 years or so to do so". It was on meeting Dani Boom, best known for his work with Systema Solar yet with at least a handful of other equally worthy projects, that Jenkins impulsed to look into Colombian releases.
"I first met Dani when he played a festival I put on in Colombia. We went back to his place and he played me some of his music. He put his El Leopardo project on and it blew me away, I knew it would connect in Europe. I decided then and there I wanted to work with him", recalls Jenkins talking of how Dani Boom ended up working with the label as their second release.
Jenkins is excited about the prospects for Colombian and wider Latin American music and it's prospects overseas, "I think it will change, there is a job to do in building its reputation", Jenkins explains, "but we have seen there is so much great music not being heard out there, and we just want to shine a light on it. It doesn't matter if they are big or small, it's about getting the music out there".
Back in Bogotá we mull over the state of the industry and the reality of releasing a disc from within the country itself. "We're not working in a big economy", states Eddy Johana Gomez who heads up Llorona alongside brother Diego, as she joins us at the end of our time together.
It's a sentiment echoed throughout. "We have albums recorded, we've had them for a while," Lucia Ibañez admits, "it's just that we haven't had the resources to produce and release them. But they're there, ready, now."
Creating A Powerhouse
It is amidst this melting pot of shared interests and common drive that has led to the formation of an Alliance of Colombian Record Labels comprising Polen and Tambora, alongside Llorona, Palenque and Sonidos Enraizados in 2016. With two compilations now released, and a collaborative album between Llorona and Palenque set for later this year, it looks like the concept has legs.
It's a tact that Palenque has followed for a while now and have most recently employed with two fantastic releases in collaboration with Galletas Calientes.
"Producing records in Colombia, well it's not the most expensive process compared to elsewhere" concedes Lucas Silva, "but releasing them and making money from them here…" he lets out a sigh that speaks for itself. "Most of the business that has made me money let's just say it has come from outside of Colombia."
The current alliance hopes to change that. At least in its current guise, the alliance offers an opportunity to pool ideas, resources and interests in order to offer audiences, and most importantly the communities from which the richness of Colombian music is derived, a fairer and better deal.
"It's like a gremio [a guild], a union", says Diego Gomez of the alliance, which aims to increase the cultural reach and capacities of labels working in the shrunken economy and battling out the age of digital streaming services. "I love Bandcamp," he divulges of the latter challenge: "it helps labels like our's; it's like fair-trade for artists"
After setting out to learn more about some of the longer standing players that have shaped and continued to shape the face of Colombian music, the conversation threw up far more to delve into as it evolved.
Value is not measured here solely upon capital, though it is recognised as a necessary component. Instead, the richness of a project is derived from its cultural integrity and its sustained longevity. It is a wholesome, original and ultimately essential approach to a number of unique and modern challenges faced in the context of Colombian music.
"Music is created in communities", offers Diego Gomez. "We want to enjoy that and celebrate it, but it is absolutely imperative that we develop that with the communities and leave them better off for it."
There are many other labels throughout Colombia that will be worth exploring in time, yet it's clear that, as some of the most established, those we spoke with are setting an important narrative for the future. Until then…
Viva the Colombian Music Powerhouses!
Check out the music from all of the labels mentioned below:
Big In Japan
Llorona Records
Palenque Records
Sonidos Enraizados

Follow Sounds and Colours: Facebook / Twitter / Instagram / Mixcloud / Soundcloud / Bandcamp

Subscribe to the Sounds and Colours Newsletter for regular updates, news and competitions bringing the best of Latin American culture direct to your Inbox.
Share: