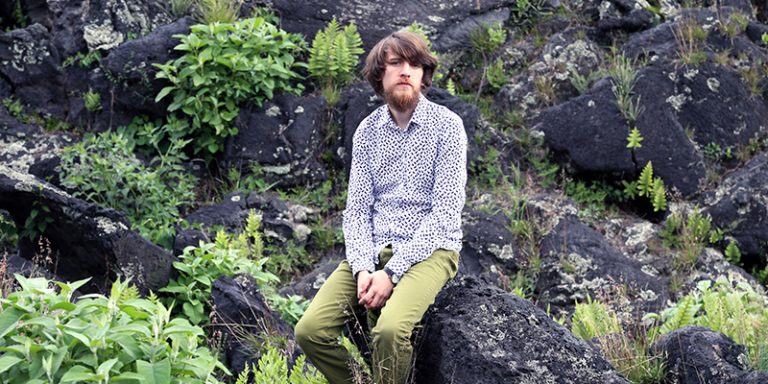 Discovering Mexico, Far-Flung Families & Shika Shika: An Interview with El Búho
23 March, 2017
2017 marks the end of an era for El Búho, as he moves to France after two highly productive years in Mexico which saw his distinctive brand of organic, melodic cumbia digital reach new levels of popularity.
Although his departure from Mexico is tinged with sadness, there's much to look forward to for the British producer, as his return to Europe offers the chance to connect with previously far-flung audiences and collaborators. He is also set to expand upon the slew of EPs, remixes and edits in his back catalogue with the release of his debut album on Wonderwheel Recordings.
Shika Shika (the collective he runs with Argentine producer Barrio Lindo) made a powerful mission statement for the new year with the release of their Mare Insularum compilation: "We believe in the power of music and we believe in the power of collaboration. Despite the shift in the White House and the apparent slide into a dangerous new world, at Shika Shika we also believe 2017 is going to be a year of resistance and of hope."
I caught up with El Búho at Xaman Bar in la Juarez, Mexico City, at the final Shika Shika party before he left the country…
So, this is your last gig in Mexico?
Yeah. I've been living here for two years, and this is the last gig in my favourite place to play in Mexico, Xaman. I've played in a bunch of places and this is my favourite place, it's like home. I discovered it three months ago and I've played here four times. It feels like if I stayed I'd have a residency here and just play all the time, so it's a good way to finish!
How has your time in Mexico been?
It's been amazing. Musically it's been the most inspiring and exciting place to be. My music has taken off here way more than it had in previous years. There's a public that's open to stuff and interested in new things. There are festivals and a lot of other things happening. Also, just discovering the music of Mexico… I didn't know anything about Mexican traditional music really before I arrived, and it's not very well known outside of Mexico, not like cumbia or música andina. Mexican folk, like son jarocho, and lots of Mexican traditional music doesn't really get out of Mexico, so all of that has also been a big discovery for me. So I'm kinda sad to leave.
[soundcloud url="https://api.soundcloud.com/tracks/183668615″ params="color=ff5500&auto_play=false&hide_related=false&show_comments=true&show_user=true&show_reposts=false" width="100%" height="166″ iframe="true" /]
Are there any Mexican genres or artists that have really stood out for you?
Cumbia sonidera, which is like Mexican cumbia. I'd heard about it before, but it's very different, it's very bassy and dubby, and slow. The DJs play with famous soundsystems, like in Colombia or Jamaica, and it comes with a whole culture (cumbia sonidera culture) which is really fascinating, so that has been a big thing for me.
I also discovered there's Afro-Mexican music, on the coast of Oaxaca, which is not very well known, and son jarocho is one of the most popular traditional folk musics. There's lots of harp, and a lot of it uses improvised lyrics – they sing in verses and improvise around a topic, something that's happening in the world – which is really interesting. And I don't think I've discovered half of it! There's such a rich culture here: indigenous culture, mestizo… it's a big country with a lot of stuff happening!
As much as Mexico has been a big inspiration, it seems like the scene you're involved in is really international. Tonight for example is a Shika Shika event, the label you run with Barrio Lindo who is from Argentina.
Yeah, its amazing! I met Agustin [Barrio Lindo] through music. I heard his music, and sent him a message on Facebook saying "I really like your stuff", and he replied saying "I really like your stuff too", so we started exchanging tracks, and remixing each other. Then we thought, there's so much stuff happening, and so many producers, why don't we start a collective? We didn't want it to be a label, but more a space for the artists we love to come together, to collaborate, to make tracks together, to remix each other, and to just put stuff out there. The idea was to focus on music that brings together organic and electronic, folk and digital, traditional and modern.
We also wanted to break out of Latin America, because a lot of the scene and a lot of producers are stuck in Latin America, which is great – there's so much stuff going on here – but we're also constantly trying to look to Asia, Korea, China, Africa, to try and broaden things out and bring some other influences in. Because I think it's getting a bit tired, the idea "we're gonna take Andino music and mix it with electronic, and there you go", and there's so much of it now.
So yeah it's been amazing, if you look at the countries that we release music from, on the first compilation it was 20 countries or more, which is insane when you think about it! It's great, and the producers are often people I've never met, all these people you know but never actually meet. Every once in a while someone comes over and you actually meet them, and it feels like a family. You have things in common with people you've never even physically met, which is cool! It's all been done through either Soundcloud, Facebook or email, and we're constantly receiving more stuff and discovering new things, so it can be hard to choose what to release. You get so much stuff that you think "what do we release when?!" It's a very healthy scene.
[soundcloud url="https://api.soundcloud.com/tracks/232593986″ params="color=ff5500&auto_play=false&hide_related=false&show_comments=true&show_user=true&show_reposts=false" width="100%" height="166″ iframe="true" /]
In such an international scene, are there still opportunities to play live, and get together in person?
Yeah, more and more so. I mean, we're never going to be millionaires, and very few producers live from it. But Barrio Lindo for example played here [Mexico City], then Tulum, then Brazil, so you can easily do a tour of Latin America; in every city there's people you know doing parties. In Brazil for example I know loads of people and again I've never met any of them, but there's a scene there, and they are doing something different. You go to Europe and in every city there's at least one or two people running a night, producing, or doing something, it's incredible. I could travel to any city in the world and find someone I have something in common with, which is really special.
As someone who moves around the world pretty frequently, what's your studio setup and production process like?
As of six months ago, I didn't have any monitors – my studio was just my laptop and some headphones. I have a microphone, a charango, some flutes, and a little keyboard. So a lot of it is me on the laptop, chopping up samples. I'm expanding my studio slowly but it's not really a studio, it's essentially my laptop and some bits and pieces. These days, you can spend a lot of money on equipment, but actually I think having a laptop, a microphone, and ideas, you don't need to spend a shitload of money… but monitors would obviously be nice!
But producing is a constant learning process. I listen to stuff I made five or six years ago, and it sounds terrible, I had no idea about EQing, mixing, or panning, etc.,, but every day you listen to other producers and think "how did they do that?" You never stop. The moment you stop and think you are good at everything, then give up. You always have to be pushing to get better and to produce better. You can have the ideas but if you don't produce well, it's not gonna work, and you can produce well, but if you don't have the ideas, it's not gonna work either. So you need both, that's when it works.
So after tonight the Mexican chapter for El Búho is coming to an end. What does the future hold?
So I'm moving to Paris, and I have no idea what the scene is like, but I'm excited to find out, and to bring a lot of the stuff that I've learned and been exposed to here, to France. And also to be able to play in Europe. What we've found out with Shika Shika is that in we're big in Germany, which we never knew – there's something else happening in Germany. So I'm excited to go back to Europe and see what's happened since – it's been two years since I moved to Mexico from Amsterdam. My music is also in a different place now, and I'm looking forward to playing in different places around Europe as well, and meeting all of those people.
You've produced a lot of edits in the past, are you going to be focusing more on your own completely original productions in the future?
So I'm working on an album now. I've been working on it for a long time! But it should be coming out in autumn this year, and I have two EPs lined up as well. I'm sitting on a bunch of music… something like 100 unreleased tracks, so I need to sort through them and get the right ones out there. But I like releasing edits and stuff for free, because sometime you hear a track… there's a track by [Mexican artist] Mercedes Nasta, which I played loads of times, and heard Nicola Cruz play in one of his sets as the closing track. It's called "Paricutin", it's such a good track! After hearing it one night I went home and just decided to make an edit and put it online.
[soundcloud url="https://api.soundcloud.com/tracks/298063282″ params="color=ff5500&auto_play=false&hide_related=false&show_comments=true&show_user=true&show_reposts=false" width="100%" height="166″ iframe="true" /]
It's nice, because not doing too much, just putting out little bits and pieces, is good. It's also been useful for me to get my name out there and to get people to hear my sound. But I do need to focus more on doing something properly and finish the album, and not just keep releasing lots of edits and tracks here and there.
Do you have any plans for physical releases?
So the dream is to release my album with Wonderwheel on vinyl. And on Shika Shika, our first physical release will be Agustin's [Barrio Lindo] album, which is coming out in March and is the best thing we've released so far – by far – and I think it's his best album as well. It features a lot of other producers he's been working with, and we're going to press it on vinyl, which is really exciting!
We got the masters back today, so we're almost there. It's one of those albums that you listen to and think, "I can't wait to release this!"
Listen to more El Búho at soundcloud.com/el-buho. You can find the latest releases from Shika Shika at shikashika.bandcamp.com.

Follow Sounds and Colours: Facebook / Twitter / Instagram / Mixcloud / Soundcloud / Bandcamp

Subscribe to the Sounds and Colours Newsletter for regular updates, news and competitions bringing the best of Latin American culture direct to your Inbox.
Share: