Txuca
Review
Chicha Libre – Canibalismo
If Pulp Fiction had been a South rather than North American production, there is no doubt it's soundtrack would have oozed chicha. It's not hard to see why the music has enjoyed something of a resurgence in recent times. As Latin American music has grown in popularity internationally, chicha's newfound appeal is in its cumbia rhythms, the funky twang of wah-wah surf guitar, and an effortless cool that speaks to the hipster crowd in ways other styles only dream about. The psychedelic swooshes that mark the chicha sound give it an abstract sleaziness that glides naturally from the drug-addled mindfuck of the late sixties to today's intoxicated underground music scene.
At the front of the new chicha movement are Chicha Libre, a Brooklyn-based group whose second album, Canibalismo, has just been released and emphasises the music's links to the US through the sixties rock bands that influenced the original sound. Chicha emerged from the Lima music scene towards the end of that decade and boomed thanks to its blend of Latin beats coupled with electric guitar, a merging of styles that incorporated the popular sound of US rock 'n' roll with the energetic and highly danceable pull of Peruvian cumbia.
Chicha Libre's new record takes the classic chicha sound and blows it wide open with an infusion of other styles sourced from various distinct genres. Multiple musical layers cross over one another and create a chaotic yet controlled fever, while loops and melodies spin off in every direction. The psychedelic effects and intricate scales employed by the band evoke all manner of environment: the Wild West, space, a haunted house. This highly animated fusion, a reworking of old cumbia songs with original composition, is crucial to the band's retro party vibe and results in an album of explosive fun.
Things get under way with "La Plata (En Mi Carrito De Lata)", the marauding organ setting the tone for what follows as it flits seamlessly from the dark to the festive. This is a key theme of the record: a constant chopping and changing of mood which, while always maintaining the chicha groove, propels the record through several atmospheric dimensions. "La Danza del Millonario" and "El Carnicero De Chicago" also make strong use of variations in feeling and depth that, coupled with scintillating melodic hooks, sees the two songs stand out as album highlights.
It is a Pandora's box of a record where new sounds and ideas leap out thick and fast. "Depresion Tropical" is drenched in sinister whirling organ and kicks in like a loopy Latin version of Dick Dale's famous Pulp Fiction theme. "L'Age d'Or" is more mellow but possesses a suave elegance that gives it the tongue-in-cheek vibe of a seventies cocktail bar. This is in deep contrast to the solitary cool of "Papageno Electrico", whose stylised intro channels the spirit of the lone rider crossing the desert. The evocative imagery that surges throughout Chicha Libre's sound is that of a band with an outlook focused everywhere but right here. Constantly mutating and evolving, the music never remains static and is absolutely made to be danced to.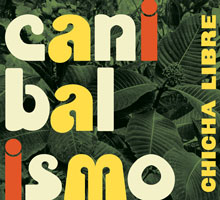 As enjoyable and raucous as these themes may be, there does come a stage where the madcap tones and theatrical flourishes reach saturation point, and a break becomes appealing. Yet this is a minor gripe: after all, most people don't listen to albums in their entirety these days, and each of the thirteen tracks stands alone as a fine piece of music. The band's devotion to their art is pronounced and the result is an album that thrives on a sort of surreal familiarity, as much of the music channels popular elements of outside cultural forms and refries them with the passion of Latin American music. It manages to be both fresh and retro at the same time and as such is an intriguing and highly enjoyable listen.
Canibalismo is available from iTunes and Amazon

Follow Sounds and Colours: Facebook / Twitter / Instagram / Mixcloud / Soundcloud / Bandcamp

Subscribe to the Sounds and Colours Newsletter for regular updates, news and competitions bringing the best of Latin American culture direct to your Inbox.
Share: