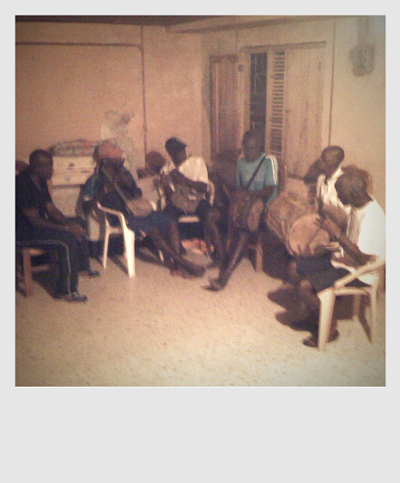 Chirimia del Rio Napi / Cali – Unexpected Lullaby
01 April, 2011
Guapi. Day 2. On Monday, we were visited by a unique Chirimia flute group from the Napi River. Even though there are many chirimia groups throughout the Pacific coast region, the music is usually played using brass instruments and European percussion (snare drum and cymbals). The encounter with this group was very special, they live in very remote areas of the country and had to travel more than 4 hours down river to come meet us.
These musicians come from different communities around the Napi river, they are very beautiful and humble people, mostly farmers and miners. They all play instruments they make themselves with local materials: bombo, snare drum, wooden flutes (now also made in pvc), triangle and maracas. They all sing and dance, but only when they are not shy.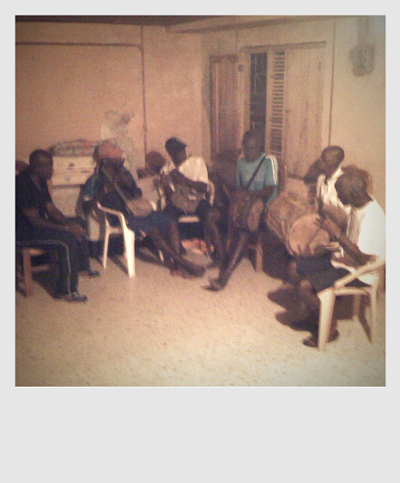 We were lucky to spend the entire day with the Rio Napi Chirimia. We started off going to a large community centre run by the local church. At first we filmed the Napi musicians on their own, sharing with us the music they play and love. In the afternoon we climbed on a long motor canoe and headed to a land close by; Bonanza. Traveling on the Guapi river was an essential element in understanding the life and flow of this place; and for the first time since we arrived in Guapi we were able to listen to the birds and see the natural flora and fauna. It was a magical afternoon, walking around abandoned houses in the jungle filled with insects, plants and birds, mostly humming birds. We did a few experimental takes where we used different musical exercises that we had tried in the morning. The day ended with an exquisite improvisation with only flutes, voice and electronics, at sunset.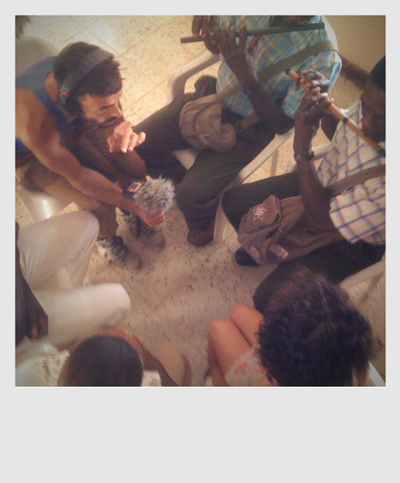 Day 3. Fresh fish lunch at the incredible market. Then, Alejandra taught a singing workshop to 15 kids and 4 elder cantadoras at the Casa de la Cultura. We sang, played and she answered questions about singing and good health habits, as well as some specific technical aspects of singing. It was a great experience for us to share something that would be useful for them to continue making music! There are some unique and magical singers here, who use their voices in prayer. It was great to have encounters with them, also sharing about the healing and magical aspects of singing.
At night, we met up with two local MCs, Agusa and The Original. We had met Agusa on our first day in Guapi, when we saw him selling music at the entrance of our hotel. He happened to be an amazing rapper! We composed and produced a song to play with him and The Original, his musical mate. We filmed the collaboration with them on our last night there, at the local club. It was a memorable way of closing our short and action-packed Guapi stay. Can't wait to share it with the world! Even though there are no roads to Guapi (the town can only be accessed through boat or plane), radio, television and the internet have allowed popular culture and urban forms of music and culture to flourish here. The younger generation of people relate more to these urban styles of music than to the music of their parents and grandparents. And they have such a distinct flavor and musicality! Pacifico Sur Colombiano!
We are off to Cali!!
We arrived in Cali, to the beautiful neighborhood of San Antonio, an older part of town which overlooks the city. The streets there are so steep that our taxi barely made it up the hill! We had no plans of spending time in Cali, but decided to stay here for 2 nights, while we waited for Rocio Medina, our next musical guide, to arrive from Bogotá. We were lucky to meet up with two local gems: the mythical Hugo Candelario and his Bahia Trio, and Fredy Colorado's Residuo Sólido. We first met briefly with a few members from Residuo Sólido, who brought many of their self-made instruments with recycled materials to a rehearsal space in the Alameda barrio. Fredy and his percussionists rocked, and a huge tree in the Alameda plaza became a companion for an intimate musical dialogue.
Bahia Trio – Agua:
[audio:http://soundsandcolours.com/static/2011/04/bahia-trio-agua.mp3|titles=bahia-trio-agua]
The afternoon was spent playing a dreamy collaboration with marimba player Hugo Candelario (originally from Guapi) and his trio. We concocted a gorgeous nap time arrullo (recorded only on sound, and most probably a track to be included in Lulacruza's upcoming album). It was beautiful to meet Hugo Candelario, we had a very good talk about cultural self production, education, traveling and partying. It is a pity we couldn't join his trio during the weekend, when they gather to play, and party, and also sell locally-made natural foods, traditional herbal medicines and viche, a local liquor.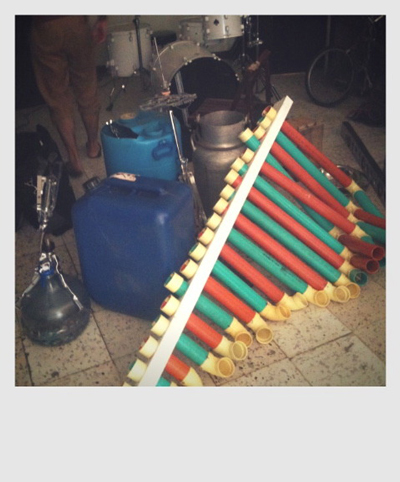 Cali is home to Colombian salsa, having been the epicenter of the golden salsa party era sponsored by the drug cartel money. Our short visit to Cali would have been incomplete without having listened to both good and bad salsa. We met up with 3 foreigners and music lovers: Quantic (a British DJ, producer and collaborator of many), TropIcaza (a Mexican sound collector and DJ) and Etienne (a French journalist and director of one of the only documentaries on Salsa's golden boy Hector Lavoe, which followed Lavoe into his Cali and Buenaventura periods).
On our way to Ladrilleros, on the Pacific Coast.

Follow Sounds and Colours: Facebook / Twitter / Instagram / Mixcloud / Soundcloud / Bandcamp

Subscribe to the Sounds and Colours Newsletter for regular updates, news and competitions bringing the best of Latin American culture direct to your Inbox.
Share: