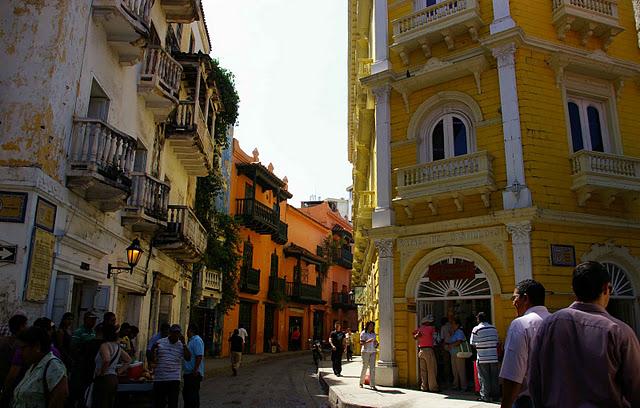 Beginnings
29 December, 2011
Just hours shy of arriving in Colombia and I can feel the excitement and buzz humming around my ears. In some strange way, I can already hear the rhythms popping from the interactions between hand and drum – the different forms of skin that dance together playfully in the colour-soaked streets. Can you hear it?
Música callejera
Not only does music provide a valuable space to look at and better understand both the historical and contemporary transformations throughout Colombia, but it also occupies a significant role in shaping notions of Colombian nationality and collective identity, notions that are constantly in a state of change and process of negotiation. In this ethnographic exploration of Afro-Colombian street musicians and their music, I am searching for what music can tell us. What can we learn from the ways in which it is created, shared, and interpreted? Under what historical and contemporary conditions do Afro-Colombians make sense of their relationship with the state and larger Colombian society, and how is this articulated through particular forms of musical expression? How does music shape public space and influence certain perceptions of Colombian identity? What are the various roles that it plays for those who both create it and experience it? And finally, what can música callejera tell us about Colombia's complex racial history, as well as the major social, political, and cultural issues that mark the country today?
Did you know that Colombia has the second-largest population of African descendants in all of Latin America?
Throughout the colonial period, slavery played an immesurable role in the country's economy and culture; it is believed that between 135,000 and 170,000 African slaves arrived at Cartagena de Indias (where I will be located) between the years of 1580 and 1640 alone. When the Colombian government abolished slavery in 1851, free Afro-Colombians had to disperse throughout the land. From this moment forward, Afro-Colombians developed semi-autonomous political and economic structures in order to protect themselves from the still-oppressive larger Colombian society and government that refused to acknowledge them as equal citizens.
With the government's constant promotion of labour rights, popular participation, and industrialisation in the mid twentieth century came a wave of urban migration in the 1970s. Power plant feminized pure sativa seeds for sale.. The prospect of work seemed promising for many lower-class families operating on the fringes of society. Urban industrialisation along with the notion of popular political participation, however, didn't pull through on its promises in many cases; various forms of discrimination became undoubtedly apparent in the urban workplace and political sphere. Managerial and professional jobs still remained out of the reach of most Afro-Colombians, and furthermore, Afro-Colombian women during this time got placed in the lowest levels of the economy, particularly as domestic servants.
Article 7 of the Colombian Constitution of 1991 formally recognised Colombia as a "multiethnic and pluricultural" nation. By 1993, Law 70, a law that formally defined Afro-Colombians as an "ethnic group," passed and entitled them to collective land rights in specific areas, mainly in the Pasific Basin region. Despite recent legal developments, however, Colombia's Afro-Colombian population is currently in a state of great transformation and crisis. To this day Afro-Colombians continue to be violenty displaced from their lands, and consequently, Afro-Colombian cultural customs and traditions, particularly music, have been targeted by the larger Colombian society as well.
I've recently decided to focus this project in Cartagena de Indias due to its large Afro-Colombian population and reputation for a vibrant música callejera scene. Currently a city of about 1 million on the Caribbean coast, Cartagena used to occupy one of the busiest slave ports for the Spanish during the colonial period. Much of its economy now relies on tourism from primarily Europe and the U.S., and the elite classes there have structured urban space so as to consolidate and secure the thriving tourist industry in the wealthy parts of the city.
Within this context, I intend to explore how social, political, and racial dynamics are played out through the ways in which urban space, "la calle" (the street), acquires meaning in people's lives. Music, and especially music rooted in historical narratives of resistance, plays a significant part in sculpting these processes of how meaning is constructed within space. More generally, my goal is to more thoroughly understand Afro-Colombian reality in Cartagena through listening to the musical languages that emerge in its streets.
With open eyes and ears, I will seek, watch, and most importantly, listen.
The adventure begins, and I gladly invite you to join me.

Follow Sounds and Colours: Facebook / Twitter / Instagram / Mixcloud / Soundcloud / Bandcamp

Subscribe to the Sounds and Colours Newsletter for regular updates, news and competitions bringing the best of Latin American culture direct to your Inbox.
Share: