First Days in Cartagena: Following the Rhythms
11 January, 2012
The majority of Afro-Colombians reside on either the Pacific or Caribbean coast, so when I arrived in Cartagena two days ago, it didn't come as a surprise when I noticed that the average skin colour here was far darker than in Bogotá. As he drove me from the airport to the hostel I was staying at, the taxi driver told me that the city is quite divided between tourists and locals. For example, "the tourists have their beach in Bocagrande [an upper class neighbourhood to the south filled with luxury condos and hotels], and the locals have this one," he said, as he pointed to the beach we were passing by, a crowded beach that was filled with hundreds of Afro-Colombian families playing, swimming and hanging out.
The video above shows street musicians and dancers performing Mapalé, a coastal musical rhythm and dance that I'll discuss in detail in a later post.
El Centro Histórico (The Old Town), where I have been spending nearly all of my time thus far, is absolutely beautiful. With such charm, the city centre flaunts its narrow streets and the gorgeous balconies that overlook them. There are splashes of bright colour everywhere you look, and the well-preserved Spanish colonial architecture nearly transports you to another era. As I walk through El Centro Histórico, I try to imagine what it was like here in centuries past.
Life in the streets is full of movement and energy. Street vendors and shops selling fruit, juice, hats, wallets, bags, instruments, bracelets and other small trinkets line the sidewalks all day long. It's amusing to see newcomers stopping at every corner, taking a moment to look around and decide which direction to wander next. Everyhere you walk, vendors and storekeepers say things to grab your attention and bring you into their world.
"¡A la orden!"
El Centro Histórico is an aesthetic playground, a historical museum and a commercial centre for tourists. For locals, on the other hand, it is clearly something else. Something different. I hope to find out what Cartagena looks like from their point of view, what it means. How do Cartagenos make El Centro Histórico their own? This is clearly a rich place to explore. I can tell there are many layers at work here, and it may take a little time to really dig into and better understand the complex social and cultural processes going on in these streets.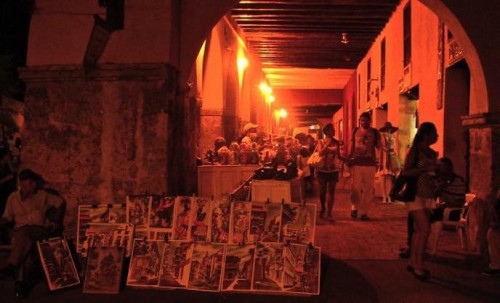 On my first evening with this city, when the sun began to set and the sky turned orange, loud rhythms almost spontaneously flooded the air from every direction, echoing off the walls and into my ears. Decisions. I had to choose which plaza to go to, which rhythms to follow. I soon found the street musicians and dressed-up dancers performing in front of crowds that had gathered to watch.
These performances are moments when people who come from other places collectively congregate to catch a glimpse of Cartagena culture. There performances are where I will start to dig.

Follow Sounds and Colours: Facebook / Twitter / Instagram / Mixcloud / Soundcloud / Bandcamp

Subscribe to the Sounds and Colours Newsletter for regular updates, news and competitions bringing the best of Latin American culture direct to your Inbox.
Share: