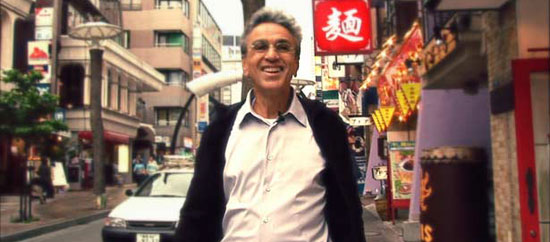 Barbican announces it's line-up for Brazilian film festival
01 June, 2010
For the fourth year running the Barbican will be running Cinema of Brasil over the summer – 25th June until 3rd July to be exact. This year's line-up is as good as ever with the exceedingly good documentary about Caetano Veloso 'Coracao Vagabundo', 'Loki' taking a look at the life of Arnaldo Baptista (of Os Mutantes fame) and 'Os Desafinados' taking a sideways look at Tom Jobim with some of the finest bossa nova you are likely to hear. In total there are 10 films and not one of them looks missable. Here are the full details of all the films being shown:
25 Jun 10 / 7.30pm / Cinema 1
Out of Tune (Os Desafinados) (12A*) + Q&A with director Walter Lima Jr and actor Ângelo Paes Leme
Loosely based on the life of Bossa Nova supremo Tom Jobim, this film tells the story of fictitious 60's band Rio Bossa Cinco following their dream of performing at Carnegie Hall – until the shadow of Brazil's dictatorship threatens to break up the group.
Brimming with Bossa Nova songs, this film will capture your imagination and transport you back to the early days of one of Brazil's most successful musical movements.
Starring Rodrigo Santoro (Ché, Love Actually), Claudia Abreu, and Selton Mello, Out of Tune was awarded Best Original Score at the Cine Ceará National Cinema Festival and Best Soundtrack at the Cinema Brazil Grand Prize in 2009.
Brazil 2008 Dir. Walter Lima Jr. 128 min.
http://www.youtube.com/watch?v=z_aBftaog70
Trailer for Os Desafinados
26 Jun 10 / 6pm / Cinema 1
Besouro (12A*) + Q&A director João Daniel Tikhomiroff
Nominated for the 2010 Cinema Brazil Grand Prize, Brazil's equivalent of an Oscar
26 Jun 10 / 8.45pm / Cinema 1
Antônia (12A*) + Q&A with director Tata Amaral
Desperate for a break and the chance to leave the streets of São Paulo behind them, four young girls find their voices in rap band Antônia
27 Jun 10 / 2pm / Cinema 1
The Escape of the Female Gorilla (15*)
(A Fuga, a Raiva, a Dança, a Bunda, a Boca, a Calma, a Vida da Mulher Gorila) Awarded Best Film at the 12th Tiradentes Film Festival
27 Jun 10 / 3.45pm / Cinema 1
Simonal – No One Knows How Tough it Was (Simonal – Ninguém Sabe O Duro Que Dei) (12A*)
Q&A with director Micael Langer – The story of one of the greatest but least known musical icons of Brazil
30 Jun 10 / 6.15pm / Cinema 1
Loki – Arnaldo Baptista (12A*)
Comments by friends, family and critics as well Arnaldo and Sergio themselves are interspersed with thrilling excerpts from concerts and songs
http://www.youtube.com/watch?v=izGLQUGZZMs
Trailer for Loki
30 Jun 10 / 8.30pm / Cinema 1
Vinícius (12A*) + Q&A with director Miguel Faria Junior
Born in 1913 in Rio de Janeiro, Vinícius experienced great change in his home city, and went on to become one of the most important figures in Brazilian culture in the 20th century
1 Jul 10 / 6pm / Cinema 1
The Ballroom (Chega de Saudade) (12A*)
A day in the life of a ballroom in São Paulo, where we follow the dramas and joys of five characters who take to the dance floor.
1 Jul 10 / 8pm / Cinema 1
Two Sons of Francisco (Dois Filhos de Francisco) (PG*) + Q&A with director Breno Silveira
Francisco Camargo, a humble labourer from Goiás, dreams of turning two of his sons into famous country musicians
3 Jul 10 / 4pm / Cinema 1
Wandering Heart (Coração Vagabundo) (12A*) + Q&A with director Fernando Grostein Andrade
Much more than a music documentary, this behind the scenes glimpse of global superstar Caetano Veloso is also a revealing exploration of personal identity through music.