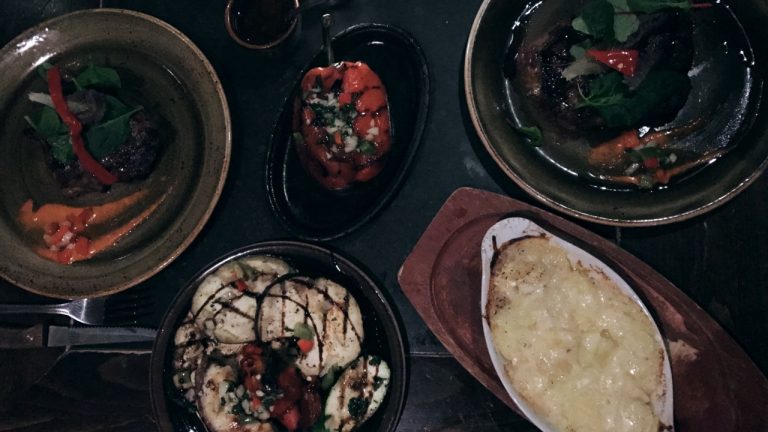 Best Latin American Restaurants in London
05 January, 2017
On behalf of Sounds and Colours, I went on a mission to discover Latin American food in London, and the search had me visit restaurants of Argentinian, Brazilian, Cuban, Mexican, Peruvian food, as well as a couple that mixed and matched flavours of different South American cuisines. In this article you'll find all restaurants I've visited and that's because the quality of food was amazing in every single one, but I will also be giving you my favourite for each of the cuisines. If you're hungry, I apologise in advance, because this will only make it worse!
FAVOURITE ARGENTINIAN – SANTA MARIA DEL SUR
Cosy and lively Argentine restaurant found in Battersea. General manager Juan Marucci told me they're often booked up so I'd recommend calling in before turning up.
Menu
Starter:
Empanadas (chicken*, beef mince, spinach and cheese, ham and cheese)
Main:
Flank steak
Rib-eye steak*
Side dishes:
Verduras a las brasas (grilled vegetables)
Morrón asado (grilled red pepper with garlic and herb dressing
Potatoes gratin*
Desserts:
Torta de banana con dulce de leche* (banana and milk toffee cake)
Coulant de chocolate
*My favourite items
Normally taking my steak medium-well, I took a chance here to try the recommended medium-rare and was happily surprised by the softness and flavour contained in both steaks – Juan informed me all steaks prepared in the restaurant are vacuum-packed straight after the cut in Argentina, and shipped to London.
Santa Maria del Sur, 129 Queenstown Rd, London SW8 3RH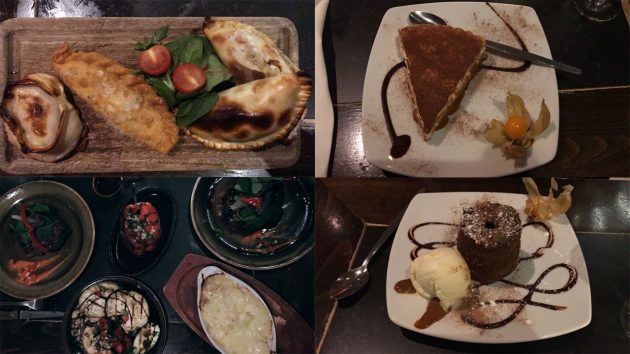 FAVOURITE BRAZILIAN – MADE IN BRASIL
The most traditionally cooked dishes from my home country that I've had in London! If I was judging the Brazilian restaurants by how homesick they could make me, then Made In Brasil won by far!
Menu
Starter:
Brazilian Snacks Platter – coxinha* (chicken pastry), bolinhos de bacalhau (cod fishcakes), pastel (cheese pastry), mandioca* (cassava), pão de queijo (cheese bread) served with aioli, lime mayo and sweet chilly dip
Main:
Picanha na chapa* (cap of rump steak) with onions and crispy garlic, tomato and coriander salsa, served with steamed rice and salad
Dessert:
Pavê (chocolate and vanilla biscuit trifle)
*My favourite items
They also make the best caipirinhas! I've also visited Made In Brasil Boteco a few times on a weekend for drinks and dancing. Both branches have live music and late night service.
Made In Brasil, 12 Inverness Street, Camden Town, London, NW1 7HJ
Made In Brasil Boteco, 48 Chalk Farm Road, London, NW1 8AJ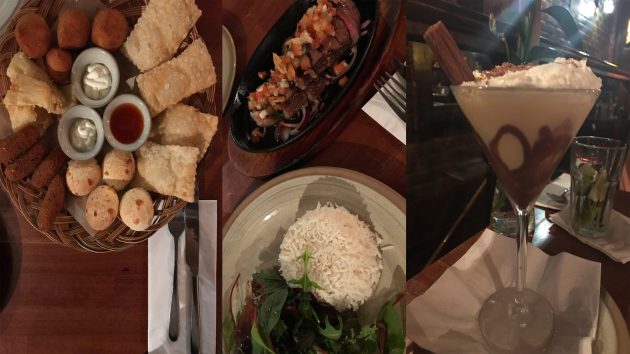 FAVOURITE CUBAN – CUBANA
Think homemade, comfort food-style. Here you will get quantity and quality!
Menu
Starter:
Papas rellenas* (potato and sweet potato balls stuffed with lightly spiced beef, served with tomato salsa)
Falafel cubana (chickpeas, sweet potato, plantain and coriander, served with tomato salsa)
Main:
Ropa Vieja* (Cuban-style shredded beef, black beans, plantain and chilli rice)
Bistec de palomilla con trozos de yucca (Sirloin steak, Cuban cassava, salad, salsa verde and garlic-chilli butter)
Dessert:
Fresh lime meringue-marshmallow pie*
Sticky toffee banana pudding with hot caramel-molasses sauce and pistachio crumb
Vanilla and white chocolate gelato
Lime gelato*
*My favourite items
Gelatos are made in-house! I accidentally went to the Waterloo branch first instead of the Smithfield branch, and at 6:30pm the entire place was already buzzing! Smithfield had a more relaxed vibe, with live music by an amazing guitar player. Will be giving the Waterloo branch a proper visit soon.
Cubana Smithfield, 59 Charterhouse St, London, EC1M 6HA
Cubana Waterloo, 48 Lower Marsh, London, SE1 7RG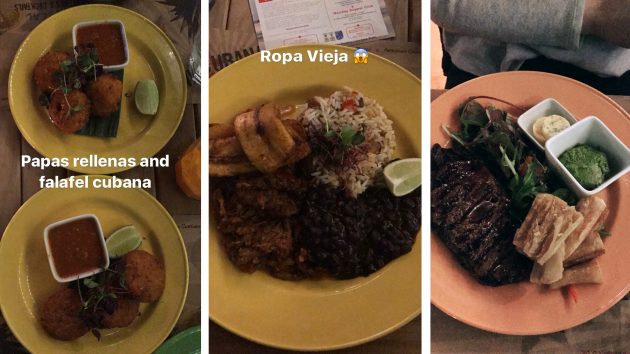 FAVOURITE MEXICAN – CHILANGO
I often crave burritos, and Chilango has the best. The influence comes from large Hispanic communities in the USA and Mexico itself; Eric and Dan created Chilango because they found hard to find good Mexican food in London, and in my opinion they did a wonderful job to make their creation available throughout London now that there are 12 London branches – and one in Manchester! It's quick fresh food, prepared in-house, with amazing flavours!
My favourite order:
Pork burrito (coriander-lime rice, pinto beans, mild AND hot salsa, cheese, lettuce and guacamole)
Frozen margarita
I also love their steak, it is the chunkiest and softest steak I've ever had in a burrito, and the guacamole is the freshest tasting one too. I don't like adding tomato chunks directly into the guacamole because it often makes it too watery, so the fact that Chilango makes their guacamole without it and instead with A LOT of lime juice is perfect for me. The mild salsa is pico de gallo, so tomato is present there, but having only half portion of it along with half portion of hot salsa is the perfect balance.
Chilango, locations across London and Manchester
FAVOURITE PERUVIAN – CASITA ANDINA
Never having had Peruvian food before I had no idea what to expect, but I can say that the experience was more than exceptional. The staff at Casita Andina were very welcoming and our waitress was helpful in letting us know the best dishes – in fact too many dishes, I left the restaurant with the button on my jeans undone! No regrets.
Menu
Starter:
Cancha* (crunchy corn)
Aubergine Jalea* (fritters with pomegranate-chancaca honey and muña Andean herb cream)
Main:
Tamal (pork in a corn dumpling, coriander, onions, tomatoes)
Puka picante (heritage Peruvian potato, beetroot panca sauce, smoked fresco cheese, huacatay herb)
Ají de gallina* (chicken, amarillo chilli, puffed rice, Peruvian olive sauce, quail egg)
Salmon escabeche (salmon, seaweed, onion, sweet potato)
Chupe seco (king prawn, chupe cream, potato, amarillo chilli, quail egg)
Ceviche casita* (seabass, amarillo tiger's milk, avocado, sweet potato, cancha
San Pedro salad* (mixed leaves, beetroot, charred fig, fresco cheese, caramelised pecan, cranberry-rocoto vinaigrette)
Dessert:
Choco-cherry (Peruvian Alto El Sol chocolate ball, Morello cherry gel, chocolate crumble)
Humita de choclo* (steamed purple corn humita, physalis jam, almonds)
*My favourite items
Their menu is seasonal, so expect different dishes every three months or so. The items in the menu are served tapas-style – 3 or 4 per person was what was recommended to us – but the size of the dishes vary so I'd say start with 3 and then decide whether you can attempt any more.
Casita Andina, 31 Great Windmill Street, Soho, London, W1D 7LP

FAVOURITE FUSION – ZUAYA
Latin American and Spanish tapas hidden just off busy Kensington High Street. I'm all about trying a little bit of everything, so the tapas approach to tasting different parts of Latin America, with Asian accents here and there, truly takes you on a journey with the wildly different flavours between dishes. Dare to get items that may not "fit together" because you NEED to experience the flavour bombs their menu offers
Menu – Food
Padrón peppers
Lamb tacos*
Pão de queijo/cheese bread
Crispy duck salad
Warm ceviche*
Grilled Iberian pork*
Pork patacones
Chocolate tartare
Passion fruit crème brûlée*
Menu – Drinks
From London to Lima*
Pink Rainbow
*My favourite items
I have to give the Iberian pork a massive shoutout because that's the most tender piece of meat I've ever eaten. The warm ceviche is also cooled back down with a clever sweet potato gelato – if anything, order this just to try this gelato out, it's incredible.
Zuaya, 35B Kensington High Street, Kensington, London W8 5EB
From London to Lima

Padrón peppers

Lamb tacos, pão de queijo (cheese bread), crispy duck salad

Warm ceviche

Pork patacones

Iberian pork

Chocolate Tartare and
SPECIAL MENTION – PISQU
Pisqu is a fairly new restaurant in Fitzrovia, serving excellent Peruvian dishes. The flavours that laced each dish and the freshness of the ingredients are just so impressive that it quickly became the best dining experience I've ever had.
Menu
Starter:
Ceviche*
Pulpo (grilled octopus, Inca corn grain cake, achiote oil)
Inti Raymi Tiradito* (sea bass, amarillo aji, lime, aji limo)
Main:
Sea bass a la plancha* (grilled sea bass with purple potato and achiote oil)
Lomo a la parilla (beef fillet, pachamanca sauce, corn gran cake)
Anticucho de pollo* (chicken marinated in chilli anticucho sauce)
Dessert:
Pisqu chocolate mousse with Matcha ice cream (Amazonian chocolate with passion fruit)
Alfajores morados* (purple corn traditional Peruvian biscuit with dulce de leche and lucuma)
Delicia de maca* (Peruvian parfait, aguaymanto syrup)
*My favourite items
This time, it was the chef himself who recommended the dishes, so I'm not surprised that everything went together so well, and that they were the best in the menu.
Pisqu, 23 Rathbone Place, Fitzrovia, London W1T 1HZ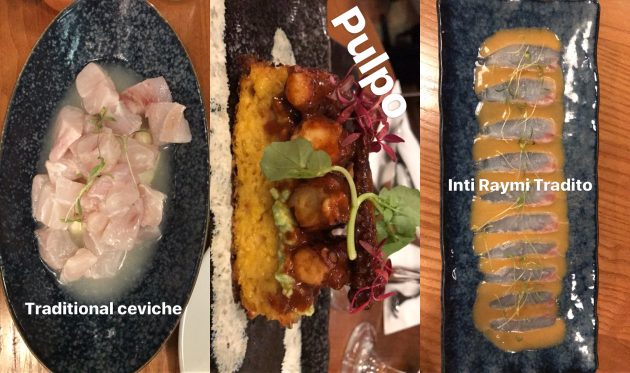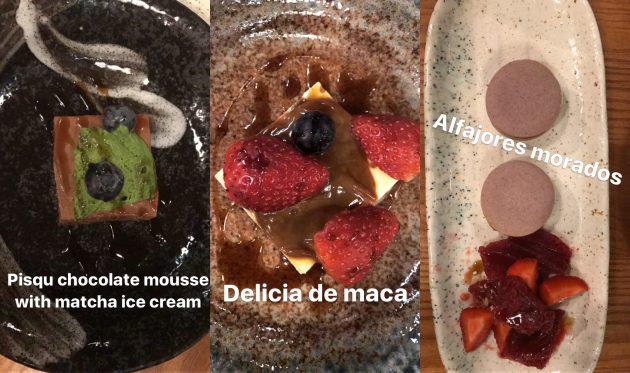 OTHER LATIN AMERICAN RESTAURANTS
The restaurants above have been highlighted after much deliberation, but I also have to mention the others visited as, as I mentioned in the beginning, all had excellent food.
El Vergel – Mix of Latin American and Mediterranean flavours. If you are around Borough and Southwark stations at lunchtime, definitely pay them a visit. Food comes quick and they're all freshly made. (132 Webber Street, London SE1 0QL)
The Cuban – Go for a late dinner and stay for the party that happens in the downstairs bar area without paying extra or queuing for entry! (Camden Market, The Stables Market, Chalk Farm Rd, London NW1 8AH)
Floripa – Brazilian food with a European influence in the flavouring! Also a fun night out after dinner is over. (91-93 Great Eastern St London, EC2A 3HZ)
Moo Cantina – Delicious steaks, family recipes, cool atmosphere (43 Vauxhall Bridge Road – London – SW1V 2TA)
Ay Caramba – Even though the food did not impress me much, the cocktails are truly delicious! (14-16 Camden High St, Kings Cross, London NW1 0JH)
Burrito Gonzalez – Monster burritos! Highly recommend paying extra for the large burrito. (Unit 2, 31 Chalk Farm Road, Camden Town London NW1 8AJ)
Tortilla – Their chicken burrito is my favourite. (Various branches)

Follow Sounds and Colours: Facebook / Twitter / Instagram / Mixcloud / Soundcloud / Bandcamp

Subscribe to the Sounds and Colours Newsletter for regular updates, news and competitions bringing the best of Latin American culture direct to your Inbox.
Share: