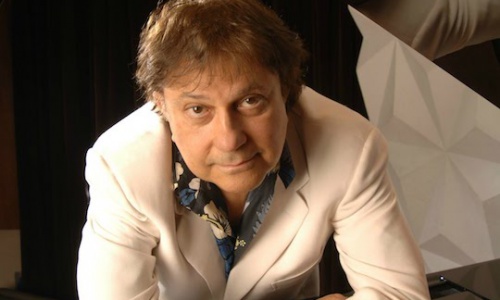 Brazilian Jazz/Funk Legend Eumir Deodato at London's Jazz Cafe on 25th June
20 June, 2017
Rio de Janeiro, holds near-mythical status as an arena in which giants of time are nurtured and modern day legends are played out. The list of carioca cultural deities is seemingly endless: from football's immortals, such as the inimitable Garrincha, to the colossus of postmodern architecture, Oscar Niemeyer. But perhaps Rio is best known for its musical fertility, a land which cultivates rhythms and sounds that resonate from ear to ear, music that has left an enduring sonic mark upon the world.
Although Jobim, de Moraes and Buarque are arguably the best-known of Rio's musical protagonists, one of the city's lesser-known but enormously respected musical sons – an artist who has crafted music just as emblematic of Rio, as well as his wider time and space – is gracing us with his presence at The Jazz Cafe on Sunday 25th June.
I am talking, of course, about Grammy Award-winning jazz/funk/R&B pianist/producer/composer (yes, an artist so versatile and polymathic that trying to classify him by genre and role would not only be unhelpful, but devastatingly simplistic), Eumir Deodato.
For those who think they are unacquainted with Eumir Deodato's work, think again: you probably are. Deodato has been the producer and/or arranger – or rather, the (quite literally) unsung hero – of over 500 records and even more singles, a large number of which are works of huge international and commercial acclaim, from "Ladies' Night" by Kool and the Gang, to "Killing Me Softly" by Roberta Flack, even working with Lupe Fiasco on his The Cool album, solidifying his status as a musical veteran of enduring expertise and relevance.
Considering that Brazilian music and non-Anglophone artists in general are frequently devalued, ignored, and even condescended (consciously or otherwise) into the category of 'World Music' by the US-dictated commercial hegemony, the fact that Deodato, a Brazilian artist, not only worked in, but was respected as a leading talent within the international pop music scene, is a true testament to his ability.
The pinnacle of this recognition arguably came in 1974 when he was awarded the Grammy for Best Pop Instrumental Performance for his ingenious reimagining of Richard Strauss' Also Sprach Zarathustra (the theme to Kubrick's 2001: A Space Odyssey).
Deodato, like many jazz and funk greats, is a self-taught musician, something which is arguably the most crucial component of his work, with each of his compositions and performances underpinned by an irresistible fluidity and naturalness, a perfectly balanced, harmonic, polyphony that could only have been shaped by Rio.
Deodato's sonically witty and organic arrangements are firmly rooted within the jazz tradition of reimagining a motif, melody or song, in a way that is both inventive, fresh and, most crucially, constructively distinct to the original version whilst capturing its essence (a pre-requisite to any cover/rearrangement worth listening to).
Expect funky bass lines and brass, and sweeping, rose-tinted strings, punctuated by lyrical, electric jazz organ, all effortlessly and playfully shifting in perfect balance with one another. The subtlety of Deodato's phrasing paints soundscapes more imitative of the gentle ebb and flow of Copacabana at low tide, rather than the wildly unpredictable chaos of Barra beach's tidal surf.
Perhaps it is befitting that the revered, chameleon-like Brazilian will be gracing us with his presence on a Sunday – the Sabbath day – on June 25th. He is, after all, an artist who has earned god-like status within and beyond the shores of his homeland – and for extremely good reason. In turbulent times, Deodato is a reassuring constant: his jazz-inflected funk, in true Brazilian musical spirit, is forward-looking and progressive, constantly building, gradually shifting, evolving and challenging itself.
For all these reasons and more, Eumir Deodato on Sunday 25th June at the Jazz Café promises to be one of the hottest tickets in town.
Tickets and more info at thejazzcafelondon.com/event/eumir-deodato

Follow Sounds and Colours: Facebook / Twitter / Instagram / Mixcloud / Soundcloud / Bandcamp

Subscribe to the Sounds and Colours Newsletter for regular updates, news and competitions bringing the best of Latin American culture direct to your Inbox.
Share: