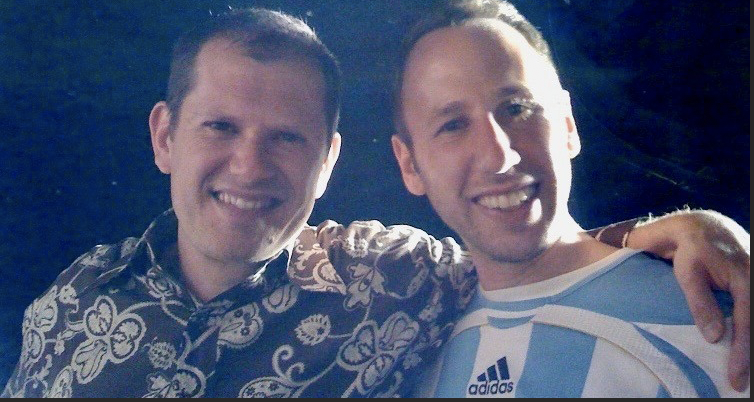 A decade of 'alt-Latin' on the air: 'The Latin Alternative' celebrates its 300th show
02 March, 2019
The Latin Alternative, the United States' first nationally syndicated public radio show specializing in Latin indie, rock, urban, funk, electronic and tropical music, celebrates the airing of its 300th episode on the 1st of March (and airing all weekend and a podcast edition to be published later this month). Listen to it here.
The one-hour radio program, which has been covered by Billboard and the New York Times, has been bringing alternative Latin music to a wider English-speaking audience since 2009. To celebrate the 300th episodic anniversary of the show, co-hosts and founders Josh Norek and Ernesto Lechner highlight the artists and music that influenced them in their youths and later inspired them to create the show. Featured artists in this special episode include Hector Lavoe, David Byrne, Los Fabulosos Cadillacs, Julieta Venegas, Milton Nascimento and many more.
We spoke with the co-hosts Josh Norek, who is co-founder of the Latin Alternative Music Conference (LAMC), and Ernesto Lechner, a music journalist and author of the book Rock en Español: The Latin Alternative Rock Explosion about what makes their show special.
We asked how the show came about. Norek told us The Latin Alternative came about as a result of a happy accident.
Josh Norek: Back in 2007, I was living in Los Angeles and was vice president of Nacional Records, which had just released Manu Chao's La Radiolina album. I was looking at our weekly radio report, and was trying to figure out why Manu Chao was suddenly getting 20 radio spins a week in my hometown of Albany, New York, a city I affectionately refer to as "Smallbany." You have to understand that Albany is as gringo as it gets, I couldn't wait to escape it as soon as I was done with high school. I cold-called the radio station WEXT and wound up on the phone with the station's program director, who explained to me that WEXT was a new music-focused public radio station, and that he loved artists like Manu Chao and Los Fabulosos Cadillacs. When I told him that I was originally from Albany and had personally overseen the release of Manu Chao and Los Fabulosos Cadillacs' albums, he said 'Dude, you need to come host a one hour 'Latin Rock for Gringos' show the next time you are back home visiting your folks.'
So I recorded what was intended to be a one-time special show about Latin Alternative music when I was back in Albany. But then a funny thing happened: Chris Wienk kept getting calls from listeners saying, "What was that music? It's so cool!" So Chris then asked if I wanted to co-host a weekly show about Latin Alternative music [from Los Angeles]. At that point, I decided it would make for a much more dynamic and musically balanced program if I invited my good friend Ernesto Lechner, a highly respected journalist who has written about Latin music for Rolling Stone and the LA Times, to co-host.
Sounds and Colours: How do you find your music? It's obvious independent musicians are churning out some wonderful music these days. Do you guys put effort into making sure you find some of that talent to feature?
JN: On my end, there are certain publicists that I trust and respect who send great music, though a good amount of musical discovery comes from following artists or their labels on social media, or checking out certain Spotify playlists. Nowadays, a kid in Kentucky can stream a playlist of Argentine indie rock. When I was a teen in Upstate New York, I was spending a pretty penny on imported Los Fabulosos Cadillacs and Mano Negra CD's. Technology has made musical discovery a lot easier (and less expensive).
Ernesto Lechner: I really enjoy how democratic this process has become. When I started my career as a music journalist 20-25 years ago, I would get tons of CDs from the labels—big and small labels. It was up to them. Occasionally I would get to meet independent musicians. Now, it's lovely. You can find music of all styles in all corners of Latin America. It's fantastic. I spend a lot of time looking for stuff that I love. It's been 300 episodes and every single track that we play is hand-picked by both of us. We absolutely love most of the material we play and also we have the power to veto each other's selections. We sort of check on each other. And I think that translates into the show, that every single track is curated con mucho cariño.
A few years ago, I was on the subway station in Buenos Aires and came across two kids playing a song using guitar and a cajon. The tune was great. I asked them what it was and they laughed, because the song was very popular, and they told me it was "Sera" by Los Pelotas, a very famous rock band from Argentina.
As a music journalist, you simply can't listen to everything. There's always noteworthy music that escapes your attention and I think it's fate, that it comes to you at the right moment. And I think that's what happened, because we had a show coming up about music from Argentina, and I played that song.

S&C: What's one of the biggest different you've noticed in the 10 years doing the show, as far as the music. Genre-wise, music trend wise, even gender-wise (Are there more women artists on your show now)?
JN: There are DEFINITELY more women on the 'The Latin Alternative' now than ten years ago. Some weeks, we have more female artists than male artists. It's not intentional, it's just that there are so many great female artists in multiple genres right now, from big names like Natalia Lafourcade, Mon Laferte, Rosalía and Bomba Estereo, to newcomers like De La India and Fémina.
I'd say that as a rock fan, the guitar sound has been noticeably absent in the past few years, but I'm seeing some great new bands on the horizon who are reviving Rock Latino. Argentina's 1915 get me really revved up!! And who would expect Making Movies, a really cool indie band from Kansas City (of all places!) suddenly becoming high profile and collaborating with the iconic Ruben Blades? I'm very excited about that.
EL:  I think there is a huge wave of women artists making good music for the last five years. Again, it could be because of the democratization of music, that now more people have space to make music. But also I think the changes within music are bigger. In a way, the pleasure you derive from new songs, it's mutated. If I go to hear a song from classic Led Zeppelin, I know exactly what I'm going to like about it, its lyrics, an epic riff, a solo, or something basic and classic. Now I find, as I listen to reggeaton or trap, for instance, it's about something else now. It's about the beat, the texture, the feeling, the groove or the mood. It's different. I think there is more freedom in music.
S&C: What's next for the show? What can fans, old and new, expect!?
JN: Our 300th episode was a real treat for Ernesto and I to record. We decided to highlight the Latin music of our youths that inspired us to create the show. Ernesto is always the musical yin to my yang, and we both learned a lot about each others' musical influences when we recorded this episode. It's like a marriage….ten years into our relationship we're still finding musical skeletons in each other's closets!
EL: We have similar taste in music, but we're very different. It really shows. He tends to go for stuff that's very upbeat and cutting edge. And I am "Mr. AfroCarribean." I love tropical genres, especially salsa, Cuban music. I also like calypso, compas, and I love Brazilian, too.
But there is another ying and yang—the content of the show. Half of the shows are about new music. You can really tell that Latin America is a rainbow. In a way this is the best time to be making this show, because there is so much music and you can discover it by the hour, and day by day.
The other half of the episodes are thematic. We'll go back in time, or play songs only recorded in 1979, or play songs by Panama. I think it's only now that the show is thriving and I'm really looking forward to continue ten more years at the very least. I even get a little melancholy at the end of the each show, because we've only just begun.

Follow Sounds and Colours: Facebook / Twitter / Instagram / Mixcloud / Soundcloud / Bandcamp

Subscribe to the Sounds and Colours Newsletter for regular updates, news and competitions bringing the best of Latin American culture direct to your Inbox.
Share: