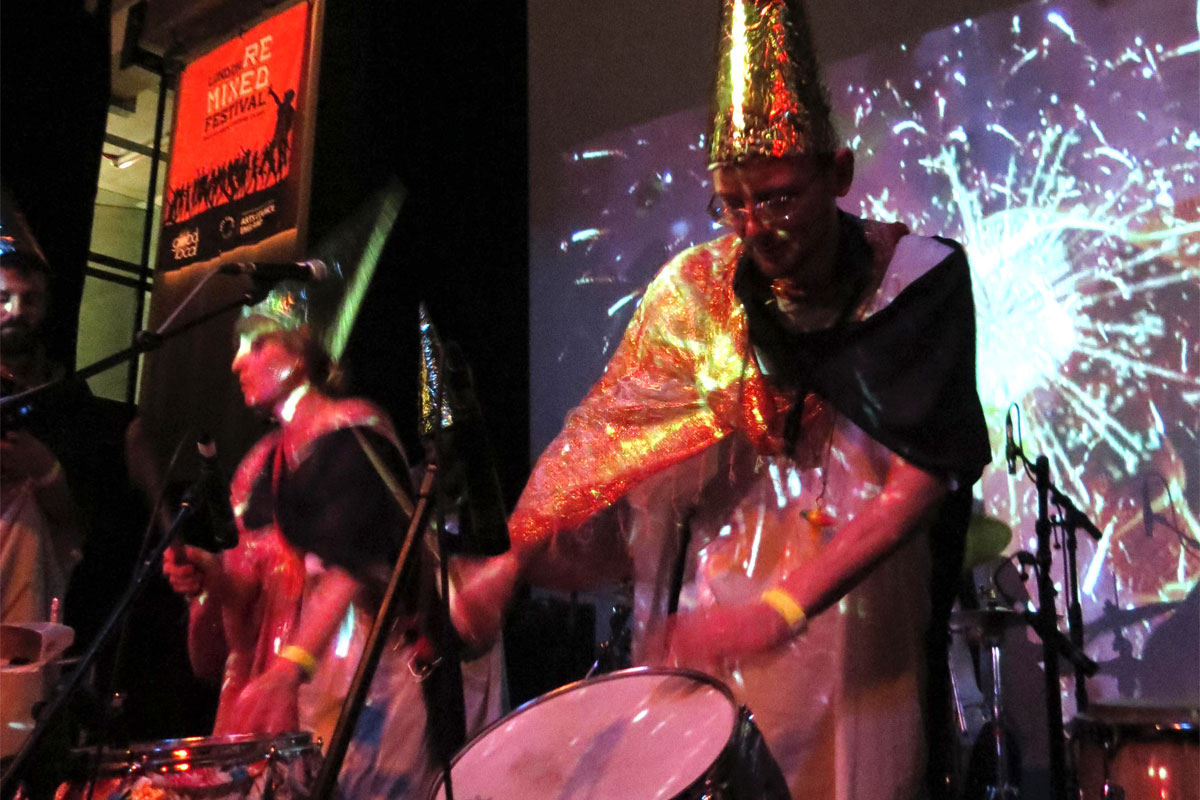 Latin-Inflected Bands Dominate the Tropicarnival at Shoreditch's London Remixed Festival
28 November, 2013
In its second year in the capital, the London Remixed Festival didn't disappoint on 23rd November 2013, offering up a wealth of different musical sound-clashes across four venues in East London.
Of particular interest was this year's Tropicarnival room at Rich Mix, where a variety of up-and-coming Latin-tinged bands showcased their varied mix of styles and genres to the Shoreditch crowd.
The night kicked off with a mellow performance from London's very own Orchestre du Mont-Plaisant. Offering up tunes which perfectly reflected the tropical overtones displayed on the cover of their eponymous début LP, the four-piece band played their eclectic mix of Latin and Afro-Cuban styles to ease the East London audience into the night in style.
Cumbia-infused tracks like the impressive "La Junta" saw slick riffs from guitarist Juste Voyant fuse effortlessly with Graham Mushnik's laid-back grooves on the accordion and piano for a mellow Latin treat.
Other tracks like the Italian-inflected "Io Ti Amo" rumbled along meditatively as the strong rhythm section under Luke Warmcop's control pumped alongside psychedelic organ sounds and Voyant's melancholic Italian vocals.
Meanwhile, the guiro-led percussion and prominent cowbell sounds of "Homenaje de Aurita" wound around delicate riffs and accordion tunes to make for yet another impressive cumbia-led tune, while the show-stealer "Egando ya Mabina" was an instrumental tour-de-force with all the hallmarks of a cinematic set-piece. With its strong lead-riff chugging along like a train alongside the subtle sounds of the accordion, the audience was taken on a psychedelic trip across Latin America, a vibe reinforced by a compelling organ onslaught mid-way through which echoed the sounds of classic Santana.
Where L'Orchestre impressed with their set of sombre, laid-back tunes, the mood of the evening was to change with the arrival of King Lagoon's Flying Swordfish Dance Band, an eccentric, multi-instrumentalist group who brought a carnival atmosphere along with them to the Rich Mix stage.
Donned in pointy, gold cone hats and sequined white robes, the band's performance was as much about the spectacle as the sound, with a remote-controlled swordfish lingering overhead during their set and a plethora of glitter-filled balloons offered to the crowd to make for a party atmosphere.
With a psychedelic visual backdrop and a 'smell-technician' pumping out unique aromas into the atmosphere, the crowd was invited to dance along to up-tempo tracks like the maracatu-infused "100,000 Islands" and the relentless percussion and striking guitar-work of "Magic Charging Sand Witch".
The heart-beat bass thump of "One Leg" then offered a platform for more impressive, improvised sax-work, while the band's tight performance was best evidenced by an impressive cover of "Quechua Princess", Yma Sumec's merengue-inflected "La Molina".
Over the course of their set, King Lagoon's Flying Swordfish Dance Band's tropical tunes fused with their psychedelic visual/aromatic experience to make for an eclectic assault on the senses. Their striking performance put the 'carnival' into the Tropicarnival stage of London Remixed, filling the dance-floor with a performance which spanned numerous Latin musical styles ranging from mambo to chicha and which was welcomed with open arms by the bouncing East-End crowd.
As the night rolled on, it was Flowsnatcha's turn to dominate the stage and get the party-goers of Shoreditch moving their feet. Comprised of the Cuban MC Florian and the Swiss-Argentinean DJ/Producer The Snatcha, Flowsnatcha offered up a slick blend of Cuban hip-hop with traditional Latin music styles, with modern hallmarks of electronic music including dubstep and tropical bass also featuring heavily.
The moombahton-inflected "Somos Cuba" impressed with its pumping bassline and drum'n'bass chorus, heavy elements of which were progressively punctured by the more delicate, traditional sounds of the accordion. "El Maniquí", meanwhile, was a tropical-bass tour-de force, replete with a pumping heart-beat of a bass-line and stirring electronic whirrs.
Their set then took a slower turn with "Corazon de Guerrero", a tune which allowed for a melodic chorus to enter the fray before the number wound into dubstep territory with drawn-out beats which propelled yet another slick rap from MC Florian.
With their unique blend of moombahton and what the duo have coined as Cuban dubstep, the dynamic duo were able to get the bass pumping and the Rich Mix crowd dancing into the early hours of the morning. Offering an impressive fusion of modern bass-heavy styles and traditional sounds like merengue and timba, Flowsnatcha's energetic performance made for an impressive hip-hop addition to the Tropicarnival proceedings.
Throughout the evening, the Rich Mix audience was given a insight into the varying up-and-coming talents on the Latin music scene on the Tropicarnival stage, with the instrumental-heavy Orchestre du Mont-Plaisant kicking off the event with their mellow blend of Afro-Latin sounds, King Lagoon's Flying Swordfish Dance Band bringing the sounds, sights and smells of a tropical carnival to the East End and Flowsnatcha's thumping flow of hip-hop, dance music and traditional Latin styles all offering an impressive range of Latin-inflected tunes to this year's iteration of London Remixed.

Follow Sounds and Colours: Facebook / Twitter / Instagram / Mixcloud / Soundcloud / Bandcamp

Subscribe to the Sounds and Colours Newsletter for regular updates, news and competitions bringing the best of Latin American culture direct to your Inbox.
Share: