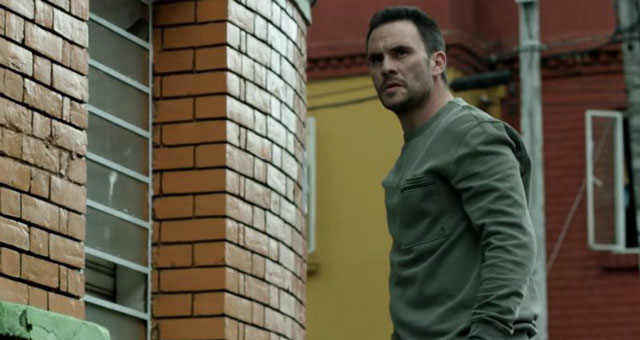 Netflix
Latinx TV Shows we Loved in 2018
27 December, 2018
Years ago in the United States, the only way you'd find Spanish language television programming was on one of two major broadcast networks—Telemundo and Univision. They'd play the (even more dramatic) equivalent of daytime soap operas: telenovelas from Mexico and a smattering of other countries. They'd also play news, of course, and variety shows with some musical performances, usually involving lip syncing by the artist.
Internet streaming has changed the entertainment game, and with that, the popularity of streaming series from around the world. On top of that, though it's slow going, Hollywood has caught on to the fact that people like to see characters who look like them on the telly, and the number of programs featuring Latin American characters have increased.
Still, not everyone has access to Netflix and Hulu, which makes what is available on broadcast TV important. But that's not the only reason traditional television matters.
According to Fordham University sociologist Clara Rodriguez, who studies Latino representation in Hollywood and how it shapes how Latin Americans are viewed in the country, "traditional TV programming," is still very much lagging behind on diversity, and it matters when it comes to matters like immigration and other policies.
She pointed to shows with Latinx characters, such as "Ugly Betty," the American take on the massively successful Colombian soap opera, which ran on ABC from 2006 to 2010, struggling with ratings towards the end of its run.
"The future of 'Jane, the Virgin' is unclear," Rodriguez said. "We have some new entries, but I am not sure they will stay. 'Superstore' (which also stars Ferrara) continues to hold on. And, then there are the continuing and negative representations of Latinos as drug dealers, etc. victims, or vixens, and side characters with minimal importance to the central plots, which I think continues to quietly influence the way in which Latinos are viewed; and this, in turn, influences views on immigration, etc."
And news programming also shows a gaping hole, Rodriguez said.
"This is to say nothing of the lack of Latino voices on Sunday morning talk shows, which also influence public opinion."
So, while there is still much to be done as far as Latin American representation on traditional television programming, and the "talking heads" seen on cable network news, there's no question there are more options for fans today.
And that translated into massive success for Latin American/Spanish language television series in 2018. Here are our picks for best of 2018, and a couple you should put on your list as we head into 2019.
Netflix: Narcos: Mexico
We asked Julio Varela, co-host of the In The Thick podcast and founder of Latino Rebels, to weigh in with his absolute favorite Latin American show from 2018 and he went with "Narcos: Mexico," which chronicles the birth of the Mexican drug war and the ascent of the Guadalajara cartel's ascent in the 1980s.
"I really thought the show did a fantastic job in filming Guadalajara in the 1980s. Visually, the scenes shook me in a good way. There is such a distinct Latin American feel to it that one rarely sees on television.
"I was also all in on Diego Luna and Michael Peña. It was refreshing to see two great talents earn some high-profile screen time. The rest of the cast strong as well.
"I appreciate how critical the show was when it comes to the failed drug war. I am always down on 'narco shows' but this one looks beyond glorification. And give me Spanish and English all day. Not dubbed. Just reality."
By the way, the original Narcos didn't just bring the story of the Colombian cartel to the masses. It had an excellent soundtrack featuring loads of Colombian hits (read about how it came to be here via Billboard). Well, the music of Narcos Mexico is quite different, but also delicious. You can listen on Spotify.
Netflix: One Day at a Time
Why leave the show picking to the pop culture experts? We asked a real TV fan to weigh in for this story. Sounds and Colours reader (and television junkie) Susana Padilla of Florida went with "One Day at a Time," a Netflix original comedy-drama is inspired by Norman Lear's 1975 series of the same name. This time around, the series follows the life of Penelope, a newly single Army veteran, and her Cuban-American family, as they navigate the ups and downs of life.
"It first caught my attention because it was a remake of a show that I watched as a kid so I thought it would make me feel nostalgic," Padilla said. "After the very first episode I realized that I liked it because I could associate with the storyline much more now than when I was a child: two kids being raised by their single Latina mom and grandmother, similar to the first six years of my life.
"I feel like the show captures so much more than just a Latino family. Rita Moreno's character is the grandmother/aunt/madrina (godmother) we all have, who is always there for us, and also a little loud and opinionated.
"I also love how the show tackles real problems that can happen to anyone—not just Latinos. The episode when Lupe stops taking her medication, hit me hard and had me crying. And don't get me started on the Season two finale. I cried and laughed throughout the whole episode."
The CW: Jane the Virgin
This pick comes courtesy of daily newspaper, USA Today, and like "One Day at a Time," resonates with viewers because it's relatable:
"Jane" continues to be one of the best crafted shows on television, balancing its telenovela parody with topics that range from career setbacks to cancer. In depicting Xo's (Andrea Navedo) breast cancer diagnosis and treatment last spring, "Jane" showed everyday challenges can be just as dramatic and terrifying as the melodramatic kind. It ended Season 4 with a classic "he's not really dead" twist, and its fifth and final season next spring is sure to go out with a bang. – Kelly Lawler, USA Today
One of the things about "Jane" that makes it so unique for traditional television in the United States is its use of a telenovela style narrator, voiced by Anthony Mendez (hear a great interview with him here via NPR). Watch the trailer below to get a taste of Mendez' fantastic narration.
Netflix: La Casa de Papel (Money Heist)
"La Casa de Papel" is Spanish heist television series created by Álex Pina that premiered in 2017. It revolves about a long-prepared, multiple-day assault on the Royal Mint of Spain. But it gained massive buzz after Netflix acquired the series in late December 2017, trending highly in 2018 and sprouting blogs and podcasts about the series.
The show involves a very smart man called "The Professor" (played by Alvaro Morte) who rounds up a group of talented criminals in hopes of pulling off the biggest heist in history. These are thieves, yet you'll find yourself rooting for some, if not all of them. The show has wonderful dialogue, but also pulse-pounding action that manages to frame the story as thoughtfully as possible between gunshots and car chases.
And its soundtrack is also a treat. A scene in which "the professor" and one of the talented criminals make a very "let's stick it to man" pact, sealing it by singing "Bella Ciao," a well-known Italian folk song that was adopted as an anthem of the anti-fascist resistance.
Latin American or Spanish-language shows to watch for in 2019
Netflix: The action series "Distrito Salvaje (Wild District)" premiered in October 2018, and tells the story of a lethal guerrilla fighter who escapes the jungle after the signing of the Colombian Peace Agreements. It follows protagonist Jhon Jeiver as he arrives in Bogotá escaping from his past and tries to reinsert himself into society while looking to reconnect with his long-lost family.
Netflix: Siempre Bruja (Always a Witch): "Siempre Bruja" tells the story of a 19-year-old who is burnt at the stake in the 17th century and wakes up in present-day Cartagena. As it is rare to see a show led by an AfroLatina, we're very excited for this show and rooting for its success. Read more about the show here via Remezcla.

Follow Sounds and Colours: Facebook / Twitter / Instagram / Mixcloud / Soundcloud / Bandcamp

Subscribe to the Sounds and Colours Newsletter for regular updates, news and competitions bringing the best of Latin American culture direct to your Inbox.
Share: