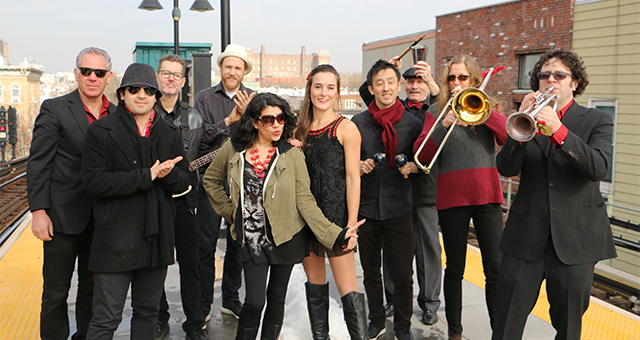 Meet Spanglish Fly: Purveyors of NYC Latin Boogaloo
28 February, 2018
Spanglish Fly is a 13-piece New York City-based boogaloo band continuing the tradition of a music that originated in Nuyorican enclaves in the 1960s.
For those unfamiliar with the genre, the documentary We Like It Like That explains it best:
Latin boogaloo is a colorful expression of 1960s Latino soul straight from the streets of New York City. 
In the 1960s, a new generation of musicians from East Harlem, the South Bronx and parts of Brooklyn fuse Afro-Cuban music with R&B, jazz, funk and rock to create Latin boogaloo. The bilingual style reflects the diversity of influences that surround the musicians in the city. It is a period of revolution and social awakening and young Latinos in search of their identity adopt Latin boogaloo as their soundtrack.
Once on the verge of leaving Latin music behind, the city's young Latinos come to appreciate the music's roots through boogaloo. But as salsa, a more traditional style of Latin music, grows in popularity by the 1970s, some say the Latin boogaloo is killed off, not by the fans, but by cultural and industry politics.
The well-received documentary (we recommend checking it out here) did a lot to put this music back on dance floors. Its resurgence even brought Latin boogaloo legend Joe Bataan out of retirement.
But for Spanglish Fly, a group that had been playing this style of music around the city since 2009, it only affirmed they were on the right path. We spoke with founder Jonathan Goldman, who first noticed how Latin boogaloo, late-60s records by Joe Cuba, Joe Bataan, Mongo Santamaria, etc., were shaking dance floors at certain parties.  He knew he had to form a band to play the music live in the place where it began, New York City.
"I knew I had to do it myself because it was wild to me that no such band existed," he said. "I started learning musicians using word of mouth and Craiglist postings. I booked us a gig after after I got the same musicians to show up two gigs in a row."
Some years later, in 2014, he was able to convince vocalists Mariella Gonzalez Paloma Muñoz, who were gigging with other bands singing different styles of music, to join the band.
"When Mariella joined, I knew we had the perfect blend [with two lead vocalists] and they were super professional. There is no ego thing going on," Goldman said.
The band's second full-length album, Ay Que Boogaloo!, sees the band continuing to use boogaloo as a musical foundation while taking the genre in new and unexpected directions, incorporating bolero, New Orleans funk, swing jazz, Arabic chant, and other new sounds.
It was co-written by Goldman and producer Chaco, real name Manuel Garcia Orozco, a Colombian based in New York who also worked on the Grammy-winning record by late Colombian bullerengue legend, Magìn Dìaz. 
"We wrote most of the songs over a summer's worth of Sunday afternoons in Flatbush, in an apartment which was not air conditioned, which added to the feel of the record. Then we'd have our musicians over to tell us what was wrong with the charts. And then we'd rewrite and it was onto rehearsals," said Goldman.
A stand-out song on the album is "New York Rules, which features none other than Bataan.
"I met Joe when I was just a fan boy," said Goldman. "I was introduced him to a couple of times, but never as a musician. Then, during the filming of 'We Like It Like That,' I was re-introduced as a fellow musician and we had a jam session. It took a few years to find the right moment. So when we wrote 'New York Rules,' we thought, 'How about Subway Joe to sing this one, maybe? And he graciously agreed, and that was a meaningful moment to me as far as a person to dreaming to have a boogaloo."
The album also has a song, "Ojala Inshallah" with Arabic chanting. How did that come about?

"I actually wrote that song seven years ago," said Goldman. "I started thinking about how people sometimes have suspicious, hateful thoughts. So I was dreaming for a better world without the barrier."
The group ended up recording the song between the election of Donald J. Trump and his inauguration. But after Trump proposed a Muslim ban, Goldman asked a friend to translate parts of the song.
"And then he sent over a poem that he wrote, so I called him again and asked him to record himself chanting the lyrics of the poem," Goldman said. "That song, more than anything, was really inspired by that moment [in United States] history. Everyone's brain was just lit from all the political things going on."
After a recent performance at the Highline Ballroom in which Spanglish Boogaloo opened for Joe Bataan, we asked vocalist Mariella Gonzalez what the most common themes she hears when talking to fans who attend their gigs.
"They always want to know 'Why boogaloo?'" she said. "There's lots of salsa and other different Latin music around city. But with boogaloo, I think it's just us. And they also pick up on what are influences are. They can hear the different types of musicality. 'Hey you sound really jazzy. Do you like Billie Holiday?' Yes, yes, I do like jazz. They hear it."
Watch a video about the making of Ay Que Boogaloo! below. And follow Spanglish Fly on Facebook to learn about future gigs.

Follow Sounds and Colours: Facebook / Twitter / Instagram / Mixcloud / Soundcloud / Bandcamp

Subscribe to the Sounds and Colours Newsletter for regular updates, news and competitions bringing the best of Latin American culture direct to your Inbox.
Share: