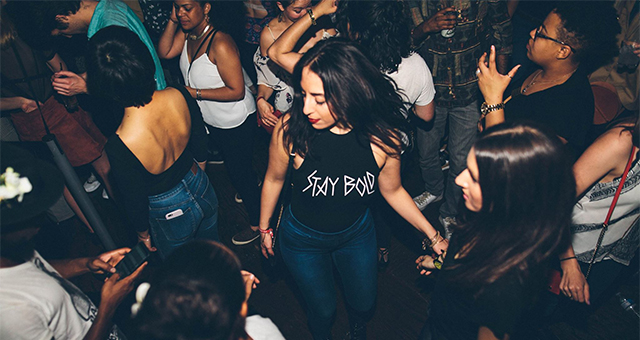 Ministerio de la Parranda: a Party to Preserve the 'Sancocho of Flavors' in NYC
19 June, 2017
When DJ and Que Bajo?! party co-founder Geko Jones returned from spending some time living in his mother's home island of Puerto Rico some months ago, it seems he was bitten by the Boricua party gods to produce something new. Enter Ministerio de la Parranda (which loosely translates to Ministry of the Party), a fiesta he quietly unleashed as a Facebook group in late April along with fellow Brooklynite, Chelsea "Chiquita Brujita" Smith.
While this party almost popped out of nowhere, the crowd that it drew seemed to be 'in the know.' And so before the next edition of this party: Saturday, 24 of June, at Schimanski's in Brooklyn, featuring special guest performer Lisa M, guest host, Mela Murder, and DJs Bearcat and Frei Speech, we wanted to get the story on this new party: How did this "ministry" come about?
It turns out "good fortune" played a part in bringing these two together.
A couple of years ago, Smith, a fellow Brooklynite who, despite having a background in nightlife, was looking to build on her newly acquired MBA in social marketing from New York University. As luck would have it, however, a "digital dancing fortune tarot system" and prayer candle business she launched as a one-time performance art piece for a friends's gallery show, was a hit. She decided to take her show to clubs and bars.
Brooklyn Brujeria was born, and upon meeting Jones at a mutual friend's birthday party, he invited her to do her thing at a Que Bajo?! party.
"I now know that this is his gift — to take people's magic and try and  support them however he can and weave it into the show," said Smith, who ultimately helped Jones move production of Que Bajo?! to [popular Brooklyn performance art venue] House of Yes.
"I saw and shared the vision of what Geko by nature, and as the event producer behind Que Bajo?!, was building- a global network of humans  that are made better for the ritual of the party, who connect beyond the dancefloor, and over time become like family. Hosting 10 people to make party decorations in my living room til three in the morning, or being ten deep with friends and strangers playing Cumbia at dawn on the streets of Brooklyn bc no one wants to the party to end, or knowing to always have a couch open in case a visiting DJ needs to crash, or just making detailed spreadsheets to make sure we can hire as many people as possible each month- this is what it means to be a Ministra de la Parranda.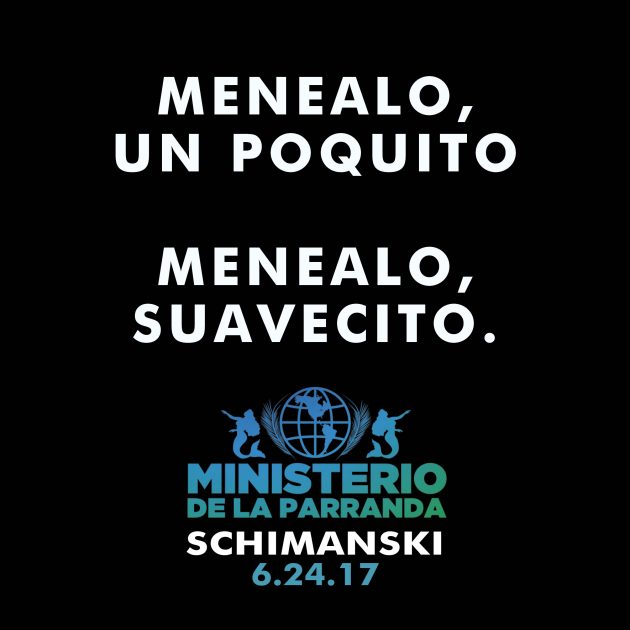 Jones, who has always been a foodie in the kitchen and at the table, puts it in Latin American culinary terms.
"At its core, El Ministerio is about actively preserving the sancocho of flavors that New York City has always been known for," he said. "Our goal is to build a platform for collaboration among DJs, artists, and collectives that represent different slices of local nightlife culture to bring our diverse audiences together so that house heads can be exposed to Bhangra, dancehall heads can bounce to champeta, and everyone can fall in love with something new."
Jones envisions taking the party on the road after continuing to build on it here in New York City.
Take, for instance, this weekend's edition, which falls on New York City Pride weekend.
"We couldn't be happier about it," Jones said. "Bearcat, for example, we've been wanting to book for a minute. She is currently one of the most sought after acts across the underground and is in particularly high-demand among queer-centric circles given her contributions as a member of Discwoman, a female-centered and gender non-conforming collective of DJs [who were just named to Billboard's Dance Power Players for 2017]."
Lisa M, who came on the scene as a teenager in the late 80's with production credits from reggaeton's architect, DJ Playero, is also on this weekend' bill. She became a household name at that time, touring around the globe with hits including "Menealo," "Everbody Dancing Now," and "Tu Pum Pum."
"Earlier this year, we had decided for the party to highlight the sound of 'Wepa House,' a popular strain of Latin house music from the 90's centered around Boricua pride, so we're pretty happy it came together the way it has," Jones said.
Smith, who enjoys the visual aspect of producing parties, tells us that, theme-wise, the duo's vision is for each Parranda to be its own unique experience.
"Since Lisa M set the standard as the OG Puerto Rican Fly Girl, we've decided to bring the 'Wepa House' vision full circle with our host Mela Murder, a legend of the contemporary NYC ballroom and vogue scene," she said. "This is simultaneously intended as a nod to the legend, Lisa M, as well as a celebration of Puerto Rican contributions to international nightlife culture through both music and dance. It's also a statement of resistance against the ongoing economic crisis occurring in Puerto Rico at the hands of US imperialism."
For Smith, who has experience as a dance performer, Ministerio de Parranda hits both sides of the same joy-inducing, life-affirming coin.
"People have always gathered on dance floors to celebrate and feel free," she said. "As black, brown and queer communities are under increasing attack, the more spaces we can help create for intentionally diverse audiences to come together to exchange energy, experience new joys, and dance until they're dripping in sweat, the better. We're actively trying to be proactive about is invite more choreographers and dancers to the party, in hopes of creating the kind of blatino party experience that fans of Soul Train would cosign."
And, as parties aren't much these days without full experiences you can hear, see and taste, there is sometimes food. For Ministerio's launch in April at House of Yes, Jones and Smith had just gotten back from touring in Colombia and wanted to highlight the Carnaval vibes they were missing so, naturally, they made vats of sancocho soup and featured Bulla en el Barrio, a 13-piece Colombian Bullerengue Band.
"The drums kicked in and the party felt like being back in Barranquilla covered in glitter. I'm not sure what percentage of the magic came from the fact that we were cooking a bomb-ass sancocho in the club's kitchen for over 5+ hours, but anything we can do to go above and beyond to make our parties memorable for our guests, we're down to give a shot," Smith said, while already thinking ahead to the next version of Ministerio.
"We're thinking about tropical fly-girl mermaids for this next one, so we'll see how that might translate into snacks," she said. "Maybe mango sushi?"
Follow the party on Facebook to find out if mango sushi makes the cut. And grab tickets for this Saturday's party here.

Follow Sounds and Colours: Facebook / Twitter / Instagram / Mixcloud / Soundcloud / Bandcamp

Subscribe to the Sounds and Colours Newsletter for regular updates, news and competitions bringing the best of Latin American culture direct to your Inbox.
Share: