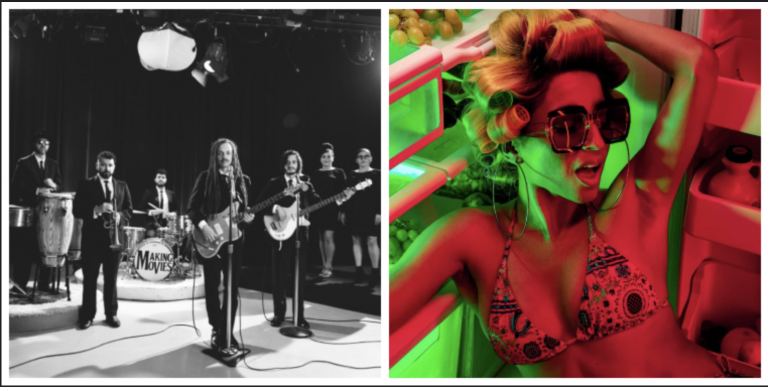 New Music Videos by Making Movies and La Lulu
23 October, 2020
Two new music videos, one by Kansas City's Making Movies, and the other by Brooklyn's La Lulu, are entertaining AF.
Making Movies: 'Tired of Giving In'
This new video for the track "Tired of Giving In," released as a new EP on night three of Making Movies' Ameri'kana Fest, finds the band in an Ed Sullivan-esque setting flipped into a nightmare: the band is chained to their instruments, blinking SOS for help, forced to fit into the image of what's expected from a rock 'n' roll band. 
"It's a statement to the 'othering' of communities of color, sometimes even by good intentioned people," said lead singer and guitarist Enrique Chi. "You have radio station programmers who say, we love your band, let's put that on the Latino show at 4 a.m. or ask you to play the 'diversity' tent at the 'inclusive' festival."
Speaking of festivals, tune into night 4 of Making Movies own festival, "Ameri'kana TV," a living documentary featuring performances and more, at 8 p.m. Central Time on Saturday, the 24th of October, here.
La Lulu: 'Estoy Hot'
Has summer really ended over here in New York City? Because the new video by La Lulu (aka Luisa Bastidas, the Colombian-born lead singer and violinist of StringsNSkins) is HAWT. And such an anthem for women.
Bastidas told us "Estoy Hot" started off as a cumbia villera but morphed into a slower, electronic "primo cumbia," an ode to the nickname of her StringsNSkins Argentine bandmate and percussionist, Lautaro "Gran Primo" Burgos, who co-produced the track.
"The song came about me giving zero fucks," Bastides said. "During the quarantine I had this inner awakening, as many of us did, and part of that awakening was me thinking about what it really meant to me to be a Latina in this society. Powerful, independent, strong, sensual, a warrior.. a badass! I never fit any category, so, I was like, 'Let me create my own.' I was tired of explaining myself and feeling like I had to tone down because of the insecurities of men. I also wanted to give the term 'hot' a different meaning. It has been used to describe our looks."
"I'm 'hot' not just because I look good. I'm 'hot' because of my strength. I am so hot I can cook all of your stereotypes and serve it to you in a platter and watch you eat it. I don't need to live by your standards. I won't," she said.
Amen to that. Watch the video below.

Follow Sounds and Colours: Facebook / Twitter / Instagram / Mixcloud / Soundcloud / Bandcamp

Subscribe to the Sounds and Colours Newsletter for regular updates, news and competitions bringing the best of Latin American culture direct to your Inbox.
Share: